Continue the MONTH OF LOVE with our (kinda early) Valentine's Day installment!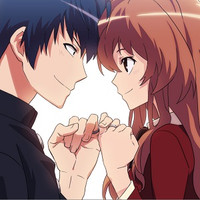 Fanart Friday returns, and we don't mind the occasional PDA. Last week, we took a walk on the lonely side with a look at UNREQUITED LOVE, but this week, it's all about very requited love, with our favorite COUPLES! Whether a couple ends up together at the end of a series, or just survive everything together from the start, this is a great way to have an early Valentine's Day celebration!
I think it's fair to cast a blanket SPOILER WARNING for this installment (as if that wasn't obvious enough), as some couples don't end up together until the very end--or it's just a total left-field surprise! Now, let's get started!
DISCLAIMER: None of the art presented is the property of myself or Crunchyroll. All characters and series are tm and © their respective creators and corporate owners. All art is the creative property of their respective artists. Any artists who wish to have their work removed from this article may contact Nate, and appropriate action will be immediately taken. ALL OPINIONS ARE MY OWN AND ARE NOT THE OPINIONS OF CRUNCHYROLL, INC., ELLATION, OR ANY EMPLOYEES THEREOF.
by Sid Baelish
Since I mentioned spoilers, why not lead right out the gate with Korra and Asami from The Legend of Korra? This was a relationship that was steadily building up over the entire series, but only really came to fruition right there at the very end.
by pennydox READER SUBMISSION!
We also have a lot of reader submissions, so let's get started with pennydox's tribute to World Trigger!
by ちょみ
Great couples can be separated by circumstance and still end up together--take Syaoran and Sakura, who are so fated to be together that they end up together in two completely separate series, Cardcaptor Sakura and Tsubasa!
by r_herb READER SUBMISSION!
Dragon Ball's Son Goku is a married man with children, but holy crap, this artist is right--he spends more of his time with Vegeta! This is a great bromance that has only been developed further since they're hanging out with Beerus and Whis.
by しろたか
I say it every single time it comes up (when I'm not talking about how Kazehaya is the goddamn best)--watch Kimi ni Todoke!
by MadPandaKira READER SUBMISSION!
While this great Wagnaria!! piece is showing the adorable act of just letting your foreheads rest against each other, how many of you have accidentally headbutted your partner attempting to do this?
by B255
And just like I mentioned on Twitter last night, I really like this Toradora piece. I think it's time for a rewatch!
by ultmte READER SUBMISSION!
Not all couples are a great fit. Take this School Days pairing, as ultmte has provided us with a poem:
Roses are red
Violets are blue
Mess with my senpai
I'll disembowel you
by 三ツ雪柚菜
Mad scientists (or smart people in general) tend to need somebody on their wavelength, as Steins;Gate showed us--y'know, I could do an entire Fanart Friday just on the Oreimo joke image.
by Koda89 READER SUBMISSION!
DID YOU KNOW--singing a song with a person, or dancing with them, or just plain enjoying music together, is one of the best ways to make a real connection? On that note, here's some Tribe Cool Crew love!
by Kayu READER SUBMISSION!
I think celebistar is trying to throw me off with her Pixiv name, Kayu, so I think there are two people who regularly send in Nobunagun art with a suspiciously similar style... this time, we're getting William Tell and Nostradamus!
by かずやま
Dude, Maid-Sama is so surprisingly good, I was glad that somebody requested it for this week!
by White Chocolate READER SUBMISSION!
Instead of just one couple, it looks like this reader decided to share a bunch of their favorite couples with us! White Chocolate, you'll have to let us know who's who!
by Mina
"Hey, so, I know you invited me over to play video games, but..."

At least, that's the expression I'm getting from Makoto right now. You're Free to interpret it however you like.
by BlackAdam009 READER SUBMISSION!
Ramba Ral and Lady Hamon! This classic pairing from the original Mobile Suit Gundam needs all the love!
by コーンぽたこ
Okay, yes, I guess the canon pairing is Mako and Gamagoori, but I can definitely get behind the idea of Mako and Ryuko--it just seems fated, y'know? Also they're not friggin related like all the Ryuko x Satsuki ships
by Mieruko READER SUBMISSION!
So let's start winding up--whether you're the more chill and cuddly type...
by すうりん
...or one of you is just a little more (appropriately) forward than the other...
by FDMpro DKL READER SUBMISSION!
...or the two of you dream together...
by ふゆすけ
...or you make one hell of a team...
by ErinJo READER SUBMISSION!
...or things just feel right with somebody...
by こく
...really, it's nice to just have somebody you can derp around with.
And that's everything for this week! There's no way I could have included everybody--who are your favorite couples? Sound off in the comments and let us know!
For those of you wanting to submit your art here, behold--the FIVE FIATS OF FANART FRIDAY!
1. Your work is always welcome here, regardless of your skill level or experience. To submit work to Fanart Friday, please PM me (username Anonymooo) with a link to your work.
2. The link must be the full URL, don't use any URL shorteners like bit.ly or goo.gl. An example of a full URL is:http://anonymooo.deviantart.com/art/Mooo-vs-Redblood-Phill-Cover-22690857

3. Your work must be hosted on a site like Deviantart or Pixiv (or your own official art website), not on Imgur, Photobucket,Crunchyroll Photos, or anything along those lines. This provides a verifiable source for the work.
4. I, and by extension Crunchyroll, reserve the right to remove or not share your work if it is deemed inappropriate. Any submissions that don't follow these rules will not be permitted in Fanart Friday.

5. Be excellent to each other. Don't steal anyone else's work or make fun of artists' submissions.
Now, here are the next three themes for Fanart Friday!
-Next week, on FEBRUARY 19th, we kick off one of our favorite two-parters for the last time with THE HAWTNESS EDITION, starting with the HOTTEST GUYS! From bishonen to beefcakes, who are your favorite (fictional) men? THIS IS THE ONLY THEME I'M ACCEPTING REQUESTS OR SUBMISSIONS FOR THIS WEEK!
-Then, on FEBRUARY 26th, the MONTH OF LOVE closes up alongside THE HAWTNESS EDITION's second half, this time focusing on the HOTTEST (fictional) LADIES!
-On MARCH 4th, we celebrate the release of The Legend of Zelda: Twilight Princess HD with a trip into ANOTHER DIMENSION--or more accurately, ALTERNATE WORLDS! "Trapped in a video game" won't count here--let's go another time, another place, another reality!
Thanks as always for coming by to check out Fanart Friday. Enjoy your three-day weekend, and I hope you come by again next week!
-------
Nate Ming is the Features and Reviews Editor for Crunchyroll News, creator of the long-running Fanart Friday column, and the Customer Support Lead for Crunchyroll. You can follow him on Twitter at @NateMing.