"Since we can't get by on our looks, we became a group and wore masks"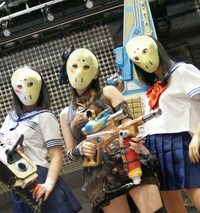 How can I explain Kamen Joshi ("Masked Girls"), Japan's latest experiment in mind-melting underground idol music acts? Perhaps it is best to let band member Nanaka Kawamura throw the first volley, "Kamen Joshi is a new type of idol that you have never seen before; we wear masks, do head-banging and dive into audience. It is a very extreme and cool group."
You need a gimmick to stand out in Japan's crowded idol sweepstakes, and Kamen Joshi has too many to count: their world is a stage full of girls in serial killer style hockey masks, wearing eye-popping day-glo outfits, singing, dancing while swinging around weapons like in a demented fighting video game.
"We also use toilet paper guns", Nanaka Kawamura -- who is wearing a schoolgirl uniform along with colossal Crocs-style sandals shaped like monster feet that squeaks when she walks in them -- adds proudly, "…guns that can shoot a roll of toilet paper during our live performances."
Originally formed in 2013, Kamen Joshi assault the senses like a post-apocalyptic AKB48, shot out of a cannon through a Mad Max movie, and take the Tokyo Robot Restaurant down for the title of greatest show on earth. None of this could be accomplished with halfway measures or approached like a part-time job. Kamen Joshi member Erina Kamiya explains her lot in life, "We perform every day in Akihabara; a sacred place for an idols in Japan."
Kamen Joshi is actually made up of three subgroups: Alice Juban, Steam Girls, and Armor Girls, each of them performing in a slightly different style. Everyone performs at the official Alice Project Theater at the Pasela building in Akihabra: a multistory maze of karaoke rooms, colossal honey toast desserts, and bizarre theme restaurants. Here, inside an ersatz tropical bar decorated with giant teddy bears, I have burning questions about the function of leisure and entertainment of Japanese society. But right now, with three members from Kamen Joshi seated directly across from me, I'm really just curious about the masks… ladies, what is up with the masks?
Says Nanaka Kawamura (above),"Kamen Joshi is a group made up of people who failed the audition for other major idol agencies. Since we can't get by on our looks, we became a group, and wore masks. We also wear masks because we need to fight together as a mass of people, rather than as individuals."
Moa Tsukino (below) explains without a trace of irony, "We gave up on cuteness and instead we rock hard, using the power that comes from the bottom of our hearts to do our live performances."
Kamen Joshi member Erina Kamiya, who is dressed in stunning head to toe Steampunk fashion (part of the look assigned to the Steam Girls subgroup) sums it all up thusly, "By doing this, we can make ourselves appealing in a different way than other idols."
So far, the appeal seems to growing. Kamen Joshi began marching out of the Akihabara underground and into the Japanese mainstream music charts in Janurary 2015 when their single "Genkidane☆" hit the top of the weekly Oricon ranking (I'm trying to think of the last masked musical act that accomplished this feat and am coming up empty). And it's not just the usual idol otaku crowds supporting them either...
Erina Kamiya (above) explains, "If you go to other artist's live performance, the audience is just watching the stage. But the good point of our live performance is that you can feel a sense of unity around the whole venue."
Kamen Joshi's penchant for "Boat Sailing" best demonstrates this very special relationship: During the frenzied peak of a particular song and dance routine, an inflatable raft is brought from backstage for one of the masked girls to climb in. A team of fans then happily hold the raft aloft and walk it around the venue while the singer continues warbling away inside. Pretty simple: No fans = no boat ride.
Says member, Moa Tsukino, also clad in a school uniform and big squeaky shoes, "We're an idol group, but we can't perform only by ourselves. Fans carry us during 'boat sailing' and catch us when we stage dive. We rely on them. They support us."
"You can find our fans easily when you are walking around Akihabara because you can hear the squeaky sound of the sandals they are wearing," Nanaka Kawamura explains, referring to the monster-mutant Croc slippers all three girls are wearing. "Many shops in Akihabara carry them, so it's becoming to be a hit." (The next Kamen Joshi branded items will be shirts from galaxxxy, home of the HYPERSONIC music club collaboration goods).
Before the girls run off to get ready for their next hard hitting performance at the theater upstairs, they have a message for everyone reading this article. Kawamura chirps, "I'd like you to come to this theater and enjoy our live performance. We actually see many overseas fans who say 'It was really fun!' excitedly."
Moa Tsukino adds pragmatically, "We stream our videos on YouTube every day and our 'Junketsu' series has English subtitles. You can watch the segment of our live performance and our daily life, so please search for them on YouTube."
Erina Kamiya knows there's a whole wide world out there, some of whom may find the idea of packs of wild masked idol girls appealing, so she says, "Most of the people reading this article must be living outside Japan. So when you visit Japan, please come to Akihabara in Tokyo to see our live performance. It's better and more exciting than watching us on video."
But the videos are pretty exciting too… watch below to see Kamen Joshi in action complete with toilet paper guns and boat sailing action. What more do you need, really?
KAMEN JOSHI official website (English)
-------
Patrick Macias is editor in chief of Crunchyroll News & Otaku USA magazine.
He is also the writer of HYPERSONIC music club, Paranoia Girls, & PARK Harajuku: Crisis Team