Strong anime... weak anime... Truly skilled fans should try to win with their favorites...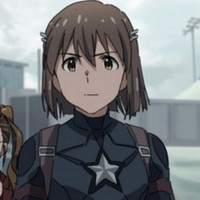 Last week, popular internet writer FILM CRIT HULK published a very interesting article on Captain America: Civil War in which he also touched on the general strokes of where the Marvel Cinematic Universe has been going ever since The Avengers. Now, while I cannot vouch for or argue against his specific points regarding the Marvel movies since I haven't seen any that have come out since The Avengers, one thing that caught my attention was his argument that Marvel Studios has is currently engaged in the making of movies that deal in "basic audience placation." Here's a quote from the article (and, again, I have no opinion on whether or not this is actually true of the Marvel films):
"MARVEL STUDIOS SEEMS TO HAVE FIGURED OUT THE SECRET OF WHAT HULK WILL CALL "BASIC AUDIENCE PLACATION." I.E. YOU MAKE FUN CHARACTERS. YOU HIRE GREAT ACTORS. YOU PUT IN THEM IN SITUATIONS WHERE THEY ALL HAVE TO INTERACT. THEN YOU LET THOSE SITUATIONS PLAY OUT IN AS FUN AND DELIGHTFUL A MANNER AS POSSIBLE. WHICH HULK READILY ADMITS IS NOT AN EASY THING TO DO. AND THE HEART IS IN THE RIGHT PLACE. [...] BUT HULK HAS TO POINT OUT THAT THERE'S NOTHING ABOUT THE "BE DELIGHTFUL" MANTRA THAT INHERENTLY MAKES FOR GOOD STORYTELLING EITHER. IT'S JUST AN AFFECTATION. AND IT'S GOOD FOR ENGAGING AN AUDIENCE ON A BASIC LEVEL."
This is all well said, and it reminded me of some arguments I've seen leveled at the anime industry in recent years. "Moe is killing anime," is a common (if ofttimes tongue-in-cheek) refrain, but in my experience what it typically masks is a dissatisfaction with not merely changing aesthetics in character design, but with the types of stories that have come to be associated our moe overlords in the fandom conciousness—and with the way those stories are being told. The same day HULK's piece came out, I also read an interview of long-time voice actress Megumi Hayashibara (Evangelion's Rei, Cowboy Bebop's Faye, among others) on her thoughts regarding the changes in the industry since the 1990s. Her reflections, again, echo phrases and complaints I've heard many times before. She says, "Anime in the '90s was overflowing with ambition…Anime [today] which are trying to be similar to previous hits can never be better than the originals."
(by たく, used with permission)
The word that struck me from Hayashibara's quote—and the one I see as resonating with FILM CRIT HULK's issues with the Marvel movies—is ambition. From what I can tell, the issue Hayashibara sees in modern anime is one and the same as the one HULK sees in the Marvel movies, although they use different words to describe it and target different root causes. Hayashibara laments contemporary anime's constant derivations on past hits while HULK argues we shouldn't settle for "basic audience placation" from our entertainment. But call it not challenging the audience, call it "squandered storytelling opportunities," call it "a need for stories that elevate great characters," call it whatever—the sentiment remains the same. Films, and anime, have the capacity to do more than just be likable and fun for the audience (whether that's by storytelling choice or deliberate imitation). And if they have that capacity, shouldn't they do so? Shouldn't they be as ambitious and creative as possible, reaching for the heights of the medium?
I'm not interested in applying HULK's specific issues with the Marvel films to anime as a whole (talk about comparing apples to oranges!), but I think he provides some helpful sentiments and verbiage for discussing a particular dynamic in the modern anime scene. To begin, his phrase, "basic audience placation," is one I think can easily be applied to many anime that have aired in the past 5-10 years. In practice, HULK says the appeal of this concept is that it "makes the audience feel good and like they're hanging out with the [characters]." Well, maybe Marvel's behind the ball, because there are (and have been) an entire anime genres based around these precise goals (creating a cozy show where the audience can feel like they're just hanging out with the characters) for a while now. Although iyashikei anime and moegirl comedy slice-of-life anime differ in that they use atmosphere and comedy, respectively, as their primary means of achieving the goal of good audience feelings, the goal is ultimately the same. And yes, when you compare this particular creative priority to some of the great dramas of humanity that appeared in 1980s and 1990s anime, one could perhaps argue that these "cute girls doing cute things" shows are unambitious. But are they? And, if they are, is that bad?
What we have here is a conflict of what certains audiences want in their entertainment. In asking, "should anime be vast, grand space operas or should it be cute anime girls arguing about cats?" we are essentially interrogating two (supposedly) opposed ideas about what anime should be like. In common use, then, ambition as a term has become simply one way of phrasing a specific system of entertainment values, one that values creativity, scope, and depth above all else. In other words, when people talk about "ambitious anime," they typically use it to point to anime that are not in the business of derivation for the purpose of basic audience placation. Ambition is used to describe shows that are wildly creative, strive to be insightful or poignant, and actively try to tell meaningful and worthwhile stories. And, of course, the reverse then becomes true—any show that doesn't ascribe to this system can be labeled as "unambitious," which more simply can be equated to "bad." Ambition, as defined within a strict set of criteria, is good. Unambition is bad, or at least lesser in value.
This is first, a false dichotomy, and second, a foolishly limited application of the idea of ambition in storytelling. To be quite clear: there is nothing about "ambitious" stories as defined above that makes them inherently better than "unambitious" stories. Fullmetal Alchemist is not innately better than K-On simply because Fullmetal Alchemist wants to tell an epic story and K-On wants to create a particular kind of relaxing atmosphere. Sure, one person may value what Fullmental Alchemist is trying to do by striving to tell a traditionally ambitious grand tale, but another could just as easily find K-On's atmospheric goals to be equally important. To argue either way ultimately says more about the values of the one making the judgment than it does about the fundamental goodness of either show. This is ultimately a battle—although I'd argue it doesn't have to be—between different demands of entertainment. For the salaryman who has just come home from an exhausting 12-hour day at work, K-On's easygoing, calming mood might be far more valuable than the the high-stakes, personally-challenging story of Fullmetal Alchemist. Likewise, another might prefer Fullmetal Alchemist because the weight of the moral and ethical questions it poses imbues the story with a signficance far beyond what she can find in the grind of her 9-5 convenience store shifts. It's to each their own—but, of course, we often struggle to see things from different perspectives.
In the modern anime fandom, the tension between these different sets of entertainment values seems like it will never fade away. And, often, I see this dynamic arise in the form of "old anime was better!" Why? Because there are certain groups of anime fans, particularly (at least in my experience) those who have been fans of anime for much longer than I have been, who associate older anime with the epic story kind of ambition. And, from their certain perspective, they're not wrong—old anime was better. Modern anime most certainly is not the same as it was in the 1990s, or even in the early 2000s. I'm a relatively new fan myself, so I've not seen as much as I'd like from those eras, but my limited experience has more or less seen the basic fact that anime has changed to be true. There has been a general shift in priorities in the medium, both commercially and in terms of what sorts of stories (or non-stories) are being told. While claims that moe schoolgirl anime (alongside the perennial whipping boy of magic high school light novel adaptations) is taking over the industry don't quite line up with the facts, the message behind them is actually rather obvious: there's an audience of anime fans that isn't being reached by the offerings of today—and they'd like their stories with ambition, high stakes, and audience challenge back, please.
Again, we're talking about fundamental differences in audience priorities. The contemporary anime industry, to generalize in broad strokes, is catering to an audience that is seeking "basic audience placation" instead of epicness. One kind of ambition has been replaced with another. I note this because I think it's important to understand where the nostalgia for a past era of anime and the slams of modern anime that sometimes accompany it are coming from. I mean, just look at recent comments from famed anime director Mamoru Oshii! An ungenerous read might call him a troll or a grouch, but read carefully! These are the words of someone who feels alienated from an industry that once had a place from him:
"I'm not watching anything. There are zero titles I'm interested in. I mean, I'm over 65. Trying to get into anime aimed at young people is impossible. That's true for Japanese films in general, not just anime. Everything is made for a young audience."
There are no easy solutions to that, but my hope is that I've established both the right for "unambitious" stories to exist and for those who wish for the days of yore to be dissatisfied with the current offerings of the medium. I don't think the answer is that the fans who are unhappy with the current state of anime should shut up and go find a new hobby. Nor do I think unhappy anime fans should give in to uninhibited bitterness about the current state of the medium. Both of these options are short-sighted and, as I see it, pretty dumb. The "good old days" were good. It's not wrong to miss them and the types of stories that were being told then. On the flip side, anime today isn't all "unambitious" moeblob. The proportions have shifted, but there's still cool and ambitious stuff being made all the time—just look at Concrete Revolutio. Both of these things are valuable on their own terms, and any individual person has just as much a right to cherish one as the other.
Alright, that's enough from me—let's hear from you guys in the comments! What do you think about the current state of anime and about the way the industry has changed over time? And remember: be nice to each other!
-----
Isaac is an Associate Features Editor for Crunchyroll and eases his compulsive need to write about anime on his blog, Mage in a Barrel. You can follow him on Twitter at @iblessall or on Facebook.