Our latest feature compares anime locations to their real-world counterparts!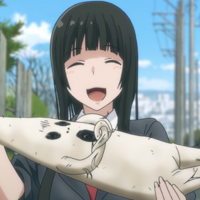 by Wilhelm Donko
On the one hand, anime lets us explore stunning and breathtaking fantasy worlds and settings, but on the other, anime is more often than not just simply set in Japan. One might think that Japan is just a general setting and the places seen in anime are just fiction. While that may be the case here and there, there is also a good amount of shows that take place in actual cities and villages. Especially slice-of-life anime often makes use of real world settings, since nothing conveys a naturalistic representation of real life better than an actual real setting itself.
A good example is the currently airing anime Flying Witch, produced by the studio J.C. Staff. The story revolves around the daily life of the witch Kowata Makoto, her black cat -obligatory for witches –, and her friends. The show is set in Aomori prefecture, the northernmost prefecture on the main island Honshu. To be even more accurate, in a small suburb called Shimoyuguchi, west of the old castle town Hirosaki. Setting Flying Witch in an existing town and recreating the actual locations gives the show a distinctive feeling, compared to a show set in just another generic Japanese town, and J.C. Staff is doing an excellent job of depicting the region.
*All photos are taken with Google Street View.
Already clearly visible in the cheerful opening of Flying Witch, the anime portrays its real world counterparts quite accurately and at the same time adding a lot of vibrant and bright colors.
In the first episode of the show, Makoto travels all the way from Yokohama to Hirosaki. There she arrives at Hirosaki station, from where she takes the bus to Shimoyuguchi, to meet up with her childhood friend, Kuramoto Kei.
It was probably not Makoto's best idea to buy her bamboo broom in a store called MaxPrice. The real world counterpart of MaxPrice is called MaxValu and is actually a retail store chain run by the AEON Group.
As mentioned before, Hirosaki is an old castle town, which was ruled by the Tsuguru clan during the Edo period. Being a typical castle town, the Hirosaki castle was the center of the city; and a samurai district developed around the stronghold. Some of these samurai residences have been preserved and now serve as tourist attractions. In the show Ishiwatari Nao, Makoto's classmate takes care of her parent's liquor store. This exact store (which still functions as a store today) was actually a former a samurai residence that belonged to the Ishiba family, who were in fact not samurai per se, but rather merchants.
Can you already hear it? オオオオオオオオオオオオオオオオオオオオオオオ
And that's our first installment of ANIME VS. REAL LIFE! There's more Flying Witch coming in the next installment--how do you feel the anime stacks up to the real-life locations? Sound off in the comments and tell us what you think!