July 1-4th at the LA Convention Center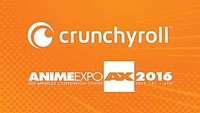 Anime Expo wouldn't be Anime Expo without a variety of panels and premieres, and we aim to keep it that way. Here are all the details on the additional events we have planned this year!

Check out the previous post for details on Berserk and Mob Psycho 100 premieres and events.

Friday, July 1st

A Deeply Biased History of American Manga Publishing
Time: 2:15PM – 3:15PM
Room: LP3/LACC 408AB
Join Dallas Middaugh as he talks about the history of manga in the U.S. Starting with the early days of the 1980s, when manga tried to fit the mold of American comics, on up to the breakneck rise of manga in the '00s. From its free fall decline in 2008, to its rapid return to popularity today, Middaugh will bring his unique perspective to over three decades of U.S. manga. A 16-year veteran of manga publishing, he worked at Viz, founded the Del Rey Manga imprint at Random House, cofounded Seven Seas, and helped start the Kodansha Comics line. He currently works at Crunchyroll.

Crunchyroll Industry Panel
Time: 5:15PM – 6:15PM
Room: LP1/Petree Hall
Hear about all the latest and greatest anime & manga coming out of Crunchyroll straight from the source. Learn about the premium membership service, hear about the hottest new shows streaming right now, and don't miss any news or special announcements.

Crunchyroll Ace Attorney Screening Event
Time: 7:00PM – 8:15
Room: Video 2/JW Marriott Platinum Ballroom
Get ready to shout "Objection!" Join rookie attorney Naruhodo Ryuuichi (Phoenix Wright) and his assistant Mayoi (Maya) as they seek the truth and defend their clients! With limited evidence and logic as his only weapon, can Naruhodo turn the case around when all the odds are stacked against him? Be sure to arrive early for an introduction by game producer and anime script supervisor Motohide Eshiro and the chance to win some awesome prizes!

Saturday, July 2nd

Crunchyroll Shorts Marathon
Time: 12:15PM – 1:30PM
Room: Video 2/JW Marriott Platinum Ballroom
Want to watch a whole anime in an afternoon or discover some of the fun shorts available on Crunchyroll? Check out some of the Crunchyroll Team's favorite short anime series, as we play the first episodes of some of our best anime titles that can be viewed in their entirety in the same amount of time it would take you to walk across the Exhibition Hall.

Crunchyroll Summer Season Premieres
Time: 5:15PM – 6:30PM
Room: Video 1/JW Marriott Platinum Ballroom
With so many new series starting this summer it's hard to know what to choose from. Crunchyroll has you covered and selected a few new summer shows to share with you before the rest of the world gets to see them.

Sunday, July 3rd

Masahiko Minami - President of Studio BONES
Time: 2:45PM – 3:45PM
Room: LP2/403AB
Meet the man behind one of the leading animation studios in the anime industry today, Masahiko Minami! From this season's One Hundred Mob Psycho and Bungo Stray Dogs, find out about the shows he's worked on, his history with Studio BONES, and what some of his favorite titles are!

Crunchyroll Simulcast Preview Panel
Time: 7:30PM – 8:30PM
Room: LP3/LACC 408AB
Looking for something new to watch this season? Want to hear about the hottest new anime from Japan? Then this is the panel for you! Join Crunchyroll as they highlight some of the latest anime hitting this simulcast season.

Monday, July 4th

Kadokawa is Here!
Time: 12:45PM – 1:45PM
Room: LP3/LACC 408AB
One of the largest publishers in Japan, Kadokawa is responsible for some of the biggest anime, manga and light novels in the world! (Do Kill La Kill, ERASED, and Bungo Stray Dogs ring a bell?) Kadokawa recently announced an alliance with Crunchyroll for anime and the formation of Yen Press as a joint venture with Hachette Book Group for manga and light novels, which means more great Kadokawa properties are coming your way soon!. Join representatives from Crunchyroll and Yen Press as they talk about future Kadokawa titles in the U.S.. We will have 2 exclusive simulcast licensing announcements to make in this panel so be sure not to miss it!
Crunchyroll Presents: Berserk Episode #1 Premier with Reo Kurosu
Date: Saturday July 2nd
Time: 3:30PM – 5:00PM
Room: Video 1/JW Marriott Platinum Ballroom



Don't miss this exciting exclusive premiere of the eagerly-anticipated summer anime, Berserk! Be the first to see the long-awaited continuation of this classic, dark-fantasy action series--the fantastic, violent return of Guts and his trials and tribulations as he seeks his revenge against Griffith.

Think this premiere can't get more exciting? Reo Kurosu, one of the producers, will be joining us for this special screening! There will be a special Q&A afterwards, along with a chance to win an exclusive Berserk poster, so don't miss out!


* * * *

Crunchyroll Presents: Mob Psycho 100 Exclusive Premiere with Masahiko Minami
Date: Saturday July 2nd
Time: 6:15PM – 7:45PM
Room: Video 2/JW Marriott Platinum Ballroom



From the same man that brought you the smash-hit "ONE PUNCH MAN" comes another work that is sure to leave you craving for more-- ONE's next work "Mob Psycho One Hundred" will be making its debut here at AX! Be among the first ones catch the exclusive anime premier, with animation by the famed Studio BONES--AND to top it off, the president of Studio BONES Masahiko Minami will be there in person for a special Q&A session after the screening.


Don't forget to check back tomorrow for more news on what else we have planned for this year's Anime Expo!