Find out if the secret café in Flying Witch actually exists!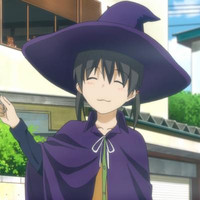 Flying Witch is finally ending today, so it's time to look at a few more comparison shots of the anime. The show was one of my absolute favorites this season, so it's really sad to see it go. These twenty-three minutes a week for the past couple of months have been extremely relaxing and pleasant, and will dearly be missed. Some general information first - Flying Witch is produced by the animation studio J.C. Staff, and is an adaption of the identically named manga. The manga is written by Chihiro Ishizuka and is still ongoing – so let's hope for a second season!
Last week's feature focused on episodes two through four of the show, which showed some of the best visuals and scenery of the anime. They also covered most of Hirosaki's well-known landmarks and sightseeing spots. This week's article will focus on episodes five to seven (five to nine actually, since there were hardly any new locations in these episodes), and will show more of the charming little houses and streets of the suburb Shimoyuguchi, located a little east of Hirosaki. A large part of the show takes place in this calm and idyllic rural area, which is quite fitting for the grounded tone of the show, also displayed through the non-flashy and low-key magic used. Episode three of Flying Witch takes us on a stroll through the suburb with Chito and Chinatsu – making it a perfect episode for some comparisons to its real world counterparts.
*All photos were taken with Google Street View
Since there are almost only random houses and streets shown in episode five, there is actually very little to talk about. If anybody is wondering, Chito and Chinatsu are kind of hopping all over the place - the distance they are covering is quite impressive.
It would be cool, if there was actually a time capsule buried there.
Only Flying Witch is able to pull of an entire episode, about following a cat around town - without being boring at the same time.
I was not able to get any closer here, sorry about that.
The convenience store depicted here in episode six is actually a Lawson store, the second biggest convenience store chain in Japan, after 7-Eleven. If you have read last week's article, you probably know that apples play a prominent role for the region. Chinatsu and Makoto are actually walking along Apple Road here.
The show needs more of Chinatsu, she is just so precious and the secret star of the show.
The odd looking building, Nao is passing by here, is a nursery.
In the beginning of episode seven, Kei and the gang are taking a little trip into the woods, to do some more herb picking. Nao was right in the second episode, Kei does seem old sometimes.
And now for the big question a lot of you have been asking – does the secret café actually exist in real life? Short answer: Yes, it does! However, it's not secret or hidden by magic at all. The café is actually part of the Fujita Memorial Garden, which is located right in the middle of Hirosaki city, right next to Hirosaki Park, and is a famous tourist spot. The Japanese-style Garden was built in 1919, and is named after its first owner, and local business man, Fujita Kenichi. The large garden is divided into an upper and a lower section, including a few buildings, like a small museum, or the coffee house. The café is looking rather magical and distinctive, due to it being a mix of Japanese and European architecture. It is to hope for, that the cute ghost waitress actually exists in real life as well, and is serving tea and cake in that café.
Like mentioned before, Flying Witch is sadly ending today – so it's time to clap along the opening one last time. Shaa la la la…
So is anybody already planning a trip to Aomori? Flying with a broom or using teleportation magic like Akane does, seems like the cheapest way to get there. Were you surprised that the café actually exists? Let us know in the comments below!