From the director of "Gatchman Crowds" comes a series of unsettling tales of ghosts and guilty consciences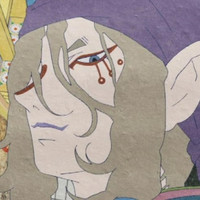 What's "Cruising the Crunchy-Catalog"?
There are so many anime titles to choose from that it can be difficult to determine where to begin. If this problem haunts you like an evil spirit, then Cruising the Crunchy-Catalog" can exorcise your worries. Each week we provide additional information and cultural context to help fans decide whether or not they'd like to take an unknown series for a test drive.
What's Mononoke?
Mononoke is supernatural TV anime from 2007 with direction by Kenji Nakamura (Gatchman Crowds) and animation by Toei Animation. It originally aired as part of Fuji TV's noitaminA late-night anime programming block. Crunchyroll describes Mononoke as follows:
In feudal Japan, evil spirits known as mononoke plague the countryside, leaving a trail of fear in their wake. One mysterious person has the power to slay the mononoke where they stand; he is known as the Medicine Seller, and he vanquishes the spirits using the power of his Exorcism Sword. In order to draw his sword he must understand the Form, Truth and Reason of the mononoke. Armed with a sharp wit, the Medicine Seller wanders from place to place, striking down the evil spirits in his wake.
This description is accurate enough, but it also makes Mononoke sound like Bleach, as if the Medicine Vendor were charging into battle, swinging a gigantic buster sword. In fact, the Exorcism Sword is about the size of a large kitchen knife, and the Medicine Vendor is more like Hercule Poirot or Sherlock Holmes than Ichigo Kurosaki.
Morality and Melodrama.
If "supernatural" best describes Mononoke's subgenre, then "murder mystery" best describes its structure. Each arc of Mononoke is a story of human tragedy where poor decisions made in the heat of passion attract the attention of malevolent, otherworldly forces. The Medicine Vendor plays the role of the detective, probing the mysteries of the human heart to get to the truth of the matter.
Although Mononoke contains disturbing imagery and deals with dark subject matter such as murder, infanticide, and suicide, it's not exactly a horror anime. It's more properly classified as a melodrama, albeit one that may shock or disturb the audience. Even characters that commit evil acts are portrayed in a way that makes them the subject of pity rather than fear and revulsion.
Visual Symbolism.
Mononoke is also a-typical in that it packs a huge amount of narrative information into its artwork. It's one of the most visually dense anime I've ever seen, and combined with its strange subject matter, this could prove confusing for casual viewers. For example, the series implies an illicit relationship between two characters from a quick shot of their sandals arranged in a disorderly manner. Blink and you could miss it.
Mononoke is also gorgeous to behold. Eschewing realism, the series uses a flattened and highly exaggerated art style, one that frequently interrogates the reliability of the memories and motivations of its characters with weird and otherworldly imagery. The color design is also rich and vibrant.
From the Ashes of Ayakashi Comes the Medicine Vendor.
The Medicine Vendor first appeared in the Bake Neko ("Goblin Cat") arc of an earlier TV anime series: Ayakashi: Samurai Horror Tales, which aired as part of Fuji TV's noitaminA programming block in 2006. In 2007, Ayakashi was released on home video in North America by Geneon Entertainment, but this release is now out-of-print. In both Ayakashi and Mononoke, the Medicine Vendor is voiced by Takahiro Sakurai, but his performance is notably more wry and detached in the latter than in the former.
Crunchyroll currently streams Mononoke in the United States, Canada, Puerto Rico, the US Virgin Islands, American Samo, Guam, the Northern Marian Islands, and the United States Minor Outlying Islands in the original Japanese with English subtitles. The complete series is also available on DVD in North America from New Video Group.
If you're in the mood for a macabre and challenging work of cinematic art, then you should give the stories of the Medicine Vendor a try.
Paul Chapman is the host of The Greatest Movie EVER! Podcast and GME! Anime Fun Time.