2014 TV anime based on the "Kagerou Project" features animation by Shaft and direction by Akiyuki Shinbo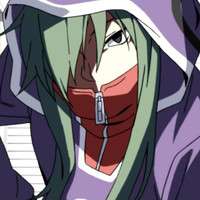 What's "Cruising the Crunchy-Catalog"?
With so many titles to choose from, inexperienced anime fans may feel like they're in a daze. "Cruising the Crunchy-Catalog" can help you to clear your head and focus your vision. Each week we provide additional information and cultural context in order to help fans decide whether or not they'd like to take an unknown series for a test drive.
What's MEKAKUCITY ACTORS?
MEKAKUCITY ACTORS is a 2014 TV anime directed by Akiyuki Shinbo (Puella Magi Madoka Magica) and featuring animation by Shaft (Bakemonogatari, Nisekoi). Crunchyroll describes MEKAKUCITY ACTORS as follows:
The incidents which occurred on August 14th and 15th bring a group of young boys and girls together… They are members of a group they call themselves the "Mekakushi Dan" (Blindfold Organization) and each member possesses a strange power involving their eyes. Will the members of this peculiar organization be able to solve the mysteries behind these incidents and see the truth?
MEKAKUCITY ACTORS is sort of like the 1980's New Mutants or the early 2000's Runaways comics by way of Stanley Kubrick's 2001: A Space Odyssey. It's a little bit mind-bending, a little bit chunibyo. For fans that are in the mood for something different and unusual, the series has a lot to offer.
Parallel Story-telling.
In addition to its unique, high contrast visuals – which blend bright colors with sharp, deep shadows to create a sense of heightened, almost paranoid reality – one of the strongest points of MEKAKUCITY ACTORS is the skill with which it weaves together parallel narratives.
At first glance, MEKAKUCITY ACTORS seems to be presenting a series of unrelated stories, but each individual character's journey ties into the lives of all of the other characters in surprising and novel ways. There's also a fairy tale involving a lonely monster and an allusion to Greek mythology that each take on greater significance as the story continues.
(Dis)continuity Editing.
In addition to its narrative flourishes, MEKAKUCITY ACTORS also deploys some idiosyncratic editing choices to convey a sense of otherworldly weirdness. Akiyuki Shinbo frequently breaks continuity editing, i.e. often characters will not be in matching postures or positions from one animation cut to the next.
Shinbo also inserts frames of solid colors – orange, blue, purple, etc. – in between cuts. When combined with other techniques such as jump cuts and the use of impossible environmental effects (such as strong gusts of wind that dramatically blow the characters' hair while they are indoors), this produces an unusual psychological effect.
Meta-fiction Is In the Eye of the Beholder.
Ultimately, MEKAKUCITY ACTORS has a lot to say about how the songs that we sing and the stories that we will tell to ourselves and to others shape the worlds in which we live. On one level, the series is a piece of meta-fiction that comments on the nature of art, but it also plays well as story filled with action and supernatural shenanigans. There's both style and substance here.
The Further Adventures of the "Blindfold Organization".
MEKAKUCITY ACTORS grew out of the "Kagerou Project", which began as a series of Vocaloid music videos about the Mekakushi Dan that were created by Jin (Shizen no Teki-P) and published to Niconico. The popularity of the songs inspired Jin to write a series of light novels, entitled Kagerou Daze, which were illustrated by Sidu. The novels were in turn adapted into a manga with artwork by Mahiro Satou.
Yen Press publishes English language versions of both the novels and the manga series. There's also an upcoming theatrical short, directed by Sidu, that will take advantage of the MX4D format to immerse audiences in the world of the Mekakushi Dan. This short film, entitled Kagerou Daze - in a day's - will be released in Japan in late 2016.
Crunchyroll currently streams MEKAKUCITY ACTORS in 117 countries in the original Japanese language with subtitles in English, Spanish, Latin American Spanish, French, Portuguese, Arabic, Italiain, and German subtitles. If you're in the mood for something that is equal parts odd, action-packed, and artistic, then perhaps you should keep an eye on MEKAKUCITY ACTORS.
Paul Chapman is the host of The Greatest Movie EVER! Podcast and GME! Anime Fun Time.