Part children's film, part nihilistic murder-revenge melodrama, all sheep!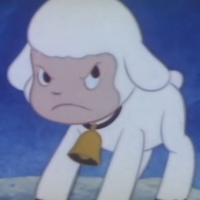 What's "Cruising the Crunchy-Catalog"?
With so many titles to choose from, picking an anime to watch can make you feel like a little lost lamb wandering in a vast wilderness. Fear not, gentle reader, because "Cruising the Crunchy-Catalog" is here to help. Each week we provide additional information and cultural context to help fans determine whether or not they'd like to take an unknown title for a test-drive.
What's Ringing Bell?
Ringing Bell is a 1978 short film directed by Masami Hata and animated by Sanrio, the creators of such cute properties as Hello Kitty and Show by Rock!!. The film is an adaptation of the 1978 book Chirin no Suzu ("Chirin's Bell") by Takashi Yanase, the creator of Anpanman.
Crunchyroll describes Ringing Bell as follows:
"Chirin is an innocent though adventurous young lamb whose carefree life on the farm comes to an abrupt end when a wolf murders his mother. Confused and angry, Chirin pursues the wolf into the mountains, seeking revenge. The laws of nature are brutal, however, and hatred alone won't be enough to avenge the loss of his mother. Only the strong survive in the wild, and obtaining that strength may change Chirin forever."
Yes, folks, Ringing Bell is a children's story with themes so bleak, they will make your head spin. It's also a surprisingly artistic work, one that is filled with both cartoony character animation and more dog-murder than a typical season of Jojo's Bizarre Adventure.
The Emotional Landscape.
If you watch Ringing Bell with a critical eye, one of the first details you'll notice is the use of space and environment to represent emotional and psychological states. When Chirin is safe with his mother and the rest of the flock, the pasture is all blue skies, green grass, and fleecy clouds. But when Chirin enters Woe's world, the mountain is a barren and intimidating place composed entirely of harsh, jutting crags.
Similarly, physical distance reflects emotional distance. Chirin and his mother's sense of love and intimacy is reflected in how they snuggle together on equal footing, but the relationship between Chirin and Woe is separated not only by distance but by height, with the powerful wolf towering over the weak and defenseless sheep.
The School of Hard Knocks.
Another element that gives Ringing Bell such a heavy emotional impact is its complete absence of a reassuring moral message. Unlike a typical Disney or DreamWorks animated film in which parents may die but ultimately the karmic balance is restored in the end, there is no happy resolution for Chirin.
Consumed by his desire for revenge and his hatred of his own powerlessness, Chirin ultimately cannot find peace with his identity as either a wolf or a sheep. In Ringing Bell, existence is perilous, the universe is indifferent to the suffering of the innocent, and bad decisions can ruin even the main character's life irrevocably. It's a heck of a message for a children's film.
For Whom the Bell Tolls.
Ringing Bell was originally released theatrically as a double-feature with The Mouse and His Child, a 1977 animated film that was co-produced by Japan and the United States and distributed by Sanrio. Ringing Bell was also released on VHS in the United States in 1983, and the English dubbed version features such veteran voice actors as Barbara Goodson as young Chirin, Gregg Berger as adult Chirin, and Jim Cummings as Woe the Wolf.
Crunchyroll currently streams Ringing Bell in the United States, Canada, the US Virgin Islands, American Samoa, Guam, the Northern Mariana Islands, and the United States Minor Outlying Islands. The film is available both in the original Japanese with English subtitles and dubbed in English.
Ringing Bell is also distributed on R1 DVD by Discotek Media, and this release includes an enlightening audio commentary by the Internet's Mike Toole (@MichaelToole), whom fans may remember from Crunchyroll's Christmas Special.
If you have the opportunity and you're in the mood to experience a slice of anime history, please check out Ringing Bell. It's a dark, powerful, and emotionally-wrenching film, and it deserves as much attention as we can give it.
Is there a series in Crunchyroll's catalog that you think needs some more love and attention? Please send in your suggestions to [email protected]. Your pick could inspire the next installment of "Cruising the Crunchy-Catalog"!
Paul Chapman is the host of The Greatest Movie EVER! Podcast and GME! Anime Fun Time.