What Fanart Fridays could have been a thing? It's all our REGRETS this week!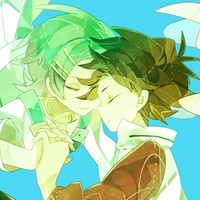 Fanart Friday returns, and no, we're not celebrating the PlayStation's birthday today, I was not E. Last week, we did our last recap, but this week we're taking a different look back: at what might have been, or what possibly should have been!
I obviously only have so much time in a week to write each Fanart Friday, so ideas I have often get pushed aside for various reasons: maybe it'll be a pain in the ass to find fanart for a specific theme, or I don't want to skew too close to something I've already done, or I don't want to run The Hawtness Edition six times a year--there's a lot that keeps me locked to the schedule I kept. In addition to things I wish I'd done, I asked you all what you wish Fanart Friday got to cover--let's get started!
DISCLAIMER: None of the art presented is the property of myself or Crunchyroll. All characters and series are tm and © their respective creators and corporate owners. All art is the creative property of their respective artists. Any artists who wish to have their work removed from this article may contact Nate, and appropriate action will be immediately taken. ALL OPINIONS ARE MY OWN AND ARE NOT THE OPINIONS OF CRUNCHYROLL, INC., ELLATION, OR ANY EMPLOYEES THEREOF.
by simulex
Let's start with an idea I immediately loved: a VERSUS theme, pitting different characters against each other! Kenshiro would make a great showing against Jotaro, but I think Stands are beyond even the power of the Divine Fist of the North Star!
by HoustonSharp
A CANNON FODDER theme would be hilariously appropriate for today, considering it's the 50th anniversary of Star Trek, but I know Gears of War's Carmine brothers would make their way into the installment too.
by よろづ
We've already had one "crossover" theme--Scott Green's Memorial Day Mashup installment way back when--but I would have loved to do another!
by ぽるか
A request last week mentioned a "Pervy" theme, dealing with male and female characters who just can't keep it in their pants. I don't think I'd crown Onizuka king of the pervs, but he'd be pretty high up the chain of command.
by 小国拓弥
Sometimes I skip a theme because it's too close to other themes we've done--I didn't do an MMA theme because we'd already covered martial arts, though I wouldn't have minded revisiting the theme. Also, read Teppu.
by kaizoku5493 READER SUBMISSION!
Again with the crossovers (although Tsuyu and Deku are great picks for a Chrono Trigger crossover)! It would've been nice to do another JRPG theme, even though I did one and Victoria did one too.
by empew
This covers two themes I kinda wanted to do: an "anime super heroes" theme (which One Punch Man fits into nicely) and a "characters who always, always take a ludicrous beating" theme (which Genos fits into nicely)!
by ハルト
Ahh, filler--the bane of some fans' existence, but I don't mind it all that much. A theme on filler characters (like Bleach's Kariya Jin here) would have been cool, but tough to find a bunch of fanart for.
by 塗壁
Sure, we did a broader theme on tokusatsu and Super Sentai, but with Crunchyroll becoming a new home for Ultraman, a single Fanart Friday celebrating one of Japan's greatest super heroes would've been nice.
by RA
You want to talk about never running out of fanart, we could have totally done a VOCALOID theme--hell, we could have done several!
by いくそつー
And while some of you really would have loved it if I had done a very exasperated D-FRAG! theme...
by celebistar READER SUBMISSION!
...and while celebistar would have loved it if I had given her the keys and let her do a full Nobunagun theme...
by ときどき
...I'm amazed that in five years I have only used Zatch Bell's Parco Folgore once. Right now. What the heck.
by 中川
Precure has shown up here from time to time, mainly in our one magical girl installment...
by 満水@:Q
...but I'm amazed that I have never done a full Saint Seiya theme, considering it's one of my all-time favorites.
by キノ
A multi-week trip through the decades would have been awesome--Macross would be one title showing up through the years!
Historical figures constantly get the anime treatment, but few show up as often (and in as many roles) as Nobunaga Oda, so giving him his own Fanart Friday would've been cool and educational!
by ultmte READER SUBMISSION!
I've actually "treated myself" to several installments of Fanart Friday where I can just do what I want instead of adhering to a theme, so ultmte's idea of Thanks to Nate Edition would just make my ego swell bigger than it already has. Still, I appreciate the thought, bro.
by 千葉
To wrap up, the idea of ANIME POWER COUPLES would've been super fun, especially for one of the Valentines Day installments. I'd just give it to Bee and let her work her magic.
And that's everything for this week! There's no way I could have covered every regret I've ever had with this column--what themes do you wish we'd covered during Fanart Friday's five-year run? Sound off in the comments and let us know!
For those of you wanting to submit your art here, behold--the FIVE FIATS OF FANART FRIDAY!
1. Your work is always welcome here, regardless of your skill level or experience. To submit work to Fanart Friday, please PM me (username Anonymooo) with a link to your work, and submit it BY THURSDAY before the column goes up.
2. The link must be the full URL, don't use any URL shorteners like bit.ly or goo.gl. An example of a full URL is:http://anonymooo.deviantart.com/art/Mooo-vs-Redblood-Phill-Cover-22690857

3. Your work must be hosted on a site like Deviantart or Pixiv (or your own official art website), not on Imgur, Photobucket,Crunchyroll Photos, or anything along those lines. This provides a verifiable source for the work.
4. I, and by extension Crunchyroll, reserve the right to remove or not share your work if it is deemed inappropriate. Any submissions that don't follow these rules will not be permitted in Fanart Friday.

5. Be excellent to each other. Don't steal anyone else's work or make fun of artists' submissions.
Now, here are the next three--shoot, I'm sorry, two themes for Fanart Friday!
-Next week, on SEPTEMBER 16th, our second-to-last installment is all about YOUR GOODBYES! Whether you've written Fanart Friday, submitted art, commented on any of the past columns, or are just a fan, here's your chance to say goodbye to Fanart Friday! NO REQUESTS, BUT ALL SUBMISSIONS ARE WELCOME! 1 LEFT!
-Then, on SEPTEMBER 23rd, this long road comes to an end, and give you all MY GOODBYE!
Thanks again for coming by to check out Fanart Friday! Have a great weekend, and I'll see you all next week!
-------
Nate Ming is the Features and Reviews Editor for Crunchyroll News, creator of the long-running Fanart Friday column, and the Customer Support Lead for Crunchyroll. You can follow him on Twitter at @NateMing, and see more at Crunchyroll Gaming and the official Crunchyroll Twitch channel.