Take a look at the real life locations of Amanchu! in this week's edition of Anime vs. Real Life.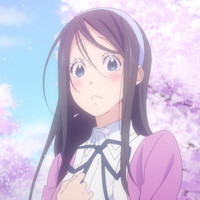 Anime vs. Real Life is taking another look at the Izu Peninsula this week, this time focusing on the eastern shore and the locations of the currently airing Amanchu!
If you missed it last week, the Izu Peninsula is also the setting of another anime this summer season – both Amanchu! and Love Live! Sunshine!! take place on the peninsula, which is just a bit south-west of Tokyo. The Izu Peninsula, a part of Shizuoka Prefecture, is generally known as a resort area, mainly for its many hot springs, but also for various seaside activities, like surfing or diving. It stands to reason that both shows would choose the Izu Peninsula as their setting, since Amanchu!, obviously, is a show about diving, but also Kanan from Love Live! Sunshine!! works in a diving shop.
The main difference between those two, in terms of location, is that Love Live! Sunshine!! mainly takes place on the western shore, and Amanchu on the eastern shore, almost completely on the opposite sides of the peninsula. Both Amanchu! and Love Live! Sunshine!! are putting a lot of effort into recreating the real life locations almost one-to-one. However, Amanchu!'s locations occasionally deviate a bit from their real world counterparts - which by no means is a bad thing. At first glance, Amanchu! does not really seem like a show that would use a lot of real life locations, the rather unique looking school uniforms, the odd-looking cat, or the funny facial expressions add to that sentiment. Nonetheless, most of Amanchu's locations are, in fact, based on real ones – though the show is 'borrowing' a lot of locations from different parts of the Izu Peninsula. For example, the shopping street shown in the second episode, which served as Pikrari's way to school (she walked there), is in a completely different city as the train station from episode seven, which is also supposed to be within walking distance of her school. Most of the time, the anime takes place in Ito and its vicinity. The city has an estimated population of almost 70000, and is mainly known as a hot spring resort town. Another city that is often used in Amanchu is Atami, just a bit north of Ito, with a population of roughly 38000.
Now, let's dive right into it, and see how the real world places compare to the anime locations of Amanchu! This article will cover all episodes up until episode nine.
*All photos were taken with Google Street View.
The opening scene of Amanchu! brings us to Shiofuki Park, just a bit south of Ito. As you might have already guessed, the diving shop does not exist in reality, but there is a small beach to swim and dive.
Yumegaoka Ginza in real life is Atami Ginza, the main shopping street of Atami. There are a few reasons why most of the shops are closed in the anime, but also in real life. For one, Pikari and her teacher are on their way to school in the morning, so obviously most shops are still closed. Another explanation could be the burst of Japan's economic bubble in the early 1990's, which affected Atami quite heavily (the area was a popular location for company retreats back then), as the town has still not fully recovered, and a lot of shops and hotels still remain closed today.
This cherry blossom street was shown in episode three, and is located near Izukogen Station, back in Ito. Along the street is the Nosaka Automata Museum, a museum full of automated, music-playing dolls.
The locations of Amanchu! are fairly easy to find, since most of them are just located right along the coastline. Teku, Pikari and their teacher, Katori, are on their way to Ito Marine Park in this scene, as a little treat for Teku, since she just completed the pool course in episode six.
The second half of the sixth episode of Amanchu! is focusing mainly on Ito Marine Town, a roadside/seaside spa a bit north of Ito. Ito Marine Town also features restaurants, gift shops, a free foot bath (which was shown in the ninth episode), and of course a beautiful ocean view.
Did you think that Ito Marine Town was a real place? The creators of Amanchu! clearly put in a lot of effort recreating the site.
Even the wall painting is the same.
Pikari is giving Teku a joy ribbon in this shot, on which they have to write a wish…
…they then have to pray in front of this monument…
…and hang up the ribbon here, so that their wish may come true.
Izukogen Station from episode seven.
Kinomiya Station. Pikari was traveling all the way from Ito to Atami, just to see hydrangeas in full bloom.
In episode nine, the gang returns to Ito Marine Town, in order to give Teku her 'belated birthday present'.
How have you been liking Amanchu! so far, and what do you think about its real life locations? Sound off in the comments below!