Tom Zoth explores Sayo Yamamoto's career, influences, and signature style!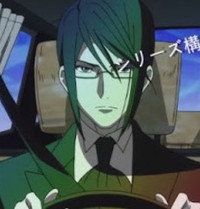 This article was brought to you by Tom Zoth of Hungry Bug Diner, who's been writing about Sayo Yamamoto's career for more than 5 years. We've asked him to share some of his insights ahead of this week's premiere of Yuri!!! On ICE!
With the anticipation surrounding Yuri!!! on Ice's fall premiere, it's hard to believe that director Sayo Yamamoto has only helmed two series: 2008's Michiko and Hatchin, and 2012's The Woman Called Fujiko Mine. But, she's also directed memorable episodes of Samurai Champloo, Ergo Proxy, Space Dandy, and even gave Stocking a pair of her trademark sunglasses.
She's established a kind of brand of sexy, empowered heroines that aren't afraid to kick butt. This led to not a little confusion when the new series, Yuri!!! on Ice was announced. Lesbians on ice? What kind of wild, sexy show would this end up being? But katakana vowels mislead many English speakers, and what was promised was instead Yuuri, or a guy named Yuri, on ice. In one sense, this seems to be a major departure from what we've come to expect from Yamamoto. In another sense, it's the natural evolution of a creator who's not afraid to experiment with new styles.

Yamamoto got her start in anime at the College of Art and Design in Tokyo, where she reported she was far more interested in animation than the other things she was being taught. Her student project was an animation about samurai inspired by Toshiro Mifune, Japanese legend and star of many Akira Kurosawa films. She debuted at Studio Madhouse working on setting design for Yoshiaki Kawajiri's X/1999 TV series, but reports Takeshi Koike gave her the first major job she could sink her teeth into: Storyboard work on 2003's Trava: Fist Planet, the prequel-of-sorts to his later Redline feature.

The same year, Yamamoto did storyboard and directorial work on Hiroshi Hamasaki's Texhnolyze, but most importantly, she directed her first ending sequence for the series. Much of Yamamoto's artistic evolution can be seen in her direction of series opening and ending themes, and the flower symbolism of Texhnolyze's ED can be seen again in her work for The Gokusen (2004), Rozen Maiden: Traumend (2005), and Hanamaru Kindergarten (2010), to say nothing of Fujiko Mine (2012).
Yamamoto's next big break came in 2004, when she was invited to participate in Shinichiro Watanabe's follow-up to Cowboy Bebop, Samurai Champloo. In fact, Yamamoto credits Watanabe with the growth of her career It's on Champloo where Yamamoto will first collaborate with writer Dai Sato, with whom she will work again on Ergo Proxy and Fujiko Mine. In their collaboration, we first see emergence of the themes that Yamamoto would explore further in Michiko and Fujiko. Particularly, the role of women and the role of art in society, and often, where the two intertwine. In the Sato-scripted, Yamamoto-directed episode 5 of Champloo "Artistic Anarchy", young women volunteer themselves to be models for ukiyo-e (woodblock prints), only to be targeted by human traffickers. In Yamamoto's episode 11 "Gamblers and Gallantry", the chivalrous Jin falls in love with a woman who has been sold into prostitution and must deal with the conflicting feelings this engenders in him. Yamamoto collaborates with Dai Sato again on episode 18 "War of the Words," where gangs of street toughs compete in a graffiti showdown. It should be noted that this episode also contains the scenes where Mugen attempts to learn how to read, showing that Yamamoto has a deft touch with humor as well as an eye toward more serious issues.

While she was working on Champloo at Manglobe, the studio's president came to Yamamoto with an offer to direct a television series about whatever she would like. She was so preoccupied with Champloo, she let the offer sit for a few years, until she took a trip with some friends to Brazil. The trip inspired her, and the result was, of course, Michiko and Hatchin, her series directorial debut. The series involved rough n' tumble convict Michiko Malandro and young orphan Hana Morenos in the search for Hana's father, and their troubles with law and various men along the way. Sayo Yamamoto announced the project at a special press conference preserved on the US blu-ray release, stating she wanted women to be able to enjoy the series, and that the late time slot meant that "office ladies would be returning home, worn out from the day, and they could have a beer and watch it." Michiko and Hatchin is unique for a number of reasons: that Yamamoto chose film actresses (Youko Maki and Suzuka Ohga) rather than voice actors for the lead roles, that the series takes place outside of Japan for its entirety, that the series predominantly stars people of color, and that music for the series is handled by Brazilian musician Alexandre Kassin rather than a well-known J-pop group. Despite a Toonami run, Michiko and Hatchin remains criminally underwatched, but it suffices to say that the series deals with issues of poverty, womanhood, and motherhood in ways seldom encountered in anime.

After Michiko and Hatchin, Yamamoto stayed busy storyboarding, directing, and working on more opening and ending animations, now often in the style of Michiko and Hatchin's pop art opener. See her work below on Arakawa Under the Bridge and Sacred Seven (2011).
The genesis of The Woman Called Fujiko Mine was somewhat similar to that of Michiko and Hatchin. Yamamoto was approached by producer Yu Kiyozono who offered complete creative freedom on the kind of series she could make. She opted to create the Episode 0 of Lupin, before the characters had met, and decided to make Fujiko Mine the focus of the series. She also decided to work again with Takeshi Koike of Trava and Redline and Dai Sato from Champloo and Ergo Proxy, and brought on board Mari Okada, who she confesses she had always wanted to work with. Immediately controversial and sexually audacious (I regretfully can't use the images from the opening that I would like to use), The Woman Called Fujiko Mine had to find a way to make the spiteful, catty, backstabbing Fujiko Mine the hero of the story, and did it through subverting women's traditional roles in gothic fiction. Perhaps no greater example can be found than the series' episode 9, Love Wreathed in Steam, which features an underground auction of a tattooed woman, a physical incarnation of woman as art that Fujiko is compelled to kill.
Since then, again, Yamamoto has kept busy, refining and tweaking her artistic obsessions, providing memorable openings and endings for PSYCHO-PASS (2012), Attack on Titan (2013), and Rage of Bahamut (2014), now in the sketchy style of Fujiko's opener and her storyboarded scene from Evangelion 2.0 (2009).
So, how did we get from the radical sexuality of Fujiko Mine to the cool, sleek simmering homoerotic tension of Yuri!!! on Ice? We can actually see Sayo Yamamoto evolve over the course of Space Dandy, for which she directed two episodes, the ending animation, and the teaser video for Viva Namida by Yasayuki Okamura. The Okamura video is very much with the pop art style of her Arakawa Under the Bridge openings.
Her first Space Dandy episode, "The Search for the Phantom Space Ramen, Baby", contains a lot of what you'd expect from the Fujiko Mine director. In your face eroticism, striking layouts, Scarlet getting in Dandy's face and taking out a roomful of soldiers, stylistic shading, and colorful pop art.
But it's really her second episode where the roots of Yuri!!! on Ice can be seen. This is episode 20, "Rock n' Roll Dandy, Baby" with guest bishounen character designs by Atsushi Kamijou (who would again work with Yamamoto on her Animator Expo short). Not even Honey lying on the table can hide the colder palette, washed out color scheme, and focus on the bromance between our two rock n' roll gods.
From here, it's not too great a leap to her Animator Expo short, with the same blue tones and same Kamijo pretty boys.
For some finishing touches on the Yuri!!! on Ice formula, check out the opening animation for Persona 5 as well:
It's her work on short opening and closing animations like this that make Sayo Yamamoto one of the most rewarding directors to follow. Despite directing only two prior series, she's done storyboard work in everything from Death Note to Occult Academy and countless opening and endings. You can see where she experiments, you can find her favorite themes and motifs, and you can see her evolve. The sketchy charcoal she uses for her striking Woman Called Fujiko Mine opening? She first experimented with it in a surreal dream sequence in Eureka Seven's episode 16.
You can always see a sense of where she's going in where she's been, making revisiting Sayo Yamamoto works incredibly rewarding.
So what can we expect from Yuri!!! on Ice? Yamamoto credits herself with excelling at eroticism and comedy, so we can expect much of both.
She's always been in love with broad sweeping movements from the corner of the screen to the center, and from the camera off to the distance. In a way, skaters are the perfect subject matter for her to try and capture in animation. With their graceful weightlessness, she has something to animate that will fly on the screen exactly where she wishes. Beyond that, though, this is her first sports series, the first series she has a writing credit for, and the first series she's worked on with no apparent female characters. She's also working with a very different staff than normal: There's no Dai Sato, Hiroshi Shimizu, or Shinichiro Watanabe. Original concept and character designs were created in collaboration with manga artist Mitsurou Kubo. None of Kubo's works have been licensed for English release, but her most recent series Again!! is about male cheerleaders (ouendan). Her character designs were adapted by Tadashi Hiramatsu, who recently did the character designs for Parasyte. Hiramatsu has a long history in the industry, going back to Akira and including highlights such as FLCL, Diebuster, Gurren Lagann, and His and Her Circumstances, and he's likely to bring some animation chops to the project. Still, there's a lot of unknowns here, and I'm excited to see how the series will show Yamamoto's progression as an artist.
---
If you'd like to read more of Tom Zoth's work, you can check out his blog Hungry Bug Diner or follow him on twitter @ABCBTom!