Magical girls? Lucid dreaming? Most experimental fall anime?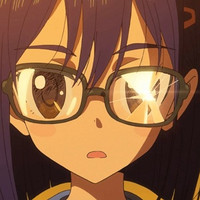 Every anime season, there's always a couple titles which are overlooked. Whether it's due to unconventional storytelling or simply a lack of promotional material, the sad reality is some promising anime just go unnoticed.
This brings me to our ugly duckling in question, Flip Flappers. An eclectic mix of magical girls, science fiction and lucid dreaming, Flip Flappers is an unusual anime to say the least. With a premiere that left its viewers in the dark, some may be wondering what Kiyotaka Oshiyama was trying to accomplish with his directorial debut.
Oshiyama is a relatively unknown name in the industry, despite a portfolio that stretches back over a decade. A talented key animator with animation-driven projects such as Dennou Coil and The Wind Rises under his belt, Oshiyama's imagination was finally put to the test during Space Dandy. There, Oshiyama was granted full creative control of Space Dandy's 18th episode – where he handled its direction, storyboard, animation and script.
In a single episode, Oshiyama crafted a fantastical planet with pink skies, barren oceans and decaying landmasses; a world where the solitary lifestyle of fishing tore the inhabitants apart and caused them to live in isolation. Visually poignant and meditative, Oshiyama's contribution to the limitless universe of Space Dandy was not one to forget – for a variety of reasons.
Space Dandy Episode 18
Often times with commercial anime, a director includes a particular scene or cut to serve a narrative function. Very rarely do we see projects where life or reality are simply depicted as is. This is what made Oshiyama's Space Dandy episode so unique. The silent lull of watching the title character, Dandy, fish in solitude on the foreign planet from sunrise to sunset; quiet moments emphasizing the vast ocean amidst an otherworldly sky. Unburdened by narrative obligations (world building or character development), the episode was in essence Oshiyama making a statement for the audience to interpret, engage with and respond to.
In terms of Oshiyama's approach to Flip Flappers, there were some clear parallels with his earlier Space Dandy episode. The premiere of Flip Flappers was very much a sensory experience, rather than one concerned with logistics. It speaks to Oshiyama's roots as a key animator – he conceptualizes motion and spatial design before plotline details.
This is perhaps why Flip Flappers felt so refreshing to watch – it's clearly a work that was meant to exist as an anime: a stylized setting where girls on hover boards enter illusory universes, encounter monsters and gain superpowers. Flip Flappers' premiere was less about establishing a narrative hook and more about the adventure of its two heroines, Papika and Cocona. The two girls spent most of the episode frolicking in some snow-covered ruins and camping out in a dense forest. It was truly about the youths reveling in each moment, in the absence of an authorial voice pushing the story forward; Papika and Cocona's excitement, surprise and wonder were emphasized above all else.
Additionally, the episode had little in the way of a conflict. Some shadowy, wormlike monsters appear and Cocona loses her glasses in the chaos. The monsters do not possess any malicious intentions and appear as forces of nature that the girls get caught up in. It's an unknown in their adventure, rather than an adversary they had to conquer.
While the first episode of Flip Flappers ended up more confusing than it began, there was something whimsical about it all. Pressured by the uncertainty surrounding her future, Cocona discovers a hole in the greenery of her school's courtyard. In a contemporary spin on Alice in Wonderland, she and Papika descend down a steel pipe into a pit of nothingness before emerging into a snow-covered wasteland. No explanations were given for why the phenomena occured – we're as mystified as Cocona probably was – but not having answers was what made the premiere so effective.
Down the rabbit hole
Whether Oshiyama's inexperience directing a full-length TV anime will affect Flip Flappers in the long run is uncertain. Flip Flappers seems like the kind of anime that could end up going in many directions, and may not be for everyone. However, for those that enjoy experimental anime or projects with impressive animation, Flip Flappers is worth a shot. Let us know your thoughts on the first episode in the comments below!
----
Brandon is a Brand Features Writer for Crunchyroll and also writes anime-related editorials on his blog, Moe-Alternative. Hit him up for a chat on his Twitter at @Don_Don_Kun!