Find out what Crunchyroll's most popular new fall simulcast is by Canadian Province/Territory!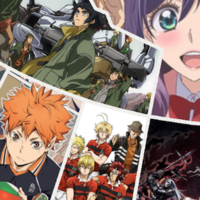 We were overwhelmed by the positive response to the map of America filled in with not-political preferences, but Crunchyroll users' favorite anime by state. People in the comments and on social media were super positive, and enjoyed seeing if their tastes lined up with their neighbors'. There were people who were proud, others who were invigorated to watch more of their favorite to change the map, but also, there were a lot of these:
@Crunchyroll do you have one for Canada?
— Richard Beaubien (@SatoshiMiwa) October 27, 2016
@Crunchyroll you should do canada sometime, if possible :D

— sunny (@northcrater) October 27, 2016
@MarthKoopa @Crunchyroll Yeah, I'd be really curious to see one for Canada.

— Jesse Phantasmridge (@jbetteridge) October 27, 2016
So without further ado, here's the map for Crunchyroll's Top Fall Simulcasts by Province/Territory in Canada!!
I was suprised and pleased to see so much more Haikyu!! representation in this map than in the United States--but again, this is only looking at the top anime, and it's not rare to see a second place anime close behind! After dominating much of the midwest, Yuri!!! On ICE only claimed a single province, but it's a big one!!
ALL OUT!! and Kiss Him, Not Me! are also notable in that they don't appear anywhere on the American map but make their way into Canadian hearts--I wonder what the difference means?
This map was only made and approved because of the positivity you all showed towards the last one, so please, let us know what you think!! It was a ton of fun making this one as well, and we're not done with these yet!! Thanks so much for checking in and sharing this with your friends!!
For those less familiar with Canadian Provinces and Territories, here's the complete list:
Ontario - Haikyu!!
British Columbia - Haikyu!!
Quebec - Yuri!!! On ICE
Alberta - Haikyu!!
Manitoba - Drifters
New Brunswick - Haikyu!!
Nova Scotia - Izetta: The Last Witch
Prince Edward Island - Yuri!! On ICE
Saskatchewan - ALL OUT!!
Newfoundland and Labrador - Izetta: The Last Witch
Yukon Territory - Drifters
Northwest Territories - Gundam IBO
Nunavut - Kiss Him, Not Me