We zoom out the map this time to find the top anime…by country!!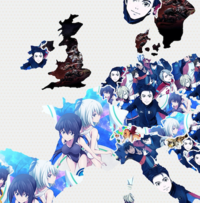 Ever wondered what your country's favorite anime is?
Crunchyroll is a truly international service, providing anime to more countries than even the United Nations recognizes! In the last few weeks, we've shared maps of the United States, Canada, and Australia, going state-by-state or province-by-province to share the most popular new Fall simulcast.
Today, we're going to pull out the map and look at not just individual states, but the entire map of Europe, country-by-country!! Please enjoy:
Quick note on methodology: this looks at the last few weeks of viewership on Crunchyroll to determine which series are being watched the most in each country - since we're still off from halfway through the season, these numbers may change! Not included are long-running series not specific to the Fall 2016 season, such as Naruto or JoJo's Bizarre Adventure.
With dozens upon dozens of anime streaming in Europe this season, only nine have representation at the top of European countries, with Yuri!!! On ICE and Keijo!!!!!!!! competing for the most. Sixteen countries are pledged to Yuri, but fifteen can call the battle of the butts as their favorite new series - these two are truly the top contenders vying for European hearts!!
As in the United States, Bungo Stray Dogs makes a small but unmistakable appearance on the map - this time, instead of just the state of Arkansas, Crunchyroll users from Slovenia, Monaco, Luxembourg, and Andorra picked Bungo as their top pick. Even after the incredible flashback,
Switzerland is the sole country to prefer TO BE HERO, the story about a toilet seat salesman who is magically transformed into Earth's guardian…but looks even creepier than before in his new form. Is this kind of anime particularly appealing to the Swiss, or is this an anomaly of data?
Ukraine is one of the largest countries in Europe, and represents another anime that hasn't shown up on one of our maps yet - Brave Witches! Some shows can claim a country in the continent, but don't appear visible on the map. Mediterranian nation Malta prefers Bloodivores over all else, and Liechtenstein is unsurprisingly cheering on Elystadt in Izetta: The Last Witch.
If you live in Europe, does this look like your country?? If you don't, what did you learn about the continent from this map? Let us know what part of the world you'd like to see next!!
For those looking for a table of results, you can find the full list of Winners here:
| | |
| --- | --- |
| Country | Top Anime |
| Albania | Keijo!!!!!!!! |
| Andorra | Bungo Stray Dogs |
| Austria | Keijo!!!!!!!! |
| Belarus | Keijo!!!!!!!! |
| Belgium | Keijo!!!!!!!! |
| Bosnia and Herzegovina | Yuri!!! On ICE |
| Bulgaria | Yuri!!! On ICE |
| Croatia | Yuri!!! On ICE |
| Denmark | Drifters |
| Estonia | Yuri!!! On ICE |
| Finland | Yuri!!! On ICE |
| France | Keijo!!!!!!!! |
| Germany | Yuri!!! On ICE |
| Greece | Keijo!!!!!!!! |
| Hungary | Yuri!!! On ICE |
| Iceland | Drifters |
| Italy | Yuri!!! On ICE |
| Kazakhstan | Keijo!!!!!!!! |
| Kosovo | Keijo!!!!!!!! |
| Latvia | Yuri!!! On ICE |
| Liechtenstein | Izetta: The Last Witch |
| Lithuania | Yuri!!! On ICE |
| Luxembourg | Bungo Stray Dogs |
| Malta | Bloodivores |
| Moldova | Nanbaka |
| Monaco | Bungo Stray Dogs |
| Montenegro | Keijo!!!!!!!! |
| Netherlands | Yuri!!! On ICE |
| Norway | Yuri!!! On ICE |
| Poland | Yuri!!! On ICE |
| Portugal | Keijo!!!!!!!! |
| Republic of Ireland | Yuri!!! On ICE |
| Republic of Macedonia | Keijo!!!!!!!! |
| Romania | Yuri!!! On ICE |
| Russia | Keijo!!!!!!!! |
| Serbia | Keijo!!!!!!!! |
| Slovakia | Yuri!!! On ICE |
| Slovenia | Bungo Stray Dogs |
| Spain | Keijo!!!!!!!! |
| Sweden | Drifters |
| Switzerland | TO BE HERO |
| Turkey | Keijo!!!!!!!! |
| Ukraine | Brave Witches |
| United Kingdom | Drifters |