Check out the real life locations of Sound! Euphonium 2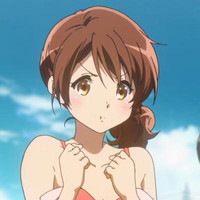 You probably could have guessed this, but Sound! Euphonium is one of my all-time favorite anime. Needless to say, it's been really wonderful to see all these familiar characters again in the second season, but it's also great that we get to see more of Sound! Euphonium's charming setting, Uji. I wasn't able to get the catchy song from this week's station concert out of my head, so I thought now would be as good a time as any to do another edition of Anime vs. Real Life on Sound! Euphonium.
In case you missed it, I've already covered the first season of Sound! Euphonium quite extensively (Part 1, 2, 3). Like in the first season, Uji remains the main setting of the show, and Kyoto Animation's version of Kyoto Prefecture's second largest city is as visually impressive as you'd expect it to be. That being said, the studio does reuse several scenes from the first season, often only changing some of the lightning – something that was especially noticeable in the hour-long first episode. I've left out most of these in this week's article, but some should still look really familiar. Now, here are the real life locations of Sound! Euphonium 2!
*This's week's article is a mix of my own photos, and images I took via Google Street View. To avoid confusion, I'll mark every image individually. Mine with 'WD', and the other ones with 'GSV'
WD
The second season picks up exactly where the first one left off, with Kumiko's concert band winning the Kyoto Competition. The prefectural Kyoto Competition took place in the Kyoto Concert Hall, which was completed in 1995, and serves as the home of the Kyoto Symphony Orchestra. The band is celebrating their victory in front of the concert hall (header image), and they have every right to do so, as the win allows them to move on to the regional Kansai competition.
WD
WD
I'm just including this one as an example of what I mentioned earlier. We already got see this exact scene in front of Rokujizo Station in the first season, only with different lightning now.
GSV
However, KyoAni does try to mix in new angles of some of these places here and there, keeping these locations interesting and not repetitive.
WD
Don't try to call the number shown on the anime ad…
GSV
Here's a new angle of Obaku Station. Katou always gets off here.
WD
Reina and Kumiko always travel a little further, to Uji Station, the final stop along the Keihan Uji Line. It's worth mentioning that the above-mentioned stations are all along the Keihan Uji Line, and should not be confused with the often identically named Japan Rail stations.
WD
The café in the background is Tsuen Tee, where you can drink some of Uji's famous green tea – or just buy some ice cream like I did.
WD
GSV
Another railroad crossing, this time south of Obaku Station.
WD
This 7-Eleven is located close to Kumiko's school. Sadly, those toy vending machines (gachapon) were not there in real life.
WD
GSV
GSV
These are still images from the first episode. The Ujigawa Fireworks Festival is just about to start, which is why the intersection near the JR Uji Station got closed off.
WD
The entrance to Uji Shrine. Like in the first season, Kumiko and Reina again meet up here for their – dare I say it? – date.
WD
WD
Kumiko and Reina then cross the Asagiri Bridge, which connects the northern shore of the Uji River with the Furitsu Uji Park, where most of the food stalls were located.
WD
GSV
While Reina and Kumiko are enjoying themselves at the festival, concert band president Haruka and vice-president Asuka are viewing the fireworks alone.
GSV
WD
Ticket machines in front of Rokujizo Station.
GSV
Natsuki and Yuko are on their way home from school, passing through the Hatoyama Residential area and heading towards the Hadoyama Ryokuchi Park.
GSV
GSV
It's finally time for the Kansai Competition in episode five, which is held in the Amagasaki Cultural Center. This complex is located in Amagasaki, an industrial city just a bit west of Osaka. There are three concert halls located in the Amagasaki Cultural Center. The biggest one is able to seat 2030 people, and it's the one used in the anime.
GSV
GSV
This message board is located right outside of Uji Station.
GSV
GSV
The Tohmi Japanese Hotel, located near the famous Byodoin Temple.
GSV
If you ever need to get a new haircut in Uji, Barber Azuma is the place to go, probably.
GSV
To the right is the Agata Shrine, which I've already talked about in previous installments.
GSV
Kumiko and her friends are on their way to Kitauji High School, which is Kyoto Prefectural Todo Senior High School in real life. While there are always a lot of school kids passing through the Hatoyama Area on their way to school, the school uniforms sadly look nothing like the ones in the anime. Pity.
GSV
GSV
Rokujizo Station again.
GSV
This finally brings us to this week's episode, episode seven. Major drama with Asuka and her mother aside, the episode ends on a lighter note, a concert in Kyoto Station. This impressive staircase – uncreatively called the 'Big Stairs' – is located right inside Kyoto Station, and has a total of 171 steps (just take the escalators). A lot of tourists probably miss this staircase and just rush outside to see the Kyoto Tower, but there's actually a really large open-air observation deck located on the top floor of the station. Furthermore, the steps contain about 15,000 LED lights, which illuminate in the evening.
WD
The 131 meter high Kyoto Tower is located just across Kyoto Station.
GSV
GSV
GSV
Sapphire, err, I mean Midori, is looking great paying bass.
GSV
Kyoto Station's roof is called the Matrix, and represents the city's grid street plan.
GSV
There's a small stage in front of the staircase, so musical performances are no rare occurrence.
GSV
Badass.
GSV
GSV
And the next piece begins.
If you've ever been to Kyoto, did you check out the staircase and observation deck atop Kyoto Station? Also, who's your favorite concert band member? Sound off in the comments below!

---
You can follow Wilhelm on Twitter @Surwill.