Today we'll explore one more clever visual trick that brings Flip Flappers' story to life!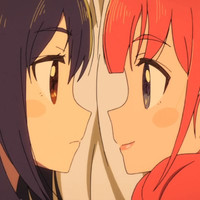 Look, I'm sorry, but I just can't stop talking about Flip Flappers. The show has gotten inside my head at this point. It started off as a seemingly disjointed series of whimsical adventures in creative universes, and that was already pretty great, but it's since then developed into a story with engaging characters and multiple layers of interpretation and all that nitty-gritty good stuff us snobby critics crave. Flip Flappers is this season's most pure example of "storytelling through animation," using the specific tools of this specific medium not just to enhance its storytelling, but to convey its central truths of plot and character. And today I'm going to scratch at one more way Flip Flappers demonstrates that power: through its consistently purposeful symmetry.
I've talked before about how Flip Flappers embraces visual storytelling in a general sense, and how its use of genre shorthand enables its minimalist episodic narratives. But symmetry specifically is the vehicle for a great deal of its larger points. Sometimes this comes through in the way it mirrors colors in order to convey emotional tone - Brandon dug into that a few weeks ago, and Peter reflected on a potential purpose for that mirroring a few days later.
Cocona and Papika are the most obvious and central mirrored pair in the series, something I touched on before. Not only do their initial designs echo each other in colors (Cocona has blue hair and reddish eyes, Papika has red hair and bright blue eyes), but they actually swap colors for their transformation, implying they're linked on some fundamental level. But Flip Flappers' seventh episode went above and beyond this level of mirroring, presenting them almost as two halves of the same whole.
Exhausted by entertaining a rotating cast of alternate Papikas, Cocona collapses near the end of the episode, lying face down on a hotel bed. This episode has already done a solid job of both setting the main pair up as mirrors and isolating Cocona whenever possible. Papika's appearances and disappearances are given no explanation, but we can infer her nature through their timing - Papika always appears when Cocona is stranded in some routine, and then pushes her to cross the threshold before disappearing. While Papika has always been the one pushing for their adventures, this episode reduces Papika to her most pure meaning for Cocona, a harbinger of a more free and honest self.
This role-playing reaches its apex in the hotel scene, when Cocona and a Papika dressed as a devilish seductress trade words while caught in symmetrical frames on the bed. This framing emphasizes both the link and the distance between the two, in different ways. It's impossible to watch scenes of characters being mirrored so closely without assuming some sort of deeper connection between the two, but in base blocking terms, this conversation is actually fairly impersonal. The two are only "looking at each other" into the camera - they're actually back to back, and it's only when the scene ends that their eyes meet. The framing of this scene simultaneously emphasizes Cocona's underlying link with Papika and her immediate distrust of this version of Papika, a fairly neat trick to accomplish with symmetry alone.
This style of mirroring characters to highlight their connections reappears in the next episode, where we finally get more focus on Cocona's friend Yayaka. Yayaka has spent much of this series struggling with similar issues to Cocona - accepting her underlying feelings, embracing the friendships that are meaningful to her, and coming to find her true and happy self. Her initial perspective has been one of pragmatic distance, exemplified through her professional attire and attitude within Pure Illusion. But in this episode, she's finally forced to embrace her concern for Cocona. The show doesn't actually reveal the moment of this turn, but it illustrates the attitude she must embrace directly through symmetry, by mirroring one climactic shot of new character Pop against another shot of Cocona denying his exact lesson. The characters don't need to actually have an argument for this to be a conversation - by matching one shot layout against another, the clash of philosophies is clear through framing alone.
Episode eight offers one more example of smart symmetry, in a very different way. The episode opens with mad scientist Hidaka getting lectured about the mess of his room by Sayuri, a complaint he claims only demonstrates her lack of perspective. That would seem to be just a throwaway gag, but later in the episode, Cocona and Papika find themselves in a mad science realm of Pure Illusion. Befriended by the tiny scientist Pop, they make their way to his "castle" - a secret base that just so happens to exactly mirror both the design and even visual layout of Hidaka's base. By now, it's clear that the various realms of "Pure Illusion" are the mindscapes of various actual characters, and by using this bit of very direct symmetry, Flip Flappers is able to convey the fact that they're in Hidaka's mind (or Bu's as his avatar) without actually bringing it up in the text.
That kind of symmetry has legitimate power, and isn't just an indulgent trick or easter egg. Actually mentioning that this is Hidaka's brain would serve no purpose in this episode, and wouldn't sound right coming from any of these characters, but that knowledge is still valuable to the audience. By coding a great deal of its subtext into its visual design through tricks like symmetry, Flip Flappers is able to tell a more fully realized story than would be possible through dialogue alone. A show's visuals should hopefully always be working to further that show's dramatic goals, but creative tricks like this allow anime to reach even higher heights.
-----
Nick Creamer has been writing about cartoons for too many years now, and is always ready to cry about Madoka. You can find more of his work at his blog Wrong Every Time, or follow him on Twitter.