Make some new friends with this delicious and hearty snack!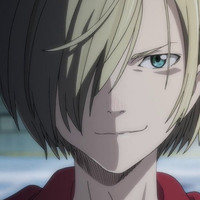 Where do I even begin to talk about this show? Should I start with the awesome opening song? The impressively not horrible incorporation of CGI into the ice skating routines? The great character development? No, no, let's instead start with Russian Yuri's grandfather, Grandpa Plisetsky. That guy has some serious cooking skills, because his Katsu Pirozhki is both delicious and kinda difficult to master.
This pirozhki has a glorious 5 layers- pork, katsu breading, egg, rice, and finally bread. It's an awesome twist on the popular Japanese food, katsu don. This snack packs a punch- it makes you really full after eating it, but, if you do make it, it tastes amazing, especially with worcestershire or steak sauce. But man, it took me somewhere between 3-4 hours to assemble. If you've made the traditional katsu version of this before, it's not much more complex than that, but there are some extra steps that take time.
What is a pirozhki, you may ask? Traditionally, they're yeasted, individual-sized baked or fried buns filled with some kind of fruit or vegetable filling. There are many different variations of this kind of bun, found in many different countries around the same region, but many have some kind of regional difference. The style of pirozhki I used here is the style most commonly associated with Russia. Typically it features a cabbage and meat filling-obviously we're going a little off-book today.
I personally struggled with the dough a little - bread dough is really not hard to make, but something I think I could have done to improve it would be to knead it a bit more when first stirring ingredients together. The dough was pretty sticky at the end, and I think it needed a bit more flour + elbow grease to develop the gluten appropriately. So, if you try this, don't be afraid to knead to your heart's content! Dough should be elastic but not overly sticky to the touch.
The good news is that it's kinda hard to mess these up. Despite my dough not working out perfectly, they still tasted and looked amazing in the end, which was good enough for me. These are fun to make- especially with friends- and are a must if you want to taste the snack that brought the two Yuris together (sorta) in a heart-poundingly adorable moment.
Check out the video below for a visual on instructions. Ingredients are listed just below.
---
---
Ingredients
Makes 6 Pirozhki
Pirozhki Yeast Starter:
1/2 cup milk
1 tbsp sugar
1/2 tbsp yeast
Pirozhki Dough:
Yeast starter
2 tbsp butter, melted
1 egg
1/2 cup milk
1 tsp salt
3 cups flour
Katsu:
3 pork chops
salt and pepper
flour
egg
panko bread crumbs
Egg filling:
4 eggs
1 tbsp mirin
1/2 tbsp soy sauce
salt
about 1/3 cup frozen peas
Egg yolk
about 1 tbsp water
You will also need 2 cups cooked rice!
To Make:
1. Heat milk from yeast starter ingredients until it's warm, but not burning hot.
2. Add in yeast starter ingredients to milk and set aside about 10 minutes until foamy.
3. Add first five ingredients for bread dough together. Stir in 1 cup of flour at a time until it is all incorporated.
4. Turn out onto a floury surface, and knead until it is no longer sticky.
5. Set into a bowl, cover with a damp towel, and set in a warm place until it's tripled in size, about 1 hour.
6. Prepare the Katsu- cut pork chops in half so you have 6 pieces about 1/2 inch thick.
7. Bread the pork chops- flour, then dip in egg, then panko.
8. Fry in oil at 350 F about 5-8 minutes, flipping occasionally, until golden brown.
9. In a clean pan, add eggs, mirin, soy sauce, and salt and whisk together.
10. Turn on heat to medium low and cook eggs, scrambling them as you go.
11. When you have a soft scramble, add in frozen peas. Continue cooking until a hard scramble is achieved.
12. Take out bread dough and turn out onto floured surface. Knead until no longer sticky, and slit into 6 pieces. Form into balls and set aside.
13. On a piece of plastic wrap, spread a thin layer of rice, then a thin layer of egg. Wet fingers with water to prevent rice sticking to them. Place down one katsu, and then more egg and rice.
14. Use the plastic wrap to squeeze the whole thing into a ball. Unwrap and fill in missing spots with rice as necessary.
15. Take a dough ball and stretch it out with your fingers. When it's bigger than the katsu/rice/egg ball, lay it over the top of the riceball and wrap the dough around, pinching any loose edges closed with your fingers.
16. Set finished pirohzkis on a baking sheet covered in parchment paper.
17. Brush tops with egg yolk + water to achieve a nice color to the pirozhki.
18. Bake at 400 F for about 25 minutes until golden brown.
---
I hope you enjoyed this post! Check in next week for another recipe. To check out more anime food recipes,
visit my blog
for more anime and manga themed food. If you have any questions or comments, leave them below! I recently got a twitter, so you can follow me at
@yumpenguinsnack
if you would like, and DEFINITELY feel free to send me food requests! My tumblr is
yumpenguinsnacks.tumblr.com
. Find me on Youtube for more video tutorials! Enjoy the food, and if you decide to recreate this dish, show me pics! :D