Today we conclude our exploration of Sound! Euphonium's most elusive character, Asuka Tanaka!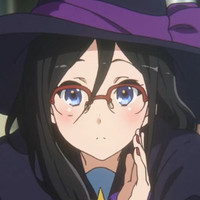 Hello again, and welcome back to Why It Works! Last week I discussed how Sound! Euphonium's first season slowly laid the groundwork of Asuka Tanaka's often contradictory personality. Exuberantly friendly and carelessly callous, quick with a joke or to light up your smoke, the ultimate image of season one presented a character who's happy to make friends, but even happier to jettison basically anyone who threatens the concert band. Comedy and compassion seemed like tools to her - and whatever vulnerable heart might be lying beneath them, she kept it well-hidden.
Euphonium 2's first arc only validates this impression, while further solidifying her as a person possessing clear emotional intelligence. We generally associate emotional intelligence with empathy, but they're not the same thing - emotional intelligence is more the ability to read and understand the feelings of others and mood of a situation. What you do with that information is your own business - and as this arc reveals, Asuka's general application of her knowledge sticks closely to the formula of the first season. Nozomi's attempts to rejoin the band are framed as "troublesome" - personal feelings aside, a disruption like this might impact the band's ability to perform at competition. Asuka even demonstrates a keen understanding of her own nature, when she warns Kumiko that learning about this would just make her feel terrible. Asuka sees all the fault lines in these friendships, but they're irrelevant to her.
In Euphonium 2's second arc, all of this character work finally comes home, as Asuka herself finally gets the spotlight. In one electrifying scene halfway through the season, we see Asuka doing something she'd never willingly do: causing drama for the band. Her mother comes to school asking to withdraw her from the band, but Asuka herself says nothing. Moved to an unconscionable anger, Asuka's mother strikes her - and Asuka's response embodies her classic approach to emotional conflict. Responding without any emotional inflection, her stillness feels like more of a strike against her mother than any actual outburst could be. Asuka lets the silly, tumbling emotions of others do what they will, while she stays resolute like a rock in the stream. Of course Asuka finds romantic drama trivial. How could she not, when her own life has been defined by bearing the violence of her own mother, and standing defiant in spite of it?
Of course, Asuka's worldview has its own limitations. In the wake of that confrontation, Asuka sticks to her guns - the band doesn't need any drama, and so in this case, it's she herself that needs to exit. Unhappy scenes of others pleading with Asuka to return reflect the power of effective characterization; the exact qualities that once made her strong are now betraying her, and making her unable to accept the help of others. Sometimes Asuka's disgust at the thought of being dependent is expressed through dialogue, while at other times, it's the shot framing that reveals just how angry she might be. Asuka is the perfect character for this kind of visual characterization; always ready with a pleasant lie, we need body language and shot framing to tell the actual truth.
Asuka's conflict comes to a head in a pair of episodes that reveal her full history. Even the context of this reveal is meaningful: though Asuka claims she's fine with quitting the band and actively spurns the help of others, she at one point invites Kumiko to her house to study, something completely out of character for her. Asuka clearly doesn't care about Kumiko's studies, but for Asuka, this is about as close to "reaching out" as her pride allows. And when Kumiko actually does visit her house, Asuka reveals that it was her absent father who pushed her into music, a fact that made her mother despise her passion. Asuka's lack of faith in anyone but herself now makes sense - for all of her life, the people she's been most expected to depend on have been disappointing her. Asuka's few moments of true emotional sincerity now seem tied together in retrospect: Asuka is most free when she's expressing herself through music, and most passionate when she's acting in pursuit of a reunion with the father she lost.
The final scene of Asuka's arc is a bitter celebration of her defiant complexity, as she shifts between all of her modes and talents in an attempt to push away Kumiko's willing support. From her disarming comedy to her bitter pride to her sharp character analysis to her tremendous fear of vulnerability, all of the Asukas we've come to know get their moment in the sun, culminating in a vicious attempt to push Kumiko away through meanness alone. But in the end, it's Euphonium's mastery of body language and shot framing that get the final word, as they must with a character as closely guarded as Asuka Tanaka. Asuka eventually relents, and accepts Kumiko's help - but she is still Asuka Tanaka, and so only a brief frame of her tearful smile tells the whole truth. Euphonium is a show that celebrates every small facet of its characters and relationships, a show whose visual storytelling reaches out to embrace its characters even as its characters do the same. Asuka is a cold, many-faced, and ultimately sympathetic character, and Euphonium's combination of thoughtful characterization and excellent visual storytelling bring her vividly to life.
-----
Nick Creamer has been writing about cartoons for too many years now, and is always ready to cry about Madoka. You can find more of his work at his blog Wrong Every Time, or follow him on Twitter.