Can true otaku find true love in this oddball office comedy from 2014?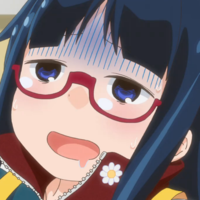 What's "Cruising the Crunchy-Catalog"?
Picking a new anime to watch may not be as difficult as stocking shelves, checking inventory, and running a cash register, but sometimes a little guidance comes in handy. "Cruising the Crunchy-Catalog" is on the job. Each week we provide additional information and cultural context to help anime fans determine whether or not they'd like to take an unknown series for a test drive.
What's DENKI-GAI?
DENKI-GAI is a 2014 TV anime with direction by Masafumi Sato and animation by Shin-Ei Animation. The series is based on the Denki-gai no Honya-san ("The Book-sellers of Electric Town") manga by Asato Mizu that is serialized in Media Factory's Comic Flapper seinen manga magazine. Crunchyroll describes DENKI-GAI as follows:
A blush-inducing, coming-of-age comedy about manga-loving book store employees!! The unique cast of characters -- all hard-core manga fans and maniacs of some sort -- work at comic shop "Uma no Hone." On a daily basis, they display new releases, shrink-wrap comics, shudder at their lack of feminine qualities, question their love for porn literature…and basically have fun while working hard (?). Girls and guys call each other by nicknames and some begin to develop close relationships! It's non-stop humor and romance in this book store rom-com!
DENKI-GAI is a romantic office comedy with an otaku twist, in that all of the main characters work (and fall in love) in a busy bookstore that caters to the tastes of fans of anime, manga, light novels, visual novels, and video games.
Verbal Puns and Visual Humor.
DENKI-GAI has a lot of well-timed physical comedy, but it's also littered with sight gags and wordplay. For example, the title itself an oblique reference, since Akihabara is historically known as Akihabara Denki-Gai ("Akihabara Electric Town"). The store at which the main characters work is called Uma no Hone ("The Horse's Bone"), a reference to the real life doujinshi shop Toranoana ("The Tiger's Hole"), which is itself a reference to Tiger Mask.
DENKI-GAI is filled with overt parodies of actual anime, manga, and video games, such as the To Heart spoof Die Heart or Attack on Uncle, a riff on Attack on Titan. The sight gags also come fast and furious in DENKI-GAI. Blink and you might miss a reference to My Neighbor Totoro, Neon Genesis Evangelion, or Crayon Shin-chan.
The Holidays are a Time for Romance.
DENKI-GAI has not one, not two, but three episodes with segments dedicated to Christmas and Valentine's Day, so some trivia about how Japan celebrates these Western holidays may be helpful to better understand the jokes. In Japan, Christmas is largely stripped of its religious connotations, and Christmas Eve in particular is considered a romantic time for lovers to spend time together and to exchange gifts.
On Valentine's Day in Japan, women are supposed to give gifts of chocolate to the men in their lives, with hand-made chocolate indicating a deeper emotional connection. Men are expected to reciprocate on White Day by handing out gifts of white chocolate. Since the cast of DENKI-GAI are unlucky in love, neither holiday goes according to plan.
Sense and Sensuality.
Commercialism and eroticism have always been a part of the anime medium, but DENKI-GAI is remarkably sex-positive in how it addresses the marriage of these concepts. The series doesn't kink-shame, and it doesn't depict the erotic aspects of otaku pop culture as something worthy of derision or scorn.
Instead, DENKI-GAI portrays a playful, happy, and healthy sexuality, where even the character in charge of making sure Umi no Hone complies with literary obscenity standards is free to admit her love of pornographic literature. It's a refreshing change-of-pace from the many manga and anime series where the sex lives of otaku serve as punchlines for mean-spirited jokes.
Tender Moments.
While the comedy in DENKI-GAI is broad, the romance aspects of the story are subdued and bittersweet. There are some genuinely touching moments, especially when characters lament past passions that have cooled in the present or when they address the idea of unrequited love.
Limited Edition.
Crunchyroll currently streams DENKI-GAI in 203 territories worldwide. The series is available in the original Japanese with English, Spanish, Latin American Spanish, French, Portuguese, and German subtitles. The series is also released on North American home video by Ponycan USA, although these sets are priced and marketed as collector's items.
DENKI-GAI's love of pop culture media is reverent but not self-indulgent, its humor is sharp but not caustic, and its romance is sweet but not sappy. If you're in the mood for a lighthearted romantic comedy with some good-natured ribbing aimed at the business of making and selling anime and manga, consider giving DENKI-GAI a try.
Is there a series in Crunchyroll's catalog that you think needs some more love and attention? Please send in your suggestions via e-mail to [email protected] or post a Tweet to @gooberzilla. Your pick could inspire the next installment of "Cruising the Crunchy-Catalog"!
Paul Chapman is the host of The Greatest Movie EVER! Podcast and GME! Anime Fun Time.