See what games Nate and Peter got to play at Bandai Namco's New Year's Showcase!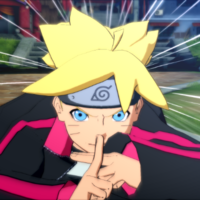 It's that time of year again. Bandai Namco opened their doors to the press for announcements, updates, and hands-on experiences of their titles set for 2017. I attended their New Year's Showcase event (with Nate kind of helping) to play some games and provide you with the good news on what Bandai Namco has ready on the horizon!
Announcement! Accel World vs. SAO
Virtual worlds collide. Bandai Namco announced a new franchise crossover of Reki Kawahara's two famous light novel series. Details are sparse but the short video we were shown revealed the characters of Accel World in Sword Art Online's Alfheim, or at least something that looks like it. Characters from both settings must combine forces to rescue Yui from an unknown enemy while unraveling the mystery of Accel World's players appearing in Alfheim, a game existing more than 20 years in their past.
A gameplay demo showed an environment like Alfheim, but with floating debris, including the wreckage of office buildings, suspended in the air, providing dynamic terrain for the title's 3D environments for the fairy flight system. Gameplay looks like a hack n' slash with free vertical movement featuring 3 person teams composed of a roster of 40 total characters from the two franchises. SAO characters have the ability to fly and cast spells which Accel World characters specialized in ground combat. Special tag team attacks can be used to do a ton of damage while stylishly swapping characters.
You can bet we want to get some hands-on time with this title!
Update! Ni no Kuni II: The Revenant Kingdom
Bandai Namco gave us some new information on the latest installment of their popular new JRPG franchise. We already know the trifecta of Level-5, Yoshiyuki Momose, and Joe Hisaishi will be returning to ensure Revenant Kingdom has all the magic of the original Ni no Kuni. A demo showed off some of the gameplay and provided new information on the story. They confirmed that the second world in Revenant Kingdom isn't the same as the original Ni no Kuni but has similar features such as the Kingdom of Ding Dong Dell.
The demo showed off some quality of life upgrades like seamless transition to combat from the environment. The player can switch between control of Evan, Roland, and Tani with the press of a button and each can be used for their individual strengths, specializing in magic, close combat, and ranged combat respectively. Higgledees were also revealed to be an important part of exploration and fighting, being necessary to solve certain environmental puzzles and able to distract enemies with their attacks to create openings for the primary party members.
Although we still don't have a release date, Bandai Namco promised a simultaneous, worldwide release on both Playstation 4 and Steam!
Hands-on! Naruto Shippuden: Ultimate Ninja Storm 4 - Road to Boruto
I got to spend some time with Road to Boruto trying out team Konohamaru. While not quite up to the apocalyptic level of power as their parents, these kids would have school them in their younger days. Any Ultimate Ninja Storm veteran should know what to expect from this newest addition. We're particularly looking forward to Hokage Naruto and and Wandering Shinobi Sasuke.
If you already have Ultimate Ninja Storm 4, Road to Boruto can be purchased as standalone or you can purchase it as a full digital or physical game, which includes all the 3 DLC packs from the season pass!
Hands-on!
Ace Combat 7: Skies Unknown
Nate got the opportunity to fly the deadly skies on Playstation VR. The headset allows you to actively look around in the cockpit without using the right stick, giving you a sense of vertigo when you track jets passing by you at mach speeds by turning your head. Even with the headgear, Ace Combat 7 delivers the same experience we've come to expect from the franchise, keeping the hardcore feel of a flight simulator while providing the freedom and fun of an arcade flyer. We also got to look at a new trailer which had a bomber releasing a cloud of small fighter drones and what looked like a pilot base jumping from a tower while wearing a wingsuit.
Please tell us if you can skydive into your jet, Bandai Namco!
Not much has changed with Tekken 7 since we tried it out in early 2016, but Nate always has to take a few rounds whenever we get the chance. The console edition is coming along nicely and played well on both stick and pad. The roster may seem pared-down compared to Tekken Tag Tournament 2, but there is something for everyone in the current line-up. Other members of the press had tried the game a few times and were willing to try a few picks outside the Akuma spam of last year. Nate himself spent some time with Jin, Katarina, Miguel, and Josie, all while thanking his lucky stars that Abbie didn't show up to put everyone in their place with her invincible Feng Wei.
If you ask us, the June release can't come soon enough!
That's it for now! We hope you enjoyed reading about these new titles as much as we did playing them (sorry). What upcoming title are you most hyped about? Any new discoveries or news you're hopeful will be soon to break? Let us know in the comments below!