Check out the real-world locations of Akiba's Trip!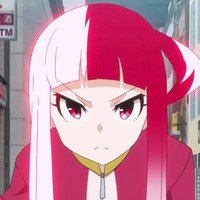 Akiba is in grave danger; the Electric Town is being overrun by synthesizers (basically vampires) causing chaos and destruction in the streets. The only solution: forcefully stripping them off their clothes and exposing them to sunlight! At least that was the premise of the game, Akiba's Trip: Undead & Undressed. The anime adaption of the game, Akiba's Trip The Animation changes things up a bit, if only a little. In addition to a new set of main characters, superpowers now simply get transferred via kiss, not by drinking blood anymore, and synthesizers are now called bugged ones, and are vulnerable by directly exposing their naked skin to air. This straightforward setup guarantees a hilarious, over-the-top action-comedy with plenty of fanservice on the side. Akiba's Trip The Animation is meant to commemorate studio Gonzo's 25th anniversary, and is a whimsical self-depreciating comedy about all the quirks and peculiarities of the otaku culture.

While the plot sounds absolutely ridiculous and out of this world, the show's setting is not. Akihabara (or Akiba for short) should be fairly familiar to every anime fan, as the district gets featured in a mass of anime and manga, and is renowned as the center of otaku culture – the mecca of the anime world. I won't delve too much into the history of Akihabara, since fellow features writer Frog-kun already wrote an excellent and profound article about that. Instead, let's get right to the comparison shots, so let's take a virtual trip around Akiba!
*Most images were taken with GOOGLE STREET VIEW! Images I took myself will be marked 'WD'.
The show's visual style boasts bright and vibrant colors, which stem from the show's setting itself. Akihabara really is full of large and colorful billboards filled with an abundance of anime characters.
The setting of Akiba's Trip is one of the show's strong points, and the anime does a fantastic job of recreating its real-world counterpart. Also extremely interesting is how the show handles all the different anime advertisements and brand names found throughout Akihabara. Surprisingly often, the show uses actual shop names, but there are also a good amount of parodies (e.g. Mister Donut was turned into Monster Donut, Sony into Somy, etc.), so keep a lookout for those!
WD
Tamotsu gets turned into a bugged one himself by Matome, and thus is unable to leave the Akihabara area. On the one hand, the area itself isn't all too big, but on the other, it's filled with anime and game shops, perfect for an otaku like Tamotsu and myself. Most of the biggest anime and electronic stores can all be found along the main Chuo Street here.
On Sundays, the Chuo street is closed to traffic during the afternoon, making it possible to freely cross the main road during that time.
The iconic green overhead rail bridge you see during a lot of shots in the show, is serving the JR Sobu Line.
WD
Tamotsu is standing outside of the southern Akihabara Electric Town Exit here.
Onoden is a four-floor building selling mainly electronics.
Star Kebab is also real place in Akihabara, the restaurant actually even has three locations there. The one featured in the show is Star Kebab Akiba Terrace, the most prominent one of those three, located just one street away from the main street.
The small shop right next to Star Kebab is called Knowledge, and it only sells hats. Maybe that's where Niwaka always gets her adorable hats?
The shop behind them is just a used appliance store.
Like mentioned above, the whole scene here plays out in a little side street right next to Chuo Street. Most of the chain stores are all located along the main road, and small independent shops are located in the side streets.
Akiba's Trip makes a lot of fun of otaku culture, including military otakus.
Anime Plaza is a multi-use building located right next to Adores Karaoke. The first floor contains a small arcade filled with crane games targeting a female audience. And located in the fourth floor is the café which also got shown in the first episode, and is mostly used for anime collaborations. The current collaboration is a Re:Zero café.
The red sign to the left is the small Adores arcade I was just talking about, and the red building in the middle of the image is Adores Karaoke.
Matome is making the exact same face everyone makes when it's finally my turn to sing karoke.
WD
Radio Kaikan is one of the district's most iconic landmarks, and most likely one of the first shops you'll see when you step out of Akihabara Station for the first time. The now ten-story building mainly sells electronics and anime related goods.
Tamotsu is hungry after ripping off so many clothes, and points at the Mansei building, a ten-story building where every floor serves differently prepared beef (Korean style Barbeque, Sukiyaki, etc.). The funny thing is, Tamotsu actually wants to get a pork sandwich there, and if you look closely, the buildings logo has been changed from a cow to a pig in the anime version.
Edion is yet again another giant electronics shop in Akihabara.
Both of them are standing on the Mansei Bridge crossing the Kanda River.
The shop to the left is one of the twelve Sofmap shops in Akihabara. This specific shop here (Akiba☆Sofmap 1st Store) sells everything from idol to anime goods. I don't think you'll be able to get Arisa's outfit there, though.
Echigoya is a chain selling military gear and guns. However, only air soft guns.
The Carl's Jr. cameo in Akiba's Trip was not a joke, the American fast food chain actually opened its first restaurant in Japan in Akihabara last year.
Located in the same street as Star Kebab, Akihabara Dear Stage is the place where an aspiring idol's wish can turn into reality. The combined bar and concert stage is one of the district's most popular nightspots, and live-performances by aspirant idols and voice actresses take place there almost every evening. Idol groups like Dempagumi.inc and Moso Calibration started out here.
While it might look a bit sketchy from the outside, 'eternal' (called 'member' in the anime) is also a bar/concert stage for idols.
You have probably noticed by now, that the show is utilizing its setting to its fullest, using several of Akihabara's most famous and eccentric locations. This little café is also one of them – the Akihabara Schatzkiste. It's one of Akihabara's many maid cafes; however, a much tamer and cozier version of those. I'll share my personal experience with maid cafes in an inevitable second part of this feature sometime. By the way, Schatzkiste is German and means treasure chest.
If you enter the somewhat sketchy looking entrance to the right, you'll enter one of Akihabara's coolest gaming stores – Super Potato. The Super Potato flagship store in Akihabara is dedicated solely to Japanese retro video games, selling old games and gaming related merchandise you won't be able to find anywhere else anymore.
Sofmap's main store in Akihabara is selling mostly electronics and household appliances.
Just to put it out there, the Akihabara tower from the fourth episode of Akiba's Strip does obviously not exist in the real world.
WD
Have you ever been to Akihabara yourself, and if yes, did you recognize some of Akiba's Trip's locations? Let me know in the comments!
---
You can follow Wilhelm on Twitter @Surwill.