elDLIVE, Gabriel DropOut, Interviews with Monster Girls, Piacevole ~My Italian Cooking~, Seiren, Spiritpact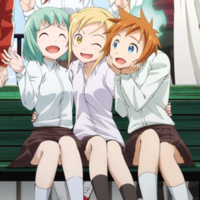 What are the odds? Last year I had to make sure not to watch too much anime so I had time to do work; this year, I have to make sure I watch new anime as it comes out so it's easier to report on for Crunchyroll. That means I've found myself steaming through the first episodes of a whole bunch of shows over the past few days.

It's weird to actually be confronting a lot of these after writing about them hypothetically for the last handful of months and knowing about their production background. How some of them have turned out is interesting -- not always the best, but definitely interesting.

So here's a fast run-down of a few of the newest offerings, based (for better or for worse) solely on their first episodes. (As an aside, I interact with very little manga/light novel content -- so I can't comment on source material for any of these.) Click on the titles to watch them streaming on Crunchyroll!

elDLIVE
Short: Katekyo Hitman Reborn! in space.
Demographic: Shonen action
Animation: Nice so far
Plot: Can probably be protracted to 700+ episodes
Lewdness: Low
Based on: Manga

elDLIVE is based on another manga by the creator of Reborn!, hence the similarity in style and storytelling. A schoolboy named Chuuta talks to a voice in his head, which makes him a laughingstock; this voice turns out to be an alien critter living inside him, which gives him the ability to use superhuman powers. These powers lead to him joining elDLIVE, the solar system's police force.

So far, it's a very shiny-animation shonen series. There are some neat alien designs (I had a chuckle at the moon man alien named Méliès) and some cool effects. But there's nothing so far that's really fired it above and beyond all other shonen.

Which isn't a criticism so much as it is to say... if you like shonen, this is fun and you should watch it. It looks like the type of show that'll be here for a while.

Gabriel DropOut
Short: Angelic try-hard comes to Earth, discovers MMOs, and becomes nerd trash.
Demographic: Teen/adult
Animation: Nice
Plot: School comedy
Lewdness: About what you'd expect
Based on: Manga

At first glance, Gabriel DropOut looks like it's going to be in the vein of Lucky*Star, starring a smol irritable nerd and her classmates. For the most part it's entertaining -- the other three main girls are a kindly demon who uses her temptation abilities to convince Gab to actually go to school, the incompetent daughter of Satan, and another angel whose latent masochism takes no time to reveal itself.

It definitely has sequences and jokes I enjoyed, but then it disappears into panty jokes. At this point I think it's a matter of waiting and seeing whether the funny outranks the fanservice or vice-versa. But there's plenty I find funny, and I can't just out-of-hand reject a show that has an angel trying to send a computer to Hell for Windows updates.
Short: Monster High does a student exchange with Japan.
Demographic: Teen/young adult
Animation: Fairly mainstream
Plot: Potentially school comedy with lurking metaplot
Lewdness: Shockingly low
Based on: Manga
A biology teacher intrigued by the supernatural teaches at a high school with three supernatural students and a succubus teacher. Sounds like a lead-in to a harem anime, right? It's... really not.
Considering the plot involves a biology teacher getting to know a vampire, a succubus, a dullahan, and a yuki-onna, you probably wouldn't expect it to be a show where one of the major themes is using shared suffering to break through social barriers.
There is fanservice, but it's extremely low and played off as 'you're a teenager with limited experience so you probably didn't know how that was going to come across.' Largely it's about a society where demi-humans (or 'demis,' as they prefer to be called) -- the source of our fairy tales and folktales -- have gotten equal rights and government assistance so they can function day-to-day, but still struggle to fit in in human society. (The succubus, for example, avoids human contact and deliberately dresses frumpy because she dislikes her nature and what it does to humans.)
Being a demi isn't genetic -- two of the main characters are twins, one human and one vampire. While it's not said in so many words, it's treated more as a condition that's widely misunderstood, with our protagonist giving the school demis a haven to teach him more about themselves. Whether it's intentionally a metaphor for disability or not, it can certainly be read that way -- and as someone with some wildly misunderstood conditions, I found myself tearing up a bit at the scene where the vampire broke the ice with the dullahan by being open about her day-to-day difficulties.
Piacevole ~My Italian Cooking~
Short: Small adorable people make delicious food
Demographic: Food lovers
Animation: Unique and pretty
Plot: Low
Lewdness: Essentially nonexistent
Based on: Manga (read here)
In the list of minisode-lengh shows is Piacevole, consisting of four-minute-long shorts about a girl who takes a part-time job at an Italian restaurant. The head chef is a schoolboy who proves his worth despite his age, and the episode ends with a quick run-down of the featured dish. This is light, fluffy, and completely innocuous (beyond momentary commentary on that one ridiculously stacked character). And the art itself is very sweet to look at.
Short: Dating sim adaptation with no dating isim
Demographic: Young adult
Animation: Rather nice
Plot: Anthology
Lewdness: Middling
Based on: Nothing (original concept)
So Seiren has been getting pretty much the most hype of any winter anime whose progress I've been following. From a business standpoint, I have to say their social media roll-out was grade A. The way they spaced their character profiles, cast announcements, and merchandise was... I mean seriously, it probably sounds weird to say, but the flawless marketing cadence was what initially intrigued me.
Made by the creators of Amagami SS, it's an anthology-type show with your typical awkward teenage boy in the midst of a variety of young women, with each girl getting a short story in the form of a handful of episodes detailing how she influences our hero's final year of high school.
Hikari Tsuneki is our first girl up, and she is of a Type: doesn't care what anyone thinks, slightly more open about things like dirty manga and invading personal space, you know. The first time we see her with our protag, she's sitting on his desk and he just stares... stares... at where she'd been sitting once she gets up.
Unsurprisingly, it really does feel like a dating sim adaptation, but it's all-new material. It's pretty all right so far, with the stand-outs (to me) being the animation quality and the opening and ending themes. I'm willing to keep watching for a while.
Spiritpact
Short: BL ghosts
Demographic: Fujoshi
Animation: Fluctuates, but generally nice
Plot: Fast moving with lots of exposition
Lewdness: Surprisingly low

Spiritpact is a Chinese-produced anime based on a popular BL webcomic about a stoic ghost hunter who forms a magical bond with a recently deceased exorcist woobie. There's very little by way of blood and gore, plenty of supernatural violence, and what looks to be a quickly unspooling plot.

Honestly, I'm not a huge seeker of the BL, but I do enjoy this. My only complaint is the sheer amount of exposition and the awkwardness with which it's delivered. This could be a product of trying to get the plot underway quickly, or it could have happened on the Japanese dubbing end. I'm not sure. But there's a lot of telling rather than showing going on.

That aside, the voice acting was great, the characters (while they were the expected BL combo of serious handsome and goof-ass cutie) are entertaining, and the animation's pretty nice. I'm definitely going to watch at least a few more episodes of this to learn more about the world it takes place in. (Oh also, their excuse for the lead looking cute and young is that when you die your ghost looks like you during your happiest moment, and his happiest moment was in middle school. I've heard worse.)
Rather unexpectedly, Interviews with Monster Girls ended up being my favourite of this first crop of winter simulcasts I tried. The others all had their positive points, but there was something very sweet about this one -- even though the entire set-up makes it seem like it's going to be a typical moe show. I mean, it still has the potential to go that way, but I'm hoping we'll continue to see what was in the first episode.
So what else is running this winter that deserves my attention? I'd love to hear your recommendations! And if I can fit them on my slate, I'll give them a go!
----
Kara Dennison is responsible for multiple webcomics, blogs and runs interviews for (Re)Generation Who and PotterVerse, and is half the creative team behind the OEL light novel series Owl's Flower. She blogs at karadennison.com and tweets @RubyCosmos.