14th PreCure TV series has been well-received by kids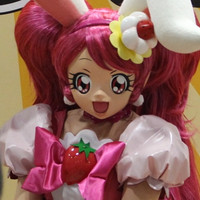 The Family Anime Festa section of this year's Anime Japan was separately set up in the newly opened 8th east hall of Tokyo Big Sight on March 25 and 26. The sister-event of Anime Japan has featured anime series targeting to kids and has offered various attractions such as Play Corner, Workshops, and Family Food Park. As with the last year, it opened only for children at elementary school age (and under) and their guardians.
One of the most popular anime series at the event has been Toei Animation's long-running series PreCure, and Cure Whip from the ongoing 14th TV series Kirakira PreCure a la Mode greeted the visitors in the photo session, then performed the ED song dance on the stage.
FEATURE: Anime Japan 2017 Photo Report Part 1: Life-Size Titan Eren Appears!
FEATURE: Anime Japan 2017 Photo Report Part 2: "Is The Order a Rabbit??" Shop, "Love Live! Sunshine!!" Wrapping Bus
* all of the photos were taken by Mikikazu Komatsu with the permissions from the organizer and exhibitors.
---
"Family Anime Festa" welcome board
Entrance
Character Greeting schedule. Cure Whip appeared at 13:30 on March 25
Then she came.
This girl seemed so happy to meet the super heroine she loved.
Her stage started at 16:00. It was packed with the faimily audience.
Cure Whip was surprised that so many people gathered for her stage.
Instead of Cure Whip who couldn't speak directly, the female MC explained the procedure.
Let's dance together!
PreCure franchise's official YouTube channel has posted a creditless clip of the ED song "Let's La Cooking☆Showtime"
sung by Kanako Miyamoto.
---
The booth of Toei Animation at Anime Japan 2017
"Kirakira PreCure" character standees
Aoi Tategami, Ichika Usami, Himari Arisugawa
Akira Kenjo
Yukari Kotozume
Merchandise
"Itadakimasu Pekolin" stuffed doll
Cure Friends stuffed dolls
PreCode dolls
Character references, background arts
Cure Whip
Cure Custard
Cure Gelato
Cure Macaron
Cure Chocolat
Pekolin
Kira Kira Patisserie
Promotional poster with the VAs' autographs
Flyer