School life is odd and educational in this 2013 TV anime comedy based on the manga by Komata Mikami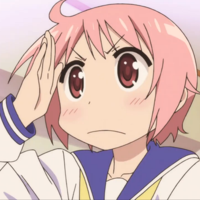 What's "Cruising the Crunchy-Catalog"?
Choosing a new anime to watch can be tricky. You can look stuff up on Wikipedia, but sometimes it helps to have a spoiler-free source that gives an impression of what a series is like. Curation is the goal here at "Cruising the Crunchy-Catalog". Each week we provide additional information and cultural context to help anime fans decide whether or not they'd like to take an unknown series for a test drive.
What's YUYUSHIKI?
YUYUSHIKI is a 2013 TV anime comedy with direction by Kaori and animation by Kinema Citrus. The series is based on the Yuyushiki 4-panel manga by Komata Mikami, which is serialized in Houbunsha's Manga Time Kirara seinen manga magazine. Crunchyroll describes YUYUSHIKI as follows:
Yuzuko, Yui, and Yukari, three girls who just started high school in spring, are always together. After school, the three of them attend their own "Data Processing Club" with two computers and a whiteboard between them, searching for random words on Google and then discussing the results. Their day to day life is mostly uneventful, mainly only consisting of girls flirting, but for some reason it's difficult to tear one's eyes away from this new generation of high school girls' communication.
YUYUSHIKI is a low-key classroom comedy that examines the burgeoning friendships between a small group of girls, all the while reveling in the absurdity and wonder of ordinary, everyday life.
A (Not So) Serious Matter.
Slapstick and wordplay are the key comedic elements of YUYUSHIKI. Even the title of the series is a pun: when written with different Kanji, "yuyushiki" is an adjective meaning "grave" or "serious", which this series decidedly is not. Although there a few moments of melancholy introspection where the conversation takes a turn for the macabre, the vast majority of the humor is light and inconsequential.
YUYUSHIKI is all about finding humor and taking pleasure in the ordinary, mostly through Yuzuko and Yukari needling their friend Yui just to see how she'll react. Some of the humor is one-sided, like the thrill the girls get from touching an unsuspecting person with cold hands or trying to embarrass their teacher with a weird nickname, but most of the comedy stems from a mutual appreciation of silly situations.
An Entertaining Education.
YUYUSHIKI also has an educational component, albeit an indirect one. As part of their duties in the "Data Processing Club", the girls look up interesting trivia about a given subject (such as eyeballs, ogres, or ice cream) to share with each other and the audience. Anyone who has whiled away hours looking up random information online should be able to identify with this activity.
A Hint of Lilies.
Yuri manga and anime are works of art that specifically deal with same sex attraction between women. While YUYUSHIKI is not explicitly a yuri work, it does display some of the trappings of yuri. Both Yuzuko and Yukari demonstrate a fondness for their friend Yui that borders on the romantic, although whether this is played for comedy, whether it represents a "Class S" relationship, or whether it speaks to something deeper is left up to the audience to decide.
Crunchyroll currently streams YUYUSHIKI in the United States, Canada, Aruba, Greenland, Puerto Rico, the US Virgin Islands, Christmas Island, the Cocos (Keeling) Islands, Denmark, the Faroe Islands, Finland, Guernsey, Iceland, Ireland, the Isle of Man, Jersey, the Netherlands, Norway, Sweden, the United Kingdom, American Samoa, Australia, Guam, New Zealand, Norfolk Island, the Northern Marian Islands, the United States Minor Outlying Islands, South Africa, and Heard Island and McDonald Islands. The series is available in Japanese with English and French subtitles.
YUYUSHIKI is also available on Bluray and DVD in North America from Sentai Filmworks. There is also an original animation video for YUYUSHIKI that was published in Japan in February of 2017, but so far no official English-language release has materialized yet for this OAV.
YUYUSHIKI is a great series for fans who are in the mood for some gentle, low-stakes comedy. The pacing is simultaneously swift and laid back, similar to an even less serious version of Azumanga Daioh or a more grounded version of Nichijou. If light entertainment is what you crave, please consider giving YUYUSHIKI a try.
Is there a series in Crunchyroll's catalog that you think needs some more love and attention? Please send in your suggestions via e-mail to [email protected] or post a Tweet to @gooberzilla. Your pick could inspire the next installment of "Cruising the Crunchy-Catalog"!
Paul Chapman is the host of The Greatest Movie EVER! Podcast and GME! Anime Fun Time.