"I believe that it's important for us to focus on protecting authorized content."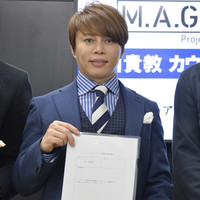 As previously reported, 46-year-old Japanese rock singer Takanori Nishikawa (T.M. Revolution) joined the Anime Japan 2017 event to attend his inauguration ceremony as councillor for the Manga-Anime Guardians Project on March 26. The project, which was launched in 2014 as the first cross-industry anti-piracy measures for manga and anime, provided the Crunchyroll News an official report and photos from the event.
---
The Manga-Anime Guardians Project ~Takanori Nishikawa Councillor Inauguration Ceremony~ was held
at AnimeJapan 2017, one of the largest anime events in Japan that took place from March 23 to 26.
In addition to exhibition booths for regular visitors to enjoy, AnimeJapan 2017 also featured exhibitions
and events related to the anime industry. The inauguration ceremony was hosted by the Manga-Anime-
Piracy Committee on the final day of the event (March 26) as a part of the scheduled business seminar.
Artist Takanori Nishikawa, "Your Name." Executive Producer Yoshihiro Furusawa (TOHO CO., LTD. General
Manager/Producer, Acquisition & Production, Theatrical & Video), and Manga-Anime-Piracy Committee
Executive Director Daisuke Okeda spoke at the ceremony and during the discussion afterward. Here is a
summary report of the exceptional event.
The Manga-Anime-Piracy Committee in which Takanori Nishikawa was inaugurated as councillor is commonly
referred to as the Manga-Anime Guardians Project (MAGP). It was established in 2012 and consists of numerous
comic publishers and anime companies. As its alias suggests, the committee serves as a "guardian" that aims
to stop the circulation of pirated digital anime and manga in Japan and other countries. It also aims to assist
in developing a system that provides fans outside of Japan with authorized access to content. Under the support
of the Ministry of Economy, Trade and Industry, the committee operates with renowned supporting organizations
including Aniplex, Kadokawa, Shueisha, Studio Ghibli, and Toei Animation.
Through a range of activities such as the opening of Manga-Anime here (http://manga-anime-here.com/),
a website that directs fans to authorized content, MAGP has continued to make steady progress in its operations.
With the inauguration of Takanori Nishikawa as its councillor, more positive progress is sure to come. The Manga-
Anime Guardians Project ~Takanori Nishikawa Councillor Inauguration Ceremony~ can be considered as a
commemorable first step towards further success.
The ceremony began when Danny Choo - Smart Doll creator and CEO of Mirai Inc. - stepped onstage as the host.
After introducing himself and offering a brief overview of his Smart Doll, Choo welcomed Okeda to the podium.
Okeda offered an explanation of MAGP operations as well as its two main duties: to counter piracy and to encourage
authorized distribution of content. Details of the actions taken to fulfill each duty are listed below.
■ Countering Piracy
1. Issue warnings to websites providing digitally pirated content and requesting their closure
2. Take legal action against operators of particularly malicious websites providing digitally pirated content
3. Study public awareness of the effects pirated content has on authorized distribution of content
4. Take measures against counterfeit merchandise
■ Encourage authorized distribution of content
1. Host and operate a workgroup for digital strategies
2. Develop education programs
3. Negotiate with advertisers and search engine operators
As described in the details above, MAGP is not only focused on countering pirated content circulating on the Internet
but is also making efforts in raising copyright awareness, negotiating with search engine operators to encourage
authorized distribution of content, and other enriching activities. Because MAGP operates while paying close attention
to the voices of anime fans, it decided to appoint Nishikawa as its councillor to bring the project closer to the fans.
With Choo's invitation, Nishikawa and Furusawa stepped onstage and were welcomed with a thundering applause.
As part of the inauguration ceremony, Okeda read the councillor's oath aloud. Nishikawa then accepted the documents
with a brilliant smile and proudly presented them to the audience.
Following the ceremony, a discussion was held where all members talked about the future of MAGP and its
operations.
When requested to comment on his inauguration, Nishikawa began by sharing his experience in "animemirai",
an experimental project launched by the Agency for Cultural Affairs to elevate the status of anime production
staff and improve their working environment. "Products of animemirai such as "Death Billiards" and "Little
Witch Academia" are being broadcasted on television. When we share the content that we love so much with
other viewers in Japan and other countries as well, I believe that it's important for us to focus on protecting
authorized content," Nishikawa stated.
"Of course, the focus isn't only placed on limiting distribution. It's also about opening the gates to other countries
and regions so that more viewers will have access to authorized content. I truly appreciate this opportunity to
exchange opinions with everyone here, and I will be sharing my experiences with the rest of the committee,"
Nishikawa added while showing enthusiasm for his new role as a councillor.
Furusawa followed by expanding on the proliferation of digitally pirated content centered in other countries.
"To popularize animation outside of Japan, we will continue creating environments that allow for simple, instantaneous,
and authorized distribution of large volumes of content. Furthermore, we need to develop revenue models - in which
product sites themselves should be included - that make it possible for profits to be earned from other countries."
"Fans who live outside of Japan do not consume pirated content because they prefer to do so. When they search for
a title, the results that come back are often pirated. There are even times when fans outside of Japan will innocently
go on and tell directors that they watched pirated versions of their work," Furusawa said before letting out a strained
laugh.
"In the case of 'Your Name.', fans residing in China who watched the previous works from Director Makoto Shinkai
through inauthentic routes still visited theaters for his new film. Exposure to a title could make someone to gain
interest and become a fan. It would be ideal if all access to content could be made through official and authorized
routes, though. Since this task is too much for a single organization to handle, we need support from the government
and also from the industry as a whole. In my opinion, if we do not popularize Japanese animation in other countries
in the near future, the industry will not be able to grow," warned Furusawa.
Furusawa's statement was enough to make one wonder whether or not the exportation of Japanese anime through
"Cool Japan" that was highly praised some time ago could truly be considered a complete success. Nishikawa was
also well aware of the situation, and added to the discussion with the following powerful comment: "Many of Cool
Japan's policies were unclear or difficult to understand. Parts of their operations only involved requests for funding
from the government and didn't lead to any actions. Rather than settling for a budget that isn't made for specific
actions, I think we should work together to increase the awareness and understanding of the issue that the Ministry
of Economy, Trade and Industry and other politicians have by asking them to watch more anime. As consumers of
content, I feel there may also be a need for all of us to examine whether or not quality content is actually being
offered."
Okeda responded to Nishikawa's comment by directing the discussion back to the MAGP's role in encouraging
authorized distribution of content and its activities in hosting a workgroup for digital strategies. The workgroup
summarizes issues that individual organizations cannot resolve on their own, and also makes concrete requests
for assistance to the government. Through such practices, MAGP is able to unite the government and privately
held companies to counter piracy and encourage authorized distribution of content.
Along with the discussions listed above, a wide range of topics including national differences in demands for
subtitled or dubbed content, as well as the rise of the Chinese film market to the second-largest in the world
behind North America, were also examined. At the end of the event, the speakers offered the following closing
comments:
"Over the next twelve months, Mr. Nishikawa will be sharing our message with others at various events and
occasions. Although MAGP is a supporter behind the scenes [in the anime industry], we aim to serve as a committee
that can bring the industry together to discuss common issues and themes that we are working on." (Daisuke Okeda)
"Five years ago, TOHO established a department that is dedicated to anime. Since the establishment, we have
become closer to the foreign markets that have now become significant sources of revenue. In my opinion, the
growing population of China and the people of Korea - who are becoming more willing to accept and consume
Japanese anime - are opportunities that have yet to be explored. In the future, I believe that Asian anime fans
will move past anime and also come into contact with other parts of Japanese culture. Opening up these new
markets will require plenty of energy, but if we go ahead and do so, we should be able to look back 10 or 20 years
from now and be glad that we did. This event reminded me of the need for us to offer all the energy we have to
reach our goal." (Yoshihiro Furusawa)
"The formalness of the name MAGP and the fact that it's a project belonging to the Ministry of Economy, Trade
and Industry gives it a rather harsh image. However, we want to share what creators have put their hearts and
souls into through an authentic and improved format. Our project is all about being there to offer help and support.
Through this project, I hope we can share the awareness of Japanese creators - or something similar to that - to
the rest of the world in a straightforward fashion." (Takanori Nishikawa)
The comments marked the end of the 40-minute long Manga-Anime Guardians Project ~Takanori Nishikawa Councillor
Inauguration Ceremony~. With Nishikawa as its councillor, the Manga-Anime Guardians Project is expected to increase
activities directed towards the general public. There should be much to look forward to from the Manga-Anime Guardians
Project in the near future.
---
(Interview & Text: Michi Sugawara)
(Photography: Misaki Ichimura)