The Keijo!!!!!!!! manga ended a few days ago. What's the story behind it?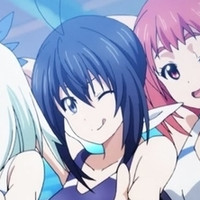 The butt-battling sports manga Keijo!!!!!!!! ended last Wednesday, after an abrupt announcement from the manga artist a week beforehand. Given that the anime was very popular on Crunchyroll last year, the timing of this announcement may have been surprising to fans. No official explanation was given at the time, but this has not stopped fans from speculating about a possible connection between the anime's sales and the manga's conclusion.
According to a blog post written by the manga artist himself, the DVD and Bluray sales in Japan had nothing to do with the manga ending. Daichi Sorayomi had been having talks with the publisher about ending the manga even before the anime aired. The real reason he ended the manga was because of personal reasons like stress and overwork.
Mistranslations and misreporting abounds on the internet, so let's take a thorough look at this blog post. Note that all the translations in this article were done by me, so if you have any questions or issues, feel free to leave a comment on this article or ask me directly.
The profile on the left sidebar has a short profile of the author. It says: "I am currently serializing Keijo!!!!!!!! in Weekly Shonen Sunday." Previous blog posts include announcements of new Keijo!!!!!!!! publications and the author's impressions of meeting the anime staff. This blog's url is listed as the author's official website (公式サイト) on Daichi Sorayomi's Wikipedia page (JP link), so we can be assured that this website is legit.
The blog post, titled "Keijo's final chapter will be published this week," was published on April 23rd, a few days after the ending was announced in the magazine. Sorayomi begins by saying this:
なにやら唐突に終了しましたが・・実はアニメが放送されるより前から「アニメの放送が終わったら連載も終わるように」と言われていました。
(打ち切りみたいに終わってくれと)
Translation: It may be a sudden ending, but… the truth is, I was told before the anime aired to wrap up the manga when the anime ended. ("End the manga!" I was told, almost like it was being cancelled.)
Next, the author reveals something surprising. Not only were the anime sales irrelevant to the manga's serialization status, they were also much higher than reported! Sorayomi explains:
というか・・これは、もう言ってイイと思うので書くのですが、競女のアニメの1巻売り上げが715枚で爆死と騒がれていましたが。実は、もっと売れています。
桁が違うぐらい。
Translation: On that note… I think it's fine to talk about this now. People were making a fuss about how the anime's first Bluray volume bombed and only sold 715 disks. In actual fact, it's selling much better than that. The number was off by a decimal place.
The 715 number comes from Oricon, and was reported on both English and Japanese sites. While Oricon is generally considered a reliable source for sales data, its estimates are not always precise. They don't cover every retailer, for instance, and they don't count international sales. Sometimes, there can be very large gaps between what Oricon reports and what the distributors report, as was the case here. The lesson here is not to take Bluray sales data as gospel because exceptions do exist! If Sorayomi is to be believed, Keijo!!!!!!!! was actually doing very well for itself in Japan.
What's not to like?
It's also worth paying attention to the author's wording throughout the entire blog post. He says that the manga is ending, not that the manga was cancelled, even if he does say that it was like the manga was being cancelled. From this, we know that the story had reached a natural ending point, but that he was also being pressured to finish it.
Sounds like a complicated situation. Sorayomi goes into more detail below:
なので終わったのは単に自分の技量不足と出版社の都合です。
まぁ・・正直、小学館さんももう少しサポートしてくれてたら・・という気持ちは結構ありましたが・・。
1年半近く小学館内でアシを募集しているのに、まったく見つからないとか・・。
ヘルプとの二人作業が基本になって・・最悪一人でボロボロになって描く事も(吐いて1時間程倒れていた)ありましたし・・
Translation: As a result, the manga ended simply because of my lack of skills and the publisher's situation. Well, to be honest, I do wish that Shogakukan had given me a bit more support. They spent almost half a year looking for an assistant for me, but they never found one at all… I generally worked on the manga with help from another person, but there were times when I'd get so worn out from drawing alone that I'd get sick and collapse for an hour…
Sorayomi continues:
まぁ・・他にも(もっと酷い、ヘルプアシが聞いてドン引きするような事が)色々あり・・精神的に絵が描けなくなった時もありました・・・・が、アシの励ましやアニメスタッフさんの頑張り、私の担当の個人で出来る範囲のサポートもあり・・どうにか原稿を落とすことなく終える事が出来ました。
Translation: Well… various other things happened (even worse things that would make my assistant wince)… and there were times when I couldn't muster the mental energy to draw… but my assistant encouraged me, the anime staff worked hard, and my editor supported me as much s/he could as an individual… and I was somehow able to finish the story without missing my deadlines.
It seems that the real problem was that Sorayomi found it difficult to cope with a weekly manga schedule. Given how exhausting it is to draw manga even under the best of circumstances, this is not surprising! He was personally somewhat dissatisfied with the ending. As he explains:
正直、自分としてはラストに青葉のこれまでの努力が報われる様なレースぐらいは描きたい感じはありましたが・・まぁ、仕方がないですね。
(やはり急いだけど半年じゃ尺が足らなかったです・・)
Translation: To be honest, I did want to draw a race in the last stretch to show how hard Aoba had worked, but oh well… it couldn't be helped. (Half a year wasn't enough to depict everything, even though I rushed…)
Nevertheless, Sorayomi still managed to conclude his work in a reasonably satisfactory manner, even if the circumstances were not ideal. He concludes the blog post by sincerely thanking the readers and everyone who helped him.
I wrote this article to clarify what Sorayomi said after the manga ending announcement. An anonymously translated "quote" by the author has been circulating the internet lately, claiming that the manga was cancelled due to low sales of the anime. This is completely made up. In fact, Sorayomi went out of his way to debunk this idea in his blog post.
It's easy for misconceptions about anime and manga to be compounded by the language barrier. In this case, Japanese fans were also speculating about a connection between the manga ending and the anime sales (hence the author's need to address it), but fake translations of the author's words certainly didn't help English-speaking fans grasp the situation.
Translations are supposed to help people understand information in another language, not to obscure it. My advice is to take the industry-related rumors you hear with a grain of salt, and check the sources if you can. Please be careful!
Note: Thanks to @CanipaShow, @ultimatemegax, and @karice67 for helping me verify the information in this article. Any inaccuracies that remain are my own.
---
Kim Morrissy is a freelance writer and translator. He writes about anime, light novels, and Japanese culture on his personal blog. You can also follow him on Twitter at @frog_kun.