What are Crunchyroll users' favorite anime this season???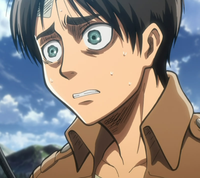 Hello everyone!! We're a little past the halfway point of the Spring anime season, and people are comfortably settled into their favorite shows. It's at this time in the season that we here at Crunchyroll like to share some viewership data with everyone, so you can get a better sense of what your neighbors are watching and see which anime you may have been missing out on!
I say that… but when I created the map for the Spring Season, this was the result:
If you're a big anime fan, this shouldn't be a major surprise - Attack on Titan is, well, titanic. A quick note on methodology - this map looks at the number of people watching the latest episode of currently-airing anime that began broadcast in April, the start of the spring season, on Crunchyroll. Titles like Dragon Ball Super and One Piece - while fantastic - are excluded since they're continuing from previous seasons.
But for the purposes of these seasonal maps, this isn't as visually diverse as I would like!! Every Saturday, we couldn't be more grateful that there's more Attack on Titan after all these years… but for the sake of the infographic junkies out there, this just isn't enough. So for this season, you'll all be treated to two maps!
This map shows the top non-sequel simulcasts that began broadcast in the spring season. That's a lot of qualifiers, so, if you like, you can think of it as Crunchyroll users' favorite brand new anime this season. Here's the map:
As you can see, Akashic Records of a Bastard Magic Instructor has captivated the hearts of many. Akashic Records is the first anime to claim all three of the United States' most populous states since we've been sharing these maps - though by the end of the fall season, Yuri!!! On ICE was able to boast the same. If an election were held today and views on Crunchyroll counted as votes, Akashic Records would win the electoral college, but would have a hard time getting anything through the Senate.
Beyond Akashic Records, we see more diversity in the most popular anime than in previous seasons, with eight other titles represented in at least one state. Though only on the map twice, Love Tyrant was able to sway the hearts of two of the more heavily-populated parts of America: Pennsylvania and New Jersey. The Kiss Note's effects are powerful among the original colonies!!
Granblue Fantasy: THE ANIMATION swung seven states in its favor, from Iowa to Ohio to Michigan… wait, why is the excellent mobile game adaptation able to win so many political swing states? Potential presidential candidates should take a look at what Granblue is doing so well… it seems like the game would be a powerful fundraising tool, too.
Normally, there's an anime that over-performs in the South - last season it was Blue Exorcist, and before that, Keijo!!!!!!!! was the best pairing for biscuits and gravy. This time, WorldEnd: What do you do at the end of the world? Are you busy? Will you save us? takes the Dixie!!
Let us know what you think of Crunchyroll users' favorites by state, and please look out for more anime maps in the future!!
Full results:
| | | |
| --- | --- | --- |
| State | Top Spring Anime | Top Spring Anime (No Sequels) |
| Alabama | Attack on Titan | WorldEnd |
| Alaska | Attack on Titan | Eromanga Sensei |
| Arizona | Attack on Titan | Akashic Records |
| Arkansas | Attack on Titan | WorldEnd |
| California | Attack on Titan | Akashic Records |
| Colorado | Attack on Titan | Akashic Records |
| Connecticut | Attack on Titan | WorldEnd |
| Delaware | Attack on Titan | Clockwork Planet |
| District of Columbia | Attack on Titan | Love Tyrant |
| Florida | Attack on Titan | Akashic Records |
| Georgia | Attack on Titan | Alice & Zoroku |
| Hawaii | Attack on Titan | Alice & Zoroku |
| Idaho | Attack on Titan | WorldEnd |
| Illinois | Attack on Titan | Akashic Records |
| Indiana | Attack on Titan | Alice & Zoroku |
| Iowa | Attack on Titan | Granblue Fantasy THE ANIMATION |
| Kansas | Attack on Titan | WorldEnd |
| Kentucky | Attack on Titan | Akashic Records |
| Louisiana | Attack on Titan | KADO: The Right Answer |
| Maine | Attack on Titan | Clockwork Planet |
| Maryland | Attack on Titan | Granblue Fantasy THE ANIMATION |
| Massachusetts | Attack on Titan | Akashic Records |
| Michigan | Attack on Titan | Granblue Fantasy THE ANIMATION |
| Minnesota | Attack on Titan | Akashic Records |
| Mississippi | Attack on Titan | Akashic Records |
| Missouri | Attack on Titan | Granblue Fantasy THE ANIMATION |
| Montana | Attack on Titan | Granblue Fantasy THE ANIMATION |
| Nebraska | Attack on Titan | Clockwork Planet |
| Nevada | Attack on Titan | Alice & Zoroku |
| New Hampshire | Boruto | Akashic Records |
| New Jersey | Attack on Titan | Love Tyrant |
| New Mexico | Attack on Titan | Akashic Records |
| New York | Attack on Titan | Akashic Records |
| North Carolina | Attack on Titan | Akashic Records |
| North Dakota | Boruto | Eromanga Sensei |
| Ohio | Attack on Titan | Granblue Fantasy THE ANIMATION |
| Oklahoma | Bourto | Granblue Fantasy THE ANIMATION |
| Oregon | Attack on Titan | WorldEnd |
| Pennsylvania | Bourto | Love Tyrant |
| Rhode Island | Attack on Titan | WorldEnd |
| South Carolina | My Hero Academia | WorldEnd |
| South Dakota | My Hero Academia | Akashic Records |
| Tennessee | My Hero Academia | WorldEnd |
| Texas | Attack on Titan | Akashic Records |
| Utah | Attack on Titan | Akashic Records |
| Vermont | Boruto | WorldEnd |
| Virginia | Attack on Titan | The Royal Tutor |
| Washington | Attack on Titan | Akashic Records |
| West Virginia | Attack on Titan | Eromanga Sensei |
| Wisconsin | Attack on Titan | WorldEnd |
| Wyoming | Attack on Titan | Akashic Records |