Cool off from the flames of hell with a delicious and refreshing drink!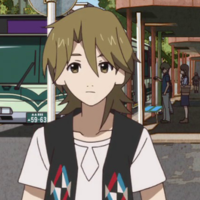 One of my very favorite anime every is The Eccentric Family, so it stands to reason that The Eccentric Family 2, the second season, is my favorite anime of the Spring 2017 season. I can't say enough good things about it- the art is fantastic, the script is funny and clever, the music is subtle at times, and bold when it needs to be. The plot is original and complex, and each character has a story that lurks just outside the main plot, waiting to be told.
The story follows a family of tanuki, who shape-shift according to their foolish impulses, and the hijinks they get into. The point of life is not to bemoan their fate, but rather to get into and out of trouble according to their whims, and to take the consequences as they come. This results in a fantastically eccentric story. Point in case? The main character, Yasaburo, occasionally flirts with the woman who captured and ate his own father.
The food we're recreating today is a drink from season 2. A new character, Tenmaya, has recently escaped from his life as a ogre in hell (literally), and is enjoying his life in the world with a cherry-lemon martini. It's a fitting drink- light, refreshing, and sweet. Everything that hell, as it's depicted in the show, is not. Plus, it's incredibly easy to make, if you're willing to put in a little time to making the cherry vodka. It's easy as sin, as long as you can bear to wait the few days it takes for the vodka to infuse. Make this drink and enjoy it with the next episode of Eccentric Family 2!
Watch the video below for more details on how to make the drink.
---
---
Ingredients Cherry Lemon Martini:
1/2 ounce simple syrup (water + sugar)
3 ounces cherry infused vodka (fresh cherries + vodka)
1/2 ounce fresh lemon juice
Mint
Lemon slice
Fresh or maraschino cherry
---
To Make Cherry Lemon Martini:
1. First, infuse vodka. Slice and de-pit about 2 pints of cherries. Mix with about 750 ml of vodka, cover container, and set in dark space for 2-5 days or until vodka has taken on color and flavor of cherries.
2. Make simple syrup- put 1/4 cup sugar and 1/4 cup water in a microwave safe container. Microwave for 1 minute, then stir until sugar is dissolved. Store in fridge until ready to use.
3. Mix simple syrup, lemon juice, and cherry vodka into a shaker or glass of ice. Shake together.
4. Garnish with lemon slice, cherry and fresh mint.
---
I hope you enjoyed this post! Check in next week for another recipe. To check out more anime food recipes, visit my blog. If you have any questions or comments, leave them below! I recently got a Twitter, so you can follow me at @yumpenguinsnack if you would like, and DEFINITELY feel free to send me food requests! My tumblr is yumpenguinsnacks.tumblr.com. Find me on Youtube for more video tutorials! Enjoy the food, and if you decide to recreate this dish, show me pics! :D
In case you missed it, check out our last dish: SHOKUGEKI NO ANIME: BORUTO. What other famous anime dishes would you like to see Emily make on COOKING WITH ANIME?