Ship-girls set sail on the high seas in this 2013 science fiction TV series with 3DCG animation by Sanzigen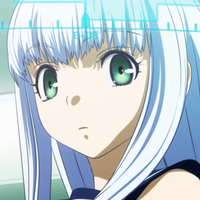 What's "Cruising the Crunchy-Catalog"?
If you're ever feeling adrift in a sea of too many anime to choose from, "Cruising the Crunchy-Catalog" is here to toss you a life-preserver. Each week we provide additional information and cultural context to help anime fans decide whether or not they'd like to set sail for adventure with an unknown title.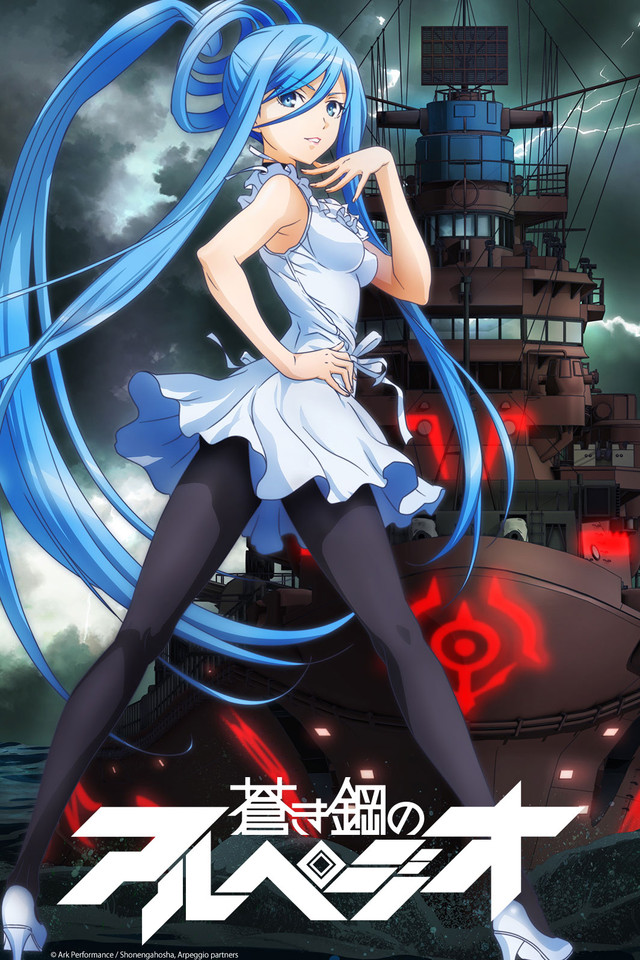 What's Arpeggio of Blue Steel?
Arpeggio of Blue Steel (subtitled -Ars Nova- in the original Japanese) is a 2013 TV anime with direction by Seiji Kishi (YUKI YUNA IS A HERO) and 3DCG animation by Sanzigen (BBK/BRNK). The series is based on the manga of the same name by Ark Performance, which is serialized in Shōnen Gahōsha's Young King OURS seinen manga magazine. Crunchyroll describes Arpeggio of Blue Steel as follows:
In the year 2039, global warming has caused a sudden rise in sea level, leading mankind to lose a great deal of land territory. At the same time, a fleet of mysterious warships clad in mist, known as the "Fleet of Fog," begin to appear throughout the world's seas, attacking humanity's warships with their powerful superweapons. Humanity threw all the military strength it possessed at the Fleet of Fog in a decisive battle, but was crushed by the fleet's overwhelming might...
This description omits a few important details: all of the ships in the Pacific wing of the "Fleet of Fog" take their names and shapes from actual historical Japanese warships, and many of them are also equipped with "Mental Models" - physical avatars that embody the artificial intelligence programs that serve as the brains of the ships. Since warships are traditionally referred to with female pronouns, all of the Mental Models manifest as cute anime girls.
The main characters of Arpeggio of Blue Steel are a rag-tag band of naval academy students who manage to abscond with I-401 (aka "Iona"), a mysterious Fog Fleet submarine that for unknown reasons is sympathetic to humanity. Arpeggio of Blue Steel is similar to other science fiction mecha shows featuring young protagonists. As with Amuro and White Base in Mobile Suit Gundam, Iona and her crew are underdogs that possess a secret weapon that grants them an edge when it seems the whole world is arrayed against them.
Weapons-Grade Moe.
Some fans might be leery of a series that mixes moe with militarism, but when it comes to science fiction action, Arpeggio of Blue Steel has plenty to offer. Not only do the naval engagements display an excellent sense of mechanical design – with old-fashioned battleships transforming to reveal alien weaponry of staggering power – but the battles invariably possess a thrilling strategic layer.
With the I-401 continuously outnumbered and outclassed, the young Captain Chihaya Gunzō has to use his wits to defeat his enemies in the Fleet of Fog, and this doesn't always mean rushing in with cannons blazing. Evading, hiding, and fleeing are all necessary strategies that result in some nail-biting scenes of naval warfare.
Tea Time Desu.
Arpeggio of Blue Steel features an antagonist named Kongou who demonstrates an unusual fascination with drinking tea, which is strange for an A.I. of non-human origin. To understand this personality quirk, it helps to know that Kongou is named after a Japanese battleship that was designed by George Thurston, a British naval engineer, and that was built in 1911 in shipyards located in Barrow-in-Furness in Cumbria, North West England.
Since the Japanese strongly associate the British with drinking afternoon tea, Kongou shares this affectation as a result of her British heritage. This same trope surfaces in other anime with British characters, for example the tankery team of St. Gloriana Girls Academy in GIRLS und PANZER. Kongou of Arpeggio even shares a cup with her namesake from KanColle, thanks to an end card illustration by Konishi.
Do Warships Dream of Electric Sheep?
While Arpeggio of Blue Steel is mostly science fiction action with a little light comedy sprinkled in, by centering the narrative focus on the Mental Models, the show explores weighty philosophical concepts, such as free will versus determinism. Designed as weapons of war and bound by the rigid mandates of the Admiralty Code, many of the Fleet of Fog ships experience existential crises when they begin to manifest human emotions as the series progresses.
High Seas Adventures.
Crunchyroll currently streams Arpeggio of Blue Steel in 91 territories worldwide. The series is available in the original Japanese with subtitles in English, Latin American Spanish, Portuguese, and German. Arpeggio of Blue Steel is also released in North America as a Bluray / DVD combo pack by Discotek Media under their Eastern Star imprint.
The story of the -Ars Nova- anime adaptation differs from that of the original Arpeggio of Blue Steel manga, which is still ongoing at the time of this writing. Luckily, an English language version of the manga is available in-print via Seven Seas Entertainment and via simulpub on Crunchyroll. There are also two Arpeggio of Blue Steel theatrical anime films from 2015, but these movies have not been licensed for release in the North American market yet.
With its combination of moe, military tactics, and mid-level philosophy, Arpeggio of Blue Steel makes for a well-rounded viewing experience. If you're in the mood for a science fiction action series with a strong visual aesthetic, solid world-building, and some surprisingly emotionally resonant moments, please consider giving Arpeggio of Blue Steel a try.
Special thanks go to resident Mental Model Brainchild129 (@brainchild129) for suggesting the subject for this week's installment of "Cruising the Crunchy-Catalog". Is there a series in Crunchyroll's catalog that you think needs some more love and attention? Please send in your suggestions via e-mail to [email protected] or post a Tweet to @gooberzilla. Your pick could inspire the next installment of "Cruising the Crunchy-Catalog"!
Paul Chapman is the host of The Greatest Movie EVER! Podcast and GME! Anime Fun Time.