We go to E3 (by phone) to chat with Hiroyuki Kobayashi, Matt Mercer, and Erin Cahill about the latest installment in the zombie film franchise.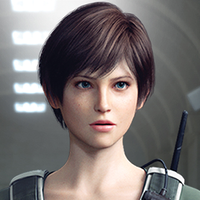 Resident Evil: Vendetta drops this Monday for one night only in US theaters -- but if you're looking for some chat about it now, you're in the right place! We recently chatted with series director/supervisor Hiroyuki Kobayashi and voice actors Erin Cahill (Rebecca Chambers) and Matthew Mercer (Leon S. Kennedy) about the film: what to expect, what they most enjoyed, and where our favorite characters will find themselves when new villain Glenn Arias joins the brawl.
Kobayashi has been part of the Resident Evil universe ever since his time as a programmer on the very first game. He supervised this newest film, and chatted with us about what's new in this world and what's changed since his first encounter with the franchise.
Crunchyroll: What do you think of the way the Resident Evil universe has grown and changed since the franchise was first conceived?
Kobayashi: I was a programmer for the first game, and at that time I didn't expect this franchise to be so big and to continue for more than 20 years. So I'm really astonished by the [evolution] of this franchise.
Crunchyroll: On the topic of the movie itself, we're seeing Rebecca Chambers for the first time. What led to the decision to bring her in finally?
Kobayashi: You know, people haven't seen Rebecca's character in so long. But the producers really wanted a female character as well as male lead characters, and when that was brought up I suggested Rebecca because I've used her character for the stage production of Resident Evil in Japan in 2015. And I really thought that this character would be great for Vendetta.
Crunchyroll: How would you say Rebecca differs in this film from how she shows up in the games or the stage show? Is she going to be fairly familiar to her fans?
Kobayashi: In the games, she was 18 years old about 20 years ago. And she was a member of S.T.A.R.S. And now that that group has been dissolved... after that, because she's very strong at science, she's now a professor at a university, studying how to defeat these viruses.
Crunchyroll: We do have a new villain, Glenn Arias. How did you approach writing a villain like him?
Kobayashi: He is a terrorist, and he is playing a villain in this story. But for him... his wedding gets bombed by a government, and for him himself, it's revenge. Even thh villain has a reason to be bad, even this character -- an original character for the movie this time. And I really wanted this villain to have some deeper personality.
Crunchyroll: Are there any particular scenes in the movie that you're especially fond of? Anything you'd especially like viewes to keep an eye out for?
Kobayashi: There's a fight scene on top of a building -- that's my favorite. The battle between Chris and Arias. The battle between Leon and Arias. That was pretty spectacular.
Crunchyroll: The actors also mention the scene with Leon and the dogs, which is a clip we ran on the site.
Kobayashi: There was a consideration of cutting it out, but the director really pushed to keep it in there.
Crunchyroll: What else would you like fans to keep an eye out for?
Kobayashi: Vendetta is coming out very soon worldwide and I would like it to do very well. Also, I'd love people to play Resident Evil 6!
As for our interview with Matt Mercer and Erin Cahill, you can listen to the whole thing right here! We also chat about Overwatch, Call of Duty, Attack on Titan, and lots more.
Resident Evil: Vendetta will air for one night only (June 19) in the US courtesy of Fathom Events, followed by a digital release June 20 and DVD/BD release July 18. Tickets are available via Fathom Events.
-----
Kara Dennison is responsible for multiple webcomics, blogs and runs interviews for (Re)Generation Who and PotterVerse, and is half the creative team behind the OEL light novel series Owl's Flower. She blogs at karadennison.com and tweets @RubyCosmos.