"What will you say? Who will you trust? The future of humanity is in your hands."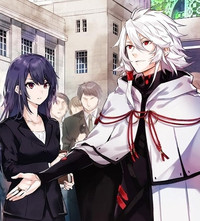 KADO: The Right Answer Should've Been a Dating Sim
By Vrai Kaiser
Nobody seems to know what to make of KADO: The Right Answer, and that includes the production team. Like the anisotropic, KADO's dimension beyond our own universe, the show contained multitudes: it was a deliberately paced political thriller one minute and a twist-laden character drama the next; its visuals shifted between traditional 2D animation and CG, the latter of which ranged from downright stunning to "average ATLUS game;" and while it was just sort of okay sci-fi, it eventually revealed itself to be way more engaging as a gender-equal harem show.
Fellow Crunchyroll contributor Dee Hogan has made more than a few jokes about the should-be-existent KADO dating sim; and I confess, she had me at dating. But now that the series is over? I'm downright convinced that this show came over from an alternate universe where it was based on Toei's successful sci-fi visual novel.
It has all the hallmarks of a VN adaptation: the main character, Kojiro Shindo, is hypercompetent in his field and a constant source of admiration despite being fairly bland in personality; the early plot is quite talky and concept-driven, but the important plot twists come down to how far Shindo's relationships have progressed with his potential love interests; and the show's ending plays on each of those relationships without quite playing on a happily-ever-after with any of them. In other words, KADO the anime gave us the Neutral Ending.
The ending to KADO was alright, but anyone can tell you the Neutral Ending is the least satisfying one in a dating sim. We're not here for your vaguely-considered themes on communication and cultural exchange, KADO, we're here for the smooching! And also the pretty great CG body horror, if I'm being honest. Fortunately, we need not leave it at that. Let us peek through the veil at the Visual Novel that might have been (and might still be, TOEI, if you're picking up what I'm putting down here).
The Summary
You are Kojiro Shindo, a negotiator for Japan's Ministry of Foreign Affairs. They say you're the best in your field, and that no problem under your watch has been left unsolved. One day you board a plane in the course of your duties; unbeknownst to you, this is the day you will meet your fate. A giant shimmering cube appears on the runway, swallowing the plane and transporting it to a strange new place. Inside, you're greeted by a naked alien being. He claims he has come from the anisotropic in his vessel, KADO; and his goal is to help humanity. What will you say? Who will you trust? The future of humanity is in your hands.
*Find Your Right Answer
*Single Player
*Fully Animated and Voiced
*Multiple Endings per Route
*Extra-Dimensional Understanding Recommended
[This is the best way I can explain spending the first half of the series on far reaching consequences and political conversations between world powers and the second half on "hey, so which representational character philosophy did you invest the most in?"]
The Love Interests
Ritsu Natsume
"You're always so mean, Shindo-kun."
A fellow university student who now works for the National Security Agency. Tough and no-nonsense, Natsume has never let you down over the years. You sense she might have a softer side she's never shown in her professional life. As this strange alien craft bears down on humanity, you know you can count on her to support you from within the government.
Familiarity, support, and your old life. Is this your answer?
[This is what you might call the "false flag ship," since both Natsume and her affection for Shindo are quite prominent in the first few episodes only to fade away entirely before the halfway point. A shame, really. Is her route the shortest?]
Shun Hanamori
"You don't need to try so hard to deny it. I love him too."
A newcomer at the Ministry of Foreign Affairs, Hanamori has been your shadow since he was hired. Inexperienced and known to complain, Hanamori has never given up on a task assigned to him. He came along with you on the plane that was absorbed by KADO. Frightened by the contact with alien life, he bravely jumped into harm's way when your life was on the line. He needs lots of reassurance, but it seems he's not the jealous type…
Unconditional loyalty, understanding, and a desire for protection. Is this your answer?
[This game must exist for no other reason than because Hanamori got completely and utterly screwed over, and the universe cannot allow such a grievous injustice to stand. LET US HUG HIM, TOEI.]
Yaha-kui zaShunina
"Shindo. You are you. No one can replace you."
The anisotropic being who came to Earth; you agreed to act as his negotiator. While zaShunina brings gifts to speed humanity's evolution, his own knowledge of the species is lacking. If you let him, he will rely on you to be his guide to the human race. Indeed, he may rely on you more than anyone else…Will you help him guide humanity to its next stage, whether it's ready or not? Will you plunge into the unknown, even at the risk of becoming something completely different?
Transformation, discovery, and frantic devotion. Is this your answer?
[Every game has That Route. The one where you cross-reference a guide every step of the way and still might mess up because you took too long on one choice. zaShunina is that route. Where is his Good End, I need it.]
Saraka Tsukai
"I think negotiation is about understanding someone, and having them understand you."
An up-and-coming ace negotiator, Saraka represents Japan during negotiations with the anisotropic. An idealist through and through, she's still suspicious of the gifts offered by the anisotropic being. Though she lacks your experience in the field of negotiation, she seems to have a sharp perceptiveness that sees things you can't. Will you trust her, even if it means losing humanity's miraculous chance for evolution?
The natural path, compromise, and evolution. Is this your answer?
[Whoever was running the game for the anime seems to have devoted themselves hardcore to zaShunina's route in the early going only to switch to Saraka's halfway through. The result was neither of them getting their Good End, and both deserve better.]
Secrets???
Remember, an ideal negotiation is one where everyone gets what they want.
Good luck ❤
[Seriously, TOEI, help me help you. I really, really want a chance to help you fix that ending. You told me negotiation was a chance to make all these characters I like happy, PAY UP.]
About the author

Vrai Kaiser is a queer author and pop culture blogger; they really did love this hot mess and need the game immediately. You can read more essays and find out about their fiction at Fashionable Tinfoil Accessories, listen to them podcasting on Soundcloud, support their work via Patreon or PayPal, or remind them of the existence of Tweets.
KADO: The Right Answer is now available for viewings on Crunchyroll!