Trying to decide what new selections to delve into? Let us give you a first look at the latest Crunchyroll additions!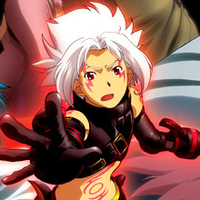 We may be right in the middle of the summer season, but we're always adding new catalog items to binge-watch! But what's right for you to jump on? Let us help you choose! The whole show is available to watch right now at your leisure, but we're taking a quick look at the first episodes of two new selections to show what they're about and what'll get you hooked from the first half hour!
ARIA the ANIMATION
A beloved series from 2005 that's getting a lot of attention again years later, ARIA is a surprisingly calm, peaceful bit of science fantasy focused on the romantic world of Martian gondoliering.
Akari is a former resident of Manhome (that's Earth) who has traveled all the way to Aqua (a heavily terraformed Mars) to start a new life in Neo-Venezia. As the name might suggest, it's based on the city of Venice, with waterways instead of roadways and human-rowed gondolas instead of cars.
In particular, Akari wants to become an Undine: a sophisticated gondolier who serves as a tour guide. At the moment she is only a journeyman, second to the beautiful and popular Alicia. The two are the only gondoliers at the Aria Company... and when a little girl insists on a ride with the busy Alicia, Akari finds she's in no position to deny her.
The Hook: It's not an event or a surprise or a twist that makes this worth watching. The fact is, this show is so sweet and calm and lovely that it just welcomes you in immediately. The music is beautiful, the characters are engaging, and the feel of it all is very peaceful and inviting. Even the more action-packed scenes, like Akari's backwards-rowing to save the company cat, don't feel particularly aggressive.
Who Is It For: Anyone who needs to be happy. This would be a wonderful show to stick in your queue and keep on hand for bad days or sad moods.
ARIA the ANIMATION is available to watch now on Crunchyroll. And if you like it, consider supporting the Kickstarter to get it dubbed and released on Blu-Ray!
.hack//Roots
For some, .hack//Roots was a strange 5 am Cartoon Network watch, leaving off a few episodes prior to the end. But if you've never had a taste of the series (or of the .hack world in general), it's a lot easier to see it now in its entirety.
For the uninitiated, .hack is an anime, manga, and game franchise concerning an MMO referred to as "The World." And The World, as you might expect for an MMO at the center of an anime, has some major problems. But what lurks in The World R:2 is yet to be seen. All we know so far is that PKs, or Player Killers, are roaming around, taking out players for fun.
Newbie player Haseo is one of them, and receives a rez from guildmaster Ovan. Ovan, along with his struggling guild, have a lot more interest in Haseo than most veteran players would have in a newbie. And, by extension, others are taking notice. A few in particular seem keen to take Haseo out, or torture him for information he doesn't have.
The Hook: Something is brewing in the guild halls of the Twilight Brigade... and Ovan genuinely seems to think Haseo is important for some reason. In the .hack series, The World and the real world cross over far more than is healthy. Often literally. So what's going on in The World R:2, and how closely is it related to the world outside?
Who Is It For: .hack//Roots was originally created as a prequel to the game series .hack//G.U. So if you've played that and want more information about Haseo's origins, this is very much for you. Otherwise, gaming fans and anime fans who have yet to dip a toe into .hack might want to give this a look. Or, if you're into Sword Art Online and want to change things up, why not give it a go?
.hack//Roots is now available to watch on Crunchyroll.
-----
Kara Dennison is responsible for multiple webcomics, blogs and runs interviews for (Re)Generation Who and PotterVerse, and is half the creative team behind the OEL light novel series Owl's Flower. She blogs at karadennison.com and tweets @RubyCosmos.