Today we conclude our journey through the vivid art of Monogatari!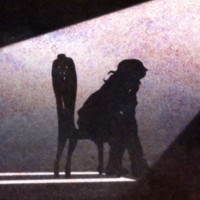 Hey all, and welcome back to Why It Works! Today we'll be continuing our journey through the Monogatari Art Exhibition, and hopefully making it all the way to the present! Last week we explored Bakemonogatari and Kizumonogatari, the two works directed by the brilliant Tatsuya Oishi. His departure to work on Kizumonogatari left the actual television series with a serious hole to fill, and while some might say the series never fully recovered, Monogatari's following seasons still managed to evolve in all sorts of ways and incorporate a variety of their own unique visual tricks. Let's start right off with Nisemonogatari, and the formal introduction of the Fire Sisters!
In the transition from Bake to Nise, Oishi was replaced by Tomoyuki Itamura, a director who would take some time to escape the shadow of his predecessor. Fortunately, along with the change in director came a general change in show fortunes. While Bakemonogatari was an unexpected hit, Nisemonogatari was a highly anticipated sequel, giving its success a great deal more significance for SHAFT. Backing off of Oishi's live-action interludes and other stylistic digressions, Nisemonogatari was Monogatari at its most "house style" conservative, but also its most luxuriously animated.
Though SHAFT's generally overbooked scheduling would prevent most later seasons from indulging in all that much fluid animation, Nisemonogatari demonstrated how beautifully its clean, flat-color aesthetic could take advantage of smooth motion. Additionally, Nisemonogatari also saw the series settling into its default style for opening sequences, resulting in some of the most visually striking sequences of the series overall. The graceful dance of Tsukihi's overlapping geometry feels like a celebration of the show's striking character art. Nise may seem more artistically conservative than most seasons, but the fundamental appeal of Monogatari's design comes through clearly in its smooth, colorful execution.
Monogatari Second Season would see Itamura's Monogatari branching out through a variety of visual experiments, extending the frame for what Monogatari could be in all sorts of interesting ways. The show's fundamental design began to embrace dramatic pallete shifts, where transitions in a scene's emotional tenor or power balance would be accompanied by shifts in the overall world's color scheme. As one conversation between two adversarial characters continues, the colors might transition from tacky hues echoing their disguises to warm confessional shades to neutral blues, all matching the shifting dynamics of the conversation's progression. Later on, Itamura would further embrace the adaptive nature of Monogatari, adding ostentatious chapter breaks and other visual-narrative flourishes.
Later-era Monogatari would also be embellished by a variety of standout visual segments that stood apart from its standard style. In Tsubasa Tiger, Hanekawa's letter to herself is brought to life through a beautiful shifting montage sequence, where Hanekawa's journey to understand herself is illustrated through a world tour that embraces the smooth, angular transitions of the show's opening sequences. Even without abandoning the show's "house style," this sequence demonstrates the beauty of Monogatari's aesthetic in a very different way, capitalizing on its angular, hard-lined look to create a geometric puzzle of Hanekawa's feelings.
Later arcs use visual experimentation to echo personal perception in a variety of other ways. When the show switches to Nadeko's perspective, her social anxiety means that instead of the show's usual lack of background characters, her classmates are framed as ominous silhouettes, collections of eyes with no human faces. When Shinobu describes her first time in Japan, Monogatari segues into a gorgeous sequence of ornate tapestries, the mythic scale of her story brought to life by SHAFT's brilliant illustrator/animator Taiki Konno. Konno would return to add some gorgeous embellishments to Hanamonogatari, lending a sense of poignant grandeur to Numachi's sad story. Hanamonogatari would also offer some brief in-narrative glimpses of Hajime Ueda's consistent ending art, a trick that would recur once more, right in the final arcs of Owarimonogatari.
Which ultimately brings us right back to where we started. Monogatari has embraced myriad visual styles over the years, refining its core aesthetic while consistently indulging in beautiful and dramatically effective style digressions. It has constantly toyed with the nature of an "objective reality" in both its narrative and visual execution, letting its unreliable narrators exist within constantly shifting but always compelling personal worlds. Monogatari speaks to the beauty of all our perspectives, offering aesthetic wonders that always point back to our own fragmented, beautiful souls.
-----
Nick Creamer has been writing about cartoons for too many years now, and is always ready to cry about Madoka. You can find more of his work at his blog Wrong Every Time, or follow him on Twitter.