"Cruising the Crunchy-Catalog" looks at the laidback 2013 TV anime comedy based on Shin Araki's light novels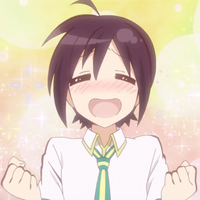 School Is in Session.
In anime, unlike in education, there are no official texts to study and no standardized tests to pass. Still, it's no fun spending time and effort on a series only to discover that it gets low marks in your book. Consider "Cruising the Crunchy-Catalog" to be your helpful anime tutor. Each week we provide additional info and cultural context to help fans determine whether an unknown series will make the grade.
What's GJ CLUB?
GJ CLUB is a 2013 TV anime comedy with direction by Yoshiyuki Fujiwara and animation by Dogakobo. The series is based on the Gujjobu light novel series written by Shin Araki and illustrated by Aruya that is published by Shogakukan under their Gagaga Bunko imprint. Crunchyroll describes GJ CLUB as follows:
In a very old building within the grounds of a high school, there exists a club shrouded in obscurity. Kyoya Shinomiya is coerced into joining this club, known as GJ-bu (Good Job). Here he meets . . . Based on the popular Japanese light novel, this anime series depicts the nonchalant interactions of Kyoya and the unique female characters in scenes you are sure to enjoy.
The titular GJ Club has no set focus other than letting its members pursue their own interests: for Kyoya, the club is primarily a quiet place to read novels and manga. Shion uses the club's computer to play master-level chess matches over the Internet. Megumi spends her time making tea and cakes for the other members. And Mao – the club president – enjoys tormenting Kyoya with all manner of pranks.
Magical Realism.
GJ CLUB is a situational comedy with a dash of magical realism mixed in. This means that no one thinks twice about encountering a paranormal presence in the corner of the club room, and no one questions how Kirara is able to communicate with cats and to consume seemingly endless quantities of meat. These unusual details are just part of club life.
The GJ Club itself leads a touched existence. A club so directionless would likely not exist in real life, but anime is a magical medium, so Kyoya and company can spend their youth in a room that is way too large for their club activities and that includes an odd mix of the modern and the antique. There's a section of tatami mats with a kotatsu in the center of the hardwood floor, a wood burning stove sits opposite an Internet-connected PC, etc.
Low Key Comedy.
While GJ CLUB has some slapstick and some chibi transformations, most of the humor is situational, observational, and very, very laid back. With the exception of a graduation ceremony, many of the important high school milestones occur off-camera, so experiencing the adventures of Kyoya and his friends is a breezy and stress-free affair.
Physical Intimacy.
GJ CLUB explores social hierarchies in a playful manner, and one of the ways it examines how the relationships of the club's members grow and change is through acts of non-sexual, physical intimacy. Addressing another person in a formal or a friendly manner reveals much, but tenderly brushing their hair or giving them a gentle shoulder massage reveals even more.
What the Heck is White Day?
Since two episodes of GJ CLUB revolve around Valentine's Day, it's worth noting the cultural differences in how the Japanese celebrate the holiday. High school girls are supposed to venerate Valentine's Day by giving the men in their lives chocolate, either out of romantic inclination or out of social obligation.
High school boys are expected to reciprocate by giving the girls white chocolate (or other white sweets, such as marshmallows) on White Day, which occurs one month later on March 14th. Both holidays are also a convenient excuse for confessing to your crush, so many anime with romantic overtones include either Valentine's Day or White Day or both in their story-lines.
Extracurricular Activities.
Crunchyroll currently streams GJ CLUB in the United States, Canada, Puerto Rico, the US Virgin Islands, Christmas Island, the Cocos (Keeling) Islands, American Samoa, Guam, the Northern Mariana Islands, the United States Minor Outlying Islands, Guernsey, Ireland, the Isle of Man, Jersey, the United Kingdom, Australia, New Zealand, Norfolk Island, Heard Island and McDonald Islands, and South Africa. The series is available in the original Japanese with English subtitles.
There is also a 46 minute OAV entitled GA [email protected], which was produced in 2014 and which features the same director and animation studio. Unfortunately neither this OAV nor any of the original light novels or spin-off novels are currently available in an official English language release in North America.
With its mix of the magical and the mundane, GJ CLUB expresses a simple spirit of wonder that is both relaxing and refreshing. If you're in the mood for the type of humor that focuses a lens on friendship, family, and the pleasures of everyday life with a bit of weirdness mixed in for good measure, please consider giving GJ CLUB a try.
Is there a series in Crunchyroll's catalog that you think needs some more love and attention? Please send in your suggestions via e-mail to [email protected] or post a Tweet to @gooberzilla. Your pick could inspire the next installment of "Cruising the Crunchy-Catalog"!
Paul Chapman is the host of The Greatest Movie EVER! Podcast and GME! Anime Fun Time.