Want to watch the summer's new simulcasts but don't have the first season under your belt? We give you a quick look at two shows you can marathon quick and jump on before the summer's over!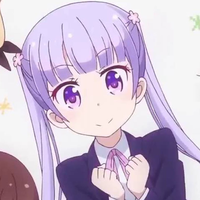 Sometimes it's great to know you have tons of anime ahead of you to binge-watch -- and sometimes it's daunting. Especially if a new summer release is the second season of a running show, and you haven't even started the first! This summer, several shows are actually continuations of existing favorites.
Are they worth catching up to? Are you ready to jump on board? Let The Hook help you decide!
NEW GAME!
Popular enough for collab cafes, train stickers, and (of course) a second season, NEW GAME! is a look inside the world of video game creation -- specifically, character design.
Aoba is an artist lucky enough to hop directly from high school to a job at her favorite game's creator, Eagle Jump. With the face of a middle-schooler and the burning soul of an artist, she jumps in on her first day planning to be super-professional. And, well, you can guess how it goes.
Eagle Jump is a mix of eccentric personalities: semi-permanent office resident Yagami, the mastermind behind Aoba's beloved Fairies Story, is equal parts business and silliness. Shy coworker Hifumi is sparkling and open provided you only talk to her in private messages. Fellow designers Yun (a goth lolita) and Hajime (a tomboyish sentai fan) are frankly just excited to have a kohai for the first time.
Aoba learns relatively quickly that there was very little way to plan for what Eagle Jump laid out in front of her. Learning 3D design at her desk, the fine line between friendliness and professionalism, and just how important different job descriptions are... all of those things start to come clear on her first day.
The Hook: Also coming clear on her first day is the fact that she is now a character designer for the Fairies Story franchise. So not only has the game led her to her dream career, she's now giving back to the series she loves so much.
Of course, that's not all that hooks a viewer. The personalities are likable, the road Aoba and her new coworkers are going forward on is interesting, and we do get occasional peeks behind the scenes of a real video game office.
Who Is It For: Anyone who likes a cute story with fan references will be able to enjoy it, of course. But those who work in art and entertainment fields will get an extra kick out of the personalities and situations they already know being depicted here.
Season 2 of NEW GAME! airs Tuesdays at 7 am PDT.
DREAM FESTIVAL!
Also a rookie in the world of entertainment and making dreams come true is Kanade, the star of multimedia idol project DREAM FESTIVAL! The charismatic young man catches the eye of legendary idol Mikami in the first episode of this series, not by singing or dancing or professing his love for the world of idols -- but by handing out balloons in the park.
Out of nowhere, Kanade is swept into the world of idols. (Okay, he's actually swept into a van, but that sounds kind of sketchy.) He's offered the opportunity to train to be an idol singer. And just as he's starting to get the hang of exercising, training, and working pretty much every hour, he's thrust out onto the stage in front of thousands of adoring fangirls.
It's time for his audition. And it's a live performance.
The Hook: DREAM FESTIVAL! makes no secret of its mobile app links. Trading cards -- Dream Cards, or Dorika -- are an essential part of the series. Fans launch them toward the stage from their concert lights, filled with their hopes and dreams and cheers. The Dorika the idols catch both cheer them on and become their costumes.
So it's kind of like a magical boy show, if you want to think about it that way.
Naturally, Kanade sticks around. The visual depiction of the fans' love and encouragement helps him realize what he's doing. And in future, he's going to need all the help he can get, because becoming an idol means surpassing all the other guys represented by the agency.
Who Is It For: If you like male idols, welcome aboard. Same for if you like bishonen -- this show has at least one of everything. If you're looking for a sparkly, heartfelt show to watch when you need something upbeat, this is also fun. The music is entertaining, and it's cool to see the slow tendency toward the gender-swapped idol wars these days.
The second season of DREAM FESTIVAL! airs Wednesdats at 6 am PDT.
-----
Kara Dennison is responsible for multiple webcomics, blogs and runs interviews for (Re)Generation Who and PotterVerse, and is half the creative team behind the OEL light novel series Owl's Flower. She blogs at karadennison.com and tweets @RubyCosmos.