This week on The Hook, we dive deep into the new short film "Blade Runner Black Out 2022" and find out what it foreshadows for next month's blockbuster film release.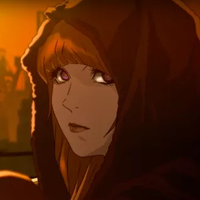 Usually, The Hook is a weekly look at new anime through the lens of their first episode as new releases (and catalog shows) flood our feed. What can we find out right off the bat, and what will bring you back next week?
This week, though, we're doing it a little differently. With Blade Runner 2049 just around the corner, we've started receiving a miniseries of short films leading up to the world of the long-anticipated sequel. One, written and directed by Cowboy Bebop's Shinichiro Watanabe, serves as the starting point for the action taking place in 2036, 2048, and -- eventually -- 2049. Black Out (or Lights Out as it's also known) is a replicant-centric story, but it also brings in other characters and elements we can expect to see in the near future.
In a scant fifteen minutes, Black Out sets the stage for what's to come: a new era of replicants, the Nexus 8, is the follow-up to Tyrell Corp.'s Nexus 6 of three years prior... and their presence goes down pretty much how you'd expect. In reaction to the new breed of replicants, humans put a Replicant Registry into place. And in response to that, replicants fight back.
In particular we follow replicants Cygnus (Iggy for short) and Trixie, on a mission to create a darkness the likes of which humanity has never seen. Also on their side is a namess human with a huge admiration for Trixie in particular -- and replicants in general.
Watanabe's short was the last of the collection of three to be aired, but ends up referencing its past/future film siblings. From a brief glimpse of Dave Bautista's Sapper (who appears in the 2048 installment) to a name check for future replicant manufacturer Wallace (played by Jared Leto), Black Out does a neat job of tying together all the threads of pre-movie plot while also making a satisfying close-out to the trio just before the film itself drops.
The Hook: While Black Out does its job as exposition, it's also a fantastic piece of introspection. We get Trixie's unnamed friend marveling, ironically, that replicants truly are "more human than human." Trixie in particular is fixated on her humanity, asking if the success of her plan will make them human -- as well as what replicants get after death.
Of course, this introspection about the nature of humanity is at the core of the original Blade Runner (and its source material, Philip K. Dick's Do Androids Dream of Electric Sheep?). Each of the three pre-film shorts addresses the concept in some way, be it via Wallace demonstrating the new replicants' lack of free will, or Sapper changing from a beloved old family friend to a wanted criminal in the course of a few seconds.
Watanabe's short, however, wears this idea very much on its sleeve, allowing us to see two replicants of very different mindsets. The soft-spoken Trixie is quietly uncertain but optimistic, wishing for a "real" existence but needing outside confirmation. Unfortunately, she's paired with Iggy, who makes no bones about the fact that they are what they are, and while they can hope to achieve human rights, there's nothing waiting for them on the other side.
Usually these close out with a "Who is it for" proviso, but that's fairly clear-cut. If you're a Blade Runner fan, and if you intend to see the new film, this is pretty much required "summer reading." Though even if the world of Blade Runner is a complete mystery to you, you may still enjoy the aesthetic if you're a fan of Cowboy Bebop, Samurai Champloo, or Watanabe's other work.
You can watch Blade Runner Black Out 2022 on Crunchyroll.
-----
Kara Dennison is responsible for multiple webcomics, blogs and runs interviews for (Re)Generation Who and PotterVerse, and is half the creative team behind the OEL light novel series Owl's Flower. She blogs at karadennison.com and tweets @RubyCosmos. Her latest story can be found in Ride the Star Wind, available now from Broken Eye Books.