"Cruising the Crunchy-Catalog" explores the 2013 TV anime that spoofs hard-boiled detective stories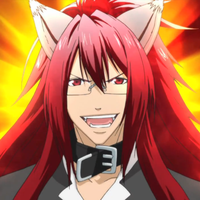 A Bridge Over Gruff Waters.
In this modern world of Internet streaming, there are almost too many anime to choose from. But don't let it get your goat, because "Cruising the Crunchy-Catalog" is here to help. Each week we provide additional info and cultural context to help anime fans decide whether they'd like to challenge an unknown series, or whether they'd prefer to pass it by.
What's Cuticle Detective Inaba?
Cuticle Detective Inaba is a 2013 TV anime with direction by Susumu Nitsukawa and animation by Zexcs. The series is based on the manga of the same name by Mochi, which is serialized in Square Enix's Monthly GFantasy shōnen magazine. Crunchyroll describes the series as follows:
Inaba Hiroshi, the protagonist and head of the Inaba Detective Agency, is approached one day by Inspector Ogino, his former partner from his days as a police dog, asking for his assistance with a certain investigation. The ringleader behind the case is the Italian mafia boss Don Valentino. The red-haired wolf-boy detective with the hair fetish and his lively companions stand up against the ambition of Don Valentino (who is quite clearly a goat) in this new style gag detective anime!
Believe it or not, Cuticle Detective Inaba is even more zany than that description implies. Inaba is not only a werewolf and a former police dog, but his latent lycanthropic powers are unlocked by his cross-dressing assistant striking acupressure points, and he also gains additional superhuman abilities by chewing on different colors of hair.
Supplementary Geography Lessons: Aokigahara
In your Japanese pop cultural wanderings, you may come across references to Aokigahara, also known as "The Sea of Trees" or the "Suicide Forest". Aokigahara is a real-life forest located at the base of Mt. Fuji, and its quiet and isolated nature has earned it the dubious honor of being a popular place for suicidal people to end their lives.
As a result, Aokigahara is often depicted in works of fiction as haunted by ghosts, spirits, and / or monsters. In addition to being the setting for one of the episodes of Cuticle Detective Inaba, Aokigahara plays a key role in such films as The Legend of Dinosaurs and Monster Birds, Godzilla, Mothra, and King Ghidorah: Giant Monsters All-Out Attack, and even the 2016 American horror film The Forest.
Random Acts of Senseless Violence.
Although Cuticle Detective Inaba involves a lot of absurd situational comedy and sight gags, its most prominent form of humor is a type of slapstick violence that is often accompanied by ludicrous amounts of bloodshed. Because the series spoofs hard-boiled detective stories, the main characters spend an inordinate amount of time attempting to murder one another, often in a gleeful and exaggerated fashion.
Breaking the Fourth Wall.
The other comedic styling that's most prevalent in Cuticle Detective Inaba is meta-textual humor. Characters (especially straight-man Kei Nozaki) will often directly address the conventions of the detective story genre and the anime medium, usually when the series diverges from either for the sake of a gag. For example, the final episode introduces a completely superfluous (and extremely chunibyo) character who ends up hogging all of the screen time.
The Sensitive Side of Lycanthropes.
Although primarily a comedy, Cuticle Detective Inaba also deals with serious thematic elements such as the nature of family, friendship, and loyalty. There are also dramatic moments that address social issues such as police corruption, and the series even manages to be genuinely hard-boiled in places, despite the wackiness of its premise.
Nothing But a Hound Dog.
Crunchyroll currently streams Cuticle Detective Inaba in the United States, Canada, Puerto Rico, Aruba, the US Virgin Islands, American Samoa, the Northern Mariana Islands, the United States Minor Outlying Islands, Denmark, the Netherlands, Norway, Sweden, Greenland, Iceland, Ireland, the United Kingdom, the Isle of Man, South Africa, Australia, New Zealand, Christmas Island, Guernsey, Jersey, the Faroe Islands, the Cocos (Keeling) Islands, Norfolk Island, and Heard Island and the McDonald Islands. The series is available in the original Japanese language with English subtitles.
The series is also released on Bluray and DVD in North America by Sentai Filmworks, and if there's still not enough Inaba in your life, you can check out an English language version of the original Cuticle Detective Inaba manga, which is being simul-pubbed on Crunchyroll.
If it's available in your area and you're in the mood for anthropomorphic animals, daring heists, dastardly criminals, battles without honor or humanity, and general absurdity, please consider giving Cuticle Detective Inaba a try. You just might have a howling good time.
Is there a series in Crunchyroll's catalog that you think needs some more love and attention? Please send in your suggestions via e-mail to [email protected] or post a Tweet to @gooberzilla. Your pick could inspire the next installment of "Cruising the Crunchy-Catalog"!
Paul Chapman is the host of The Greatest Movie EVER! Podcast and GME! Anime Fun Time.