Where does your favorite idol rank this week?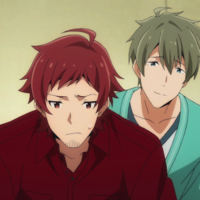 "Do you think you might find your dream here?"
When we first met the idols of 315 Productions, we asked them why they set aside their former careers and positions – surgeon, pilot, prince of a foreign country, flower shop clerk, schoolteacher – to become pop music idols.
"This is a place for people who are working hard to make their dreams come true," DRAMATIC STARS' Kaoru Sakuraba said.
"I had such a different lifestyle until recently and I doubted that I could be an idol," DRAMATIC STARS' Teru Tendou said. "We'll continue to meet different people, work on things we've never done or thought about, and go to places we know nothing about. Thinking about it just got me really excited."
"I hope our charm can be portrayed," Beit's Kyoji Takajo said.
"I would be lying if I said it's not hard," Jupiter's center, Touma Amagase, said. "But with where we are right now, we can prove all of our strengths."
Jupiter would know the pitfalls of becoming idols. Despite a strong debut with "Alice or Guilty," their mismanagement at the hands of 961 Productions caused the popular three-man idol group to leave one of the largest pop production companies in the country and forge their own path. Now, they have arrived at 315, ready to prove that their debut wasn't a fluke—and that they can once again top the charts.
In a world where success is hardly guaranteed, 17 boys wait to walk the cherry blossom road, eagerly anticipating a chance to show their abilities to you and win the hearts of anime fans worldwide. Who will rise to the top? Produce SideM begins now. It's showtime!
#1. Teru Tendou (DRAMATIC STARS)
Last week, this former lawyer won over many with his simple desire to make people smile. It takes a rare person to be convinced into a drastic career change at 28 years-old, and an even rarer one to draw up the contract for said new career himself. Despite personality clashes worthy of their sub-unit name, DRAMATIC STARS, the center position was never a surprise with Tendou on the team. Tendou leads his team, and the rest of 315, with passion and a desire to please.
"It was so great to see Tendou step up and help Jupiter with their concert!" one fan said. "I think he's such a leader and it really shows every week. The other boys already really really trust him."
"How are we supposed to do rankings every week when Teru is always best boy?" another added. It's a worthwhile question.
#2. Shouta Mitarai (Jupiter)
Making it to the top of the rankings without help of the center position takes talent. In Mitarai's case, he's also the cutest visual of the group with a necessary edge to his personality that can cut Jupiter center Touma Amagase down to size when needed. Mitarai was a pre-season favorite, his popularity carrying over from Jupiter's initial debut. Although Jupiter is in the unenviable position of rebuilding as a pre-established group, with Mitarai's "little devil" persona and impressive stage physicality, the three-man unit will be just fine.
"SHOUTA!!!!" was all one enthusiastic fan could say after Jupiter's concert this week.
"He's super cute, but also can be really harsh!" another said. "I think he's really the one that makes Jupiter what it is."
"He was SO CUTE last week when he was sleeping!" [name redacted] said.
#3. Michio Hazama (S.E.M)
Michio Hazama shot up the rankings this week, earning votes for his cool demeanor and idol analysis. Responsible for S.E.M's less-than-impressive roller skate attire this week, it's clear that Hazama is passionate about being an idol and taking the top spot, even when his methods from his math teacher days don't translate into the idol business as well as he would like. We here at Produce SideM definitely didn't see this coming, but after his unit interactions and screentime this week, it's not too much of a surprise.
"When he came out on roller skates, I lost it," a certain fan said, visibly shaking from excitement. "I can't wait to see where his crazy analysis takes S.E.M. next!"
#4. Touma Amagase (Jupiter)
Jupiter's leading man has dropped a bit in the rankings, replaced by the likes of DRAMATIC STARS center Teru Tendou. That being said, Amagase is the face of Jupiter and it's going to be difficult for the SideM newcomers to bump him out of the top five.
"I'm actually glad that Touma got less exposure this week," one viewer said. "I still love him, but want to see more of the newbies, and I feel like A-1's editing has definitely been favoring Jupiter and Touma. They didn't even give Tsubasa a mic last week!"
#5. Tsubasa Kashiwagi (DRAMATIC STARS)
In last week's extra un-cut footage, ex-pilot Tsubasa Kashiwagi admitted that he loves to fly economy class when he's not piloting a plane himself, simply to travel and meet people. This, coupled with his mediator-type personality, has garnered him a large fanbase in a short amount of time.
"Kyun, kyun, I wish my boyfriend was a pilot!" one head-in-the-clouds fan commented.
"He's so warm and level-headed," another added. "I want to cook him dinner and have him rate my food."
The Rest:
#6. Hokuto Ijuuin (Jupiter)
#7. Minori Watanabe (Beit)
#8. Jiro Yamashita (S.E.M)
#9. Pierre (Beit)
#10. Kaoru Sakuraba (DRAMATIC STARS)
#11. Rui Maita (S.E.M)
#12. Shiki Iseya (HighxJoker)
#13. Jun Fuyami (HighxJoker)
#14. Haruna Wakazato (HighxJoker)
#15. Kyoji Takajo (Beit)
#16. Hayato Akiyama (HighxJoker)
#17. Natsuki Sakaki (HighxJoker)

It was a rough week for HighxJoker, who didn't receive much attention from the A-1 editors outside of the occasional Shiki Iseya outburst. Who will you, as SideM producers, support next week on THE [email protected] SideM? Show your support in the comments below!
---
Emily Rand is a writer who usually covers esports. You can find her personal anime ramblings at the blog Atelier Emily.