A deeper look into the elements that make Wynne Jones' works and Kore Yamazaki's The Ancient Magus' Bride so captivating.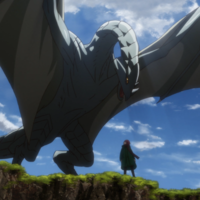 As a child, one of my favorite things to do was to immerse myself in fantasy novels. J.R.R Tolkien, Eoin Colfer, Tamora Pierce, J.K Rowling – name any big author, and I was likely to be found somewhere in the corner of the library, eyes glued to one of their stories.
Of the diverse authors that filled my world, one in particular stood out: Diana Wynne Jones. Her stories were simultaneously wondrous and horrifying. She was like a combination of Madeleine L'Engle and T.A Barron, creating fascinating characters in an immersive and yet alien setting. There was something in her writing that kept me coming back, but I never really understood what it was until much later.
It was only when I first picked up The Ancient Magus' Bride manga two years ago that I would be pulled back into Jones' worlds. Although I hadn't realized it as a child, upon reading Magus Bride I finally understood what drew me to fantasy. Specifically, Jones' fantasies, but also by extension, the fascinating and immersive fantasy of the The Ancient Magus' Bride.
Constructing a World of Fantasy
"Fantasy can deal with death, malice, and violence in the same way the children in the wood are doing. You make it clear that it is make-believe. And in showing it applies to nobody, you show that it applies to everyone. It is the way all fairy tales work." — Diana Wynne Jones, The Children in the Wood
The first shot of The Ancient Magus' Bride anime takes place in an intermediate setting. It's a place we can recognize and see, but the context is peculiar; the main character, Chise Hatori, is selling herself to an auction. The show doesn't hesitate in showing us that this isn't any normal kind of auction; it's one for all things mythological and fantastical. In sweeping us off our feet from the very beginning, the original creator, Kore Yamazaki, allows us to easily become accustomed to the world she wants to create – a world where the magical and real intersect so commonly that nearly every character accepts it.
This isn't to say that Chise is completely in tune with the magical elements. On the contrary, she's forced into this position by her circumstances and loneliness. This is what gives rise to a curious thing both Yamazaki and Jones do in their works: creating a striking contrast between two main characters. One is usually unaware of or new to the magical world, while the other is right at home with it. Both must learn from the other through their interactions and come to terms with the faults they have. This can especially be seen in Jones' Howl's Moving Castle, where Sophie is the gateway for the audience (and herself) to learn more about the world Howl lives in, whereas Howl easily performs magic and understands and accepts the bizarre around him. Similarly, Chise, who has been running away from the 'queen bee' power that she holds, must form a thorny relationship with Elias, who has little understanding of humanity and empathy. The tension between their respective experiences of magic thus becomes a lens through which we understand both of their worlds.
A critical technique in establishing an immersive fantasy is creating landscapes and atmosphere. Jones accomplished this through prose, but in the Magus' Bride anime, Yamazaki and director Norihiro Naganuma accomplish it through character designs, setting, and sound. In the show, magic, just like in Jones' worlds, springs up from the ordinary. It grows between the cracks of the pavement, in the fields of a dying species, and in the quiet and alluring night sky that sprinkles light between the gaps of trees. The wondrous is in the mundane, which not only serves as a way to easily immerse the audience, but to also instill an atmosphere of wonder and calm.
Of course, if fantasy worlds were this simple to create, they wouldn't be so fascinating! Both Jones and Yamazaki go out of their way to construct even more realistic elements within their magical settings, including political hierarchies and societal ideals. In Howl's Moving Castle, the setting is alive. There's the royal city of Kingsbury, the poor Portshaven, and town-filled Market Chipping. Each place has a particular connection with the other, and it's that power that makes Howl's world rich and filled with life. Likewise, in Yamazaki's Ancient Magus' Bride, it's clear from the get-go that there's some kind of order in the world Chise and Elias inhabit. Magi, alchemists, dragons, familiars, faeries; each circle has their own agenda and way of interacting with the magical world. Learning the nuances of how these circles all work with one another while following the rules of nature and balance is a large component of what makes The Ancient Magus' Bride's setting so compelling.
This brings us to the root of the magical world of The Ancient Magus' Bride: nature. Magic dwells in man-made components, but it all seems to stem from the natural world. In this realm, time and mortality are rarely dwelled upon; the ebb and flow of life and death are all controlled by natural elements. The show's third episode explores this in detail, when Chise's journey with the dragons shows her that they view death and life in the great stream of time as a perfectly acceptable fate. To the dragons – and to an extent, other magical creatures – nature is everywhere, from the sky we look at, to the air we breathe, to the grass we walk on underneath our feet. Nature cares not for the small details of life; on the contrary, we live in its realm, and draw from its familiarity as much as its unfamiliarity. Making nature the greatest stage of the magical world is what makes The Ancient Magus' Bride so immersive and fantastical.


Magic and Adolescence
This brings us to the blood that flows through The Ancient Magus' Bride's veins: magic. In fantasy stories, magic is not merely a common genre element, but can be used to explore themes in more dramatic and imaginative ways. Jones was known for using magic as an extension for adolescence, often associating it with growing into maturity. The more a character could handle their own magical abilities, the more in-tune and connected they became with their surroundings and, most importantly, their own feelings and beliefs. This was often embodied in her stories like Howl's Moving Castle, The Homeward Bounders, and Dogsbody. In these works, a character often starts out like a clean slate, unaware of the world around them. But as they journey through different worlds and mature, their control over their magical abilities grows. Likewise, The Ancient Magus' Bride is about Chise's growth from her emotionally stunted state to one that is far more confident and self aware as she experiments and learns magic from her teacher, Elias.
While most adventure series with magical settings are declarative – a means to an end, such as becoming Hokage, or defeating the greatest Villain with a Quirk – Magus' Bride is far more explorative and meditative. Rather than have its characters draw upon the magic around them to exemplify their strengths, Yamazaki inverses this process. While all of the characters of Magus' Bride are all connected by magical elements, it does not define their personal quests. Instead, it is a symbolic extension of who they are as well as a constant force they must learn to deal while balancing their own humanity.
Jones was especially fascinated with personal growth through constant moral choices in a magical world. Likewise, in the first episode of The Ancient Magus Bride, Chise leaves Elias' house to follow a deceptive fairy; it's only when she's presented with the choice of joining their kin and leaving the mortal world that she must realize that she has made attachments and must stay for the sake of Elias and herself. Both Yamazaki and Jones frame these important moments in a way where the choices themselves are not important, but the process of choosing the most just or kind one over the alluring darkness is. Every choice comes with a certain degree of responsibility and consequence, as magic cares naught for either side, but simply is. Chise could pursue an ideal world of perfectionism; instead, she must return to one of confusion and flaws. This isn't framed as a 'good' or 'bad' decision, but as a choice that develops Chise into a slightly more confident and stable person. Yamazaki then ties this temporary resolution to later choices and dilemmas throughout the plot, which ties back to the continuous stream that is adolescence – faltering, making choices, and bearing the weight of those choices.
Jones and Yamazaki don't restrict magic only to coming of age stories. Their works also create magical settings that also extend into adulthood. Not only do their magical stories feature adult characters, but they also feature adult themes. Sexuality, violence, power – all of these are woven into the realms that Chise and Jones' characters must enter and endure. Chise, a young girl, cannot understand dragons or faeries, because they are much older than her, wiser than her, and embrace humanistic traits in an otherworldly way. They perceive wisdom, greed, lust, and sensuality with a completely different mindset. Chise, naive and innocent (but not pure!) cannot understand this. This can also be seen in The Homeward Bounders, where the demons Helen and Jaimie encounter are grotesque entities so self consumed with their own form of enjoyment that they punish anyone who intrudes. Helen and Jaimie can't fathom the structure of these demons' universe, but can only bear the consequence of becoming Bounders, forced to travel from universe to universe until they find their home.
It's important to note that Jones and Yamazaki are not concerned with using magic as a means to deprive characters of agency. Whereas many main protagonists in fantasy stories are marked by a prophecy or self-fulfilling quest, most of Jones' characters and Chise are not weighed down by the burden of expectations. This does not mean that they don't have responsibilities, but that they have to make active choices on a much more personal scale. It also doesn't mean that these characters start off as self-realized individuals. On the contrary, they're often used as pawns in the complex political world of the magical, betrayed by their own naivety and innocence. In Magus' Bride, Chise is often led into quests she cannot help but be drawn to, simply because of her kindness and empathy, much in the same way Sophie Hatter from Howl's Moving Castle is tied up in a Witch's curse due to her simple nature. The Ancient Magus' Bride tackles this topic especially well with making someone like Chise the main protagonist.
Next time: In Part 2, we'll be looking at how Jones and Yamazaki create their female protagonists and the importance of their works as low fantasies!
---
When not finding ways to doom all her ships, Natasha can often be found on her twitter as @illegenes, or writing more about anime on the blog Isn't It Electrifying! Feel free to swing by and say hi.