The "S Stands For" meme puts a surprise at the end of the BLEND-S Chorus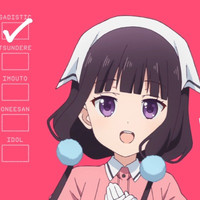 Something's been brewing on twitter…
The infectious BLEND-S opening has inspired a series of parodies, taking the familiar chorus of moe archetypes starting with S and adding a surprise to the end. The formula goes "Smile, Sweet, Sister, Sadistic, Surprise, Service" then improvise! It's being called "S Stands For" which has been confusing a number of other hashtags. Over the course of several days, the meme has advanced into multiple fandoms...
Including American pop-culture...
so i made this pic.twitter.com/YwzJdbgZYt

— DitzyFlama (@DitzyFlama) November 3, 2017
Decided to get in on this pic.twitter.com/cMzTZmnBhQ

— MowtenDoo (@MowtenDoo) November 2, 2017
Caution: May be inappropriate for some audiences. pic.twitter.com/j3Pu67OvsC

— Scruff Magruff (@jshaggy1983) November 6, 2017
I'm not sorry pic.twitter.com/Mmr2SvqlvY

— Stephen Stemper (@superninja5506) November 8, 2017
The #SStandsFor meme they didn't want you to see #300 #blend_s #DankAF pic.twitter.com/n6WAmpV8vR

— Adam Advocaat (@Moofey17) November 9, 2017
Video games...
and now for a Ben Original™ pic.twitter.com/mNwGmycFM7

— Ben (@ItionoBen) November 5, 2017
November 6, 2017
Joining this hot meme pic.twitter.com/cCsuaDA5Kz

— Persona (@personasama) November 6, 2017
oops pic.twitter.com/w1adSVIPwt

— Nanami's [E]gg (@NanamisEgg) November 6, 2017
Other anime...
"S" Truly Stands For... pic.twitter.com/iSDjRN1JNf

— Kuro (@Negromonogatari) November 7, 2017
New fucking memes have arrived pic.twitter.com/lqrSESsf6d

— El Geek Furioso (@geekfurioso) November 6, 2017
Mi version de Blend S pic.twitter.com/w5XzNr6WZ3

— dalpa Rock (@Adalpa121_dX) November 4, 2017
I can't be the first one to do this but here goes pic.twitter.com/R5IHSvaL1Z

— Evan Minto (@VamptVo) November 6, 2017
"S" stands for?#けものフレンズ pic.twitter.com/GRSQmZzeej

— Serval (@sugoiServal) November 8, 2017
Other memes...
November 6, 2017
I swear this will be the only Blend S meme I make pic.twitter.com/xX5Afhv6nM

— 『らせん』 Screwy (@Screvvy) November 6, 2017
The BLEND-S OP is so versatile, it can even play us out...
November 8, 2017
---
Peter Fobian is an Associate Features Editor for Crunchyroll and author of Monthly Mangaka Spotlight. You can follow him on Twitter @PeterFobian.