Is Juni Taisen: Zodiac War a new NisiOisiN classic? Find out how it compares to the currently airing anime.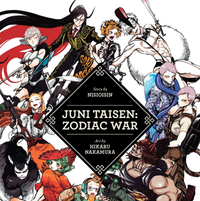 Popular anime series often see a bit of a lag before their source material gets released in English translation, so we're very lucky Viz released the original light novel of Juni Taisen: Zodiac War just two weeks into the anime's broadcast. I picked up the novel on the release date, so I had my introduction to NisiOisin's quirky battle royale through the anime, but I've already completed the story in the novel. It's fascinating to compare the strengths of both versions.
Today, we'll be reviewing Viz Media's translation of the novel, as well as comparing the novel with the first six episodes of the anime. And don't worry, we won't be spoiling the anime!
Reviewing the Juni Taisen Novel
Juni Taisen: Zodiac War is a light novel originally published in 2015 as a prequel to a one-shot manga collaboration between author NisiOisin and illustrator and mangaka Hikaru Nakamura. Isin is the infamous author of the Monogatari series, while Hikaru Nakamura is best known as the creator of cult series Arakawa Under the Bridge and Saint Young Men. The plot concerns the titular Zodiac War, a mysterious battle royale held by a secret society every twelve years, with the prize being a single prize: Any wish. The combatants are themed after the animals of the Chinese zodiac, with attacks, personality traits, and histories that riff off this important cultural touchstone. The premise seems to combine two fairly overdone stock anime plots, but NisiOisin is known for his self-aware genre knowledge and willingness to play with the rules. Juni Taisen: Zodiac War is a fantastic example of this with characters who all seem to upend some rule of the game, making it less a question of who will win, and more of a question of how and why.
In the novel (translated by Nathan A. Collins for Viz), the prose is very direct and to the point, helped along by the translation's decision to emphasize action and flow over getting bogged down in NisiOisin's wordplay (the groan-inducing puns in characters' names are left to a helpful appendix). NisiOisin has only a few flights of fancy (he is still NisiOisin, after all), with most of the action described in third person omniscient narration, each chapter focusing on one character at a time. Being a story of a brutal battle to the death, characters are often dispatched before they're able to be developed to a satisfying level, but the characters who do survive are often more well-rounded than those who die early on. Nisio is obsessed with personalities, so character superpowers end up causing fewer deaths than ideals and flaws. The table of contents lays out the exact order of events from the very start, there's very little surprise in who wins, and those who approach the material from that perspective will be disappointed. However, when I finished the story, knowing who the winner was from page one, I was still extremely satisfied by all of the character developments I could not predict.
On a technical note, the production of Viz's release is top notch. Unlike most Japanese novel releases, Juni Taisen is given a hardcover with dust jacket, ornate red and gold title pages, and sturdy paper. If you enjoy the anime, or are willing to try a more quick, brutal, and direct work from NisiOisin, I greatly recommend the book. Those looking for a deeply character driven world like Monogatari won't find it here. I will now discuss how the anime chose to adapt the series through episode 6, so spoiler warning below.
Novel versus Anime
Who wasn't awed by Juni Taisen's first episode, where Boar takes all of the abuse she's received from her parents and turns it on her poor younger sister, becoming an even more monstrous version of her father? What's most amazing about this episode is that this story is not in the book. Amazingly, all of the background information of each fighter is told in a textbox listing their biographical details, while the prose of the novel takes place entirely during the Zodiac War. Boar's entire scheme in the anime was taken from the line, "Originally her sister, five years her elder, had earned the right to participate in the Twelfth Zodiac War, but in culmination of a twelve-year plot, Toshiko killed her sister and claimed the invitation for herself." Perhaps the story came from notes NisiOisin provided to the man doing the adaptation, Sadayuki Murai, but Murai's own resume includes writing Perfect Blue, Millennium Actress, Kino's Journey, and other classics. Changing the older sister to a younger one may have been entirely his idea.
The book has 12 main sections, which track perfectly to twelve episodes, the usual length of an anime series. The first three episodes – Boar, Dog, and Chicken – are adapted pretty much straight from the book. The Zodiac War material from Boar's chapter would not fill a full episode, so her backstory was fleshed out a great deal. Poor Dog had a lot happen during his battle, so his life as a calligraphy buff and daycare teacher was left sadly unexplored. Chicken had perhaps the best mix, with an equal amount of backstory and confrontation, giving her a full character arc.
By this point, a pattern had been identified, so the anime decided to shake it up, allowing events that happened simultaneously occur to all characters at the same time, allowing more tension and suspense to build. The stories of Monkey, Sheep, and Horse blended elements from the fourth, fifth, and sixth chapters into the ideal battle flow, while still expanding upon their backstories. Monkey's peace treaty, a touching scene equal to Boar's magnum opus of violence, was also anime original.
The anime adaptation does have some drawbacks. On many occasions, characters will talk and think at the same time, leading to two sets of subtitles onscreen. The book, with no time pressures, doesn't have this compression problem. Nisio's beloved linguistic trickery is also largely absent from the anime, with its focus on action, and many small clever details, like Sheep's mobage addiction, are dropped for sake of time.
It's fascinating to compare how the different versions of Juni Taisen try and take advantage of the strengths of their medium. If you're a fan of the series, I recommend following along on the next six episodes and seeing how they're adapted.
Review Roundup (Novel)
+ Great production on study hardcover book
+ Exciting, twisted subversion of battle royale series by too-clever-by-half NisiOisin
- Your favorite character gets killed off too soon
- Hectic battle format precludes deep character development or worldbuilding
---
Thomas Zoth is a features writer for Crunchyroll, blogs occasionally at Hungry Bug Diner, and appears on podcasts at Infinite Rainy Day. You can follow him on twitter at @ABCBTom.