People are talking about these new fall hits for two very different reasons. Which one will hook you?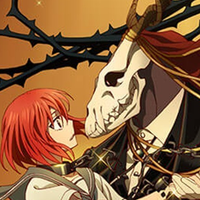 Every season, one or two shows pop up that end up at the forefront of every discussion on anime. The fall 2017 season has some wild shows, but two in particular are making the rounds: one for its stunning art and story, and another for its... well... memes.
The Ancient Magus' Bride and BLEND-S are both streaming this season. Will one of them hook you? We take a look at the very first episodes to see what's to love and what will keep you around for more!
The Ancient Magus' Bride
One of the most anticipated shows of the season, The Ancient Magus' Bride is based on the manga of the same name by Kore Yamazaki. Attendees of Crunchyroll Expo got to see the first three episodes early, and now the series is making its way around the world.
The first episode doesn't have the cheeriest of beginnings: Our heroine, Chise, has sold herself into slavery because she has no other options. Her new master -- a tall, mysterious mage named Elias Ainsworth -- buys her immediately for five million pounds, and takes her home to his quaint country cottage.
Despite Elias's mysterious demeanor and literal animal skull for a head, he seems to be kind enough. Chise is quick to discover, with the help of a hot bath and a visit from fairies, that she has a level of inherent magical prowess that has made her interesting enough to Elias to be worth five million pounds. Because of that, she will become his apprentice.
The Hook: And his wife.
So it's probably not much of a spoiler -- to us, anyway -- that Elias plans to wed Chise at some point. Or, at least, that's what he tells her. But it's a pretty big shock to her. Also a big shock to her is just how bloodthirsty the world of magic is. Then again, it's a general rule of thumb not to trust faeries.
But in addition to the story elements, the show is full of beautiful animation and music, both of a level making it genuinely unique and stand-out in the output of recent years.
Who Is It For: Lovers of fantasy will enjoy it, but Anglophiles in particular will likely feel a special affinity for it. Much of the inspiration, as is evident early on, is taken from the lore of the British Isles. Though it's safe to say a lack of familiarity with the subject matter won't be much of a turn-off.
The Ancient Magus' Bride airs Saturdays at 10:30 AM PT.
BLEND-S
Even if you haven't atually watched any of BLEND-S, we're laying good odds that you've seen the first five seconds or so. Over and over again. So if nothing else, you know it's memetastic. But what's it actually about?
Short version: it's about Maika, a student who can't get a job because she has a profoundly malicious case of RBF. Fortunately, she finds her calling at Café Stile, a coffee shop whose waitresses abide by the concept of "characters" as one might at a maid cafe or host club. Their task for her? Play the role of a super-sadist. The task seems daunting to the kind, concerned Maika -- but she picks it up a lot more quickly than even she expected.
Also working with her are the tsundere Kaho (actually an enthusiastic gamer) and the cheerful little-sister type Mafuyu (a deadpan 20-year-old college student). They're supervised by Dino, the Italian cafe owner who has decided that Maika's hiring is a prelude to their inevitable romantic relationship.
The Hook: BLEND-S makes no secret of the fact that it's a fanservice show. What's less evidence at the off is that it's actually a working comedy at heart. Maika is raising money to study abroad, first and foremost. And while much of the show does put the culture of "persona" cafes under a microscope (albeit a well-meaning, slightly blurry microscope), it's primarily about the engagement amongst the characters.
Who Is It For: There are elements of Ouran High School Host Club about BLEND-S, in that we watch people play to types (occasionally against their own type) to make customers happy. But fans of 4-koma based anime series should enjoy it. And, you know, if tsundere girls or sadistic waitresses are your thing? This show is for you.
BLEND-S airs Saturdays at 10 AM PT.
-----
Kara Dennison is responsible for multiple webcomics, blogs and runs interviews for (Re)Generation Who and PotterVerse, and is half the creative team behind the OEL light novel series Owl's Flower. She blogs at karadennison.com and tweets @RubyCosmos. Her latest story can be found in My American Nightmare.