Micchy's Anime-Gataris-inspired quiz will discover your inner anime fan!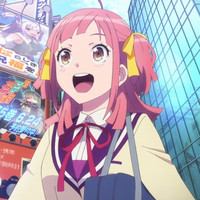 This season's Anime-Gataris revolves around the Sakaneko Anime Club, a gaggle of anime nerds each with their own distinct tastes and hobbies. The show takes great care in depicting the various sides of fandom, showing the different kinds of anime fans out there. What kind of fan are you? Maybe you're the kind of person who watches 20 shows a season. Maybe you're a diehard fan of one show. Maybe you're just in it for the memes. Whoever you are, there's a Sakaneko Anime Club member like you. Take the quiz to find out!
---
Micchy is an enormous dweeb who tries and fails to hide her anime obsession behind a skating otaku facade. Follow her on Twitter @Liuwdere for more vaguely anime-related content.