Check out the real-world locations of BLEND-S!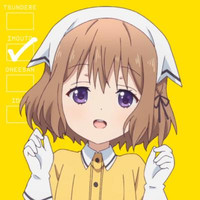 Smile, Sweet, Sister, Sadistic, Surprise, Service… Spots.
That's right, today's topic is spots (specifically, real-world ones that inspired the setting of BLEND-S). Admittedly, that was a poor attempt to tap into the popularity of the internet's latest viral anime meme, but today's installment of Anime vs. Real Life is about the real-world locations of the wacky workplace comedy, BLEND-S.
BLEND-S revolves around the eccentric staff of Café Stile, a unique theme café where the waitresses all adopt specific character traits (that hilariously are in stark contrast to their actual personalities) while serving customers. These include all the popular tropes from the standard tsundere, to the cheerful little sister, to the menacing sadistic type. Now, what would be the first spot that comes to mind when thinking about where such a café could be located? Of course, only a place that instantly evokes images of countless anime stores, game shops, and maid cafés. Yes, it's obviously Akihabara. Maid cafés became popular in Japan around the start of the 2000s, and have only been growing in popularity since, having turned into a more or less indispensable part of the Akihabara streetscape. This naturally makes Akihabara the appropriate location for the anime's Café Stile. However, I do have sad news for all the masochists among us, as the café itself unfortunately does not actually exist in real life.
While the show spends most of its time in the café, we do get to see quick glimpses of Akihabara here and there, like the EDION Akiba department store.
The Kanda River as seen from the Mansei Bridge.
We also know that Maika takes the Chuo-Sobu Line to work, coming in from the west. She gets off at Akihabara Station.
Akihabara's Horin Park has been shown multiple times in BLEND-S. Maika and Dino both passed by the park on their way to work, so it's likely that Café Stile is around here somewhere.
Kaho and Mafuyu take Maika for her first ever arcade experience to Taito Station in Akihabara.
Just a friendly piece of advice from a self-proclaimed crane game expert: Don't fall for the arcades in Akihabara, as they tend to be geared towards unknowing tourists and are more expensive than in other parts of Tokyo.
Although Taito Station was a perfect match, the opposite side in BLEND-S looked completely different compared to real life.
The iconic green overhead railway bridge, which makes an appearance just about anytime Akihabara is shown in an anime, is serving the JR Sobu Line, and is also Maika's ride home.
Just outside of Akihabara Station.
I actually only found this one here by luck, but it was again just another shot of Horin Park.
After the head of a doujinshi circle, Miu, who was assigned the role of the big sister, joined the café, it was only a matter of time until the Tokyo Big Sight would make an appearance in the show. The convention and exhibition center in Tokyo is the venue for the biannual Comiket, the world's largest doujinshi fair, and gets featured in anime at least once every season. It's appeared this season twice already, as Anime-Gataris also had a full episode devoted to the myth-enshrouded indie comic event.
In the third episode, Maika and Dino go clothes shopping in Shibuya. They meet up at the Hachiko Statue outside of Shibuya Station, which is an extremely popular meeting point not only in anime, but also in real life.
The last few images were all taken with Google Street View.
Maika and Dino head to the 109 department store just across the street from Shibuya Station. The famous fashion department store is mainly geared towards young women.
The Lafe Supermarket from last week's episode is called Life in real life.
And justice is finally served, as Dino gets taken in by the cops outside of Horin Park in last week's episode.
Here's the map with all of the show's location for you to visit when you're in Akihabara. Unfortunately, Café Stile is not real, but there are still plenty of other maid cafés in Akihabara to visit.
Did you ever visit a restaurant like Café Stile? And who would you like to be your waitress if Café Stile were real? Sound off in the comments below!
---
You can talk to Wilhelm on Twitter @Surwill.