"Cruising the Crunchy-Catalog" checks out the dramatic 2013 TV anime based on the 4-panel comic by Enokizu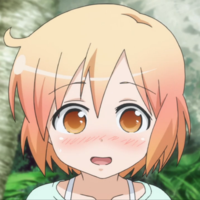 Prisoners of Our Own Minds.
Even with something as simple as picking which anime to watch, it's possible to be paralyzed by too many options to choose from and too little information with which to focus your search. "Cruising the Crunchy-Catalog" is here to help. Each week we provide additional info and cultural context to help anime fans decide whether or not they'd like to try out an unknown anime series.
What's Kotoura-san?
Kotoura-san is a 2013 TV anime with direction by Masahiko Ohta (Gabriel Dropout) and animation by AIC Classic. The series is based on the 4-panel manga of the same name by Enokizu, which was serialized from 2010 – 2015 in Gakken's Megami Magazine. Crunchyroll describes the series as follows:
This fantasy romantic comedy depicts the school lives of Kotoura Haruka, a girl who can read minds; Manabe Yoshihisa, a classmate who admires her; and the friends surrounding them. A staff that excels in portraying the comical daily lives of young girls - director Ohta Masahiko, scriptwriter Aoshima Takashi, character designer and chief art director Ohkuma Takaharu - bring you a heartfelt tale packed with laughter, tears, and even a little sex appeal.
Describing Kotoura-san as a "fantasy romantic comedy" is accurate to a point, but it doesn't paint a complete picture. The series could better be described as a drama with romantic, comedic, and fantastic elements. This may seem like hair-splitting, but I assure you, dear reader, that it's a distinction that makes a difference, especially if you don't want to be bowled over by the content of the show.
'Drama' Rhymes with 'Trauma'.
If you're easily swayed by the suffering of fictional characters, Kotoura-san will put your emotions through the wringer. Fully half of the first episode is dedicated to demonstrating in excruciating detail how Kotoura's psychic powers have brought pain and misfortune to Kotoura and her loved ones, ranging from Kotoura losing all of her friends, to Kotoura facing social ostracism, to Kotoura's family breaking up when she innocently reveals her parents' infidelities as a small child.
Only after she meets Yoshihasa Manabe, a jubilantly simple-minded fellow who always says exactly what's on his mind, does Kotoura begin to come out of her shell and allow herself to grow close to others again. Even then, the story-line deals with such heavy subject matter as bullying, suicide, mental illness, violent serial crime, and alcoholism. Light comedy is present, but it is not Kotoura-san's primary narrative focus.
Warning: Bad Grandpa Ahead.
Anime has no shortage of lecherous, elderly characters, but Kotoura's grandfather, Zenzou, may prove a bridge too far for some viewers. While Kotoura's love interest, Yoshihasa Manabe, is portrayed as being full-time horny, his sexual fantasies generally come across as playful and endearing, whereas Zenzou's obsession with his granddaughter's body and his inappropriate physical behavior both read as creepy and controlling. Viewer discretion is advised.
Laughter Cures What Ails You.
With those two points in mind, Kotoura-san does have plenty of character-based comedy, situational comedy, and referential humor to keep things from getting too gloomy. While the drama of the series can be harsh, the comedy is gentle, and overall Kotoura-san has a message of love, hope, and redemption that suggests that even characters who commit harmful acts can be forgiven if they make a genuine effort to put things right.
The ESP Research Society Becomes the Going-Home Club.
Crunchyroll currently streams Kotoura-san in 54 territories worldwide, including the United States, Canada, Brazil, the United Kingdom, Australia, and South Africa. The series is available in the original Japanese language with subtitles in English, Spanish, Latin American Spanish, and Portuguese. NIS America also releases the series in a collector's edition Bluray box under the title The Troubled Life of Miss Kotoura.
The particular blend of bittersweet family drama, teenage romance, and adolescent angst that Kotoura-san offers may not be to everyone's taste. If you're in the mood for a layering of light humor surrounding a core of serious drama and the series is available in your area, please consider giving Kotoura-san a try.
Is there a series in Crunchyroll's catalog that you think needs some more love and attention? Please send in your suggestions via e-mail to [email protected] or post a Tweet to @gooberzilla. Your pick could inspire the next installment of "Cruising the Crunchy-Catalog"!
Paul Chapman is the host of The Greatest Movie EVER! Podcast and GME! Anime Fun Time.