Prove your love of Christmas! Or do you actually hate Santa?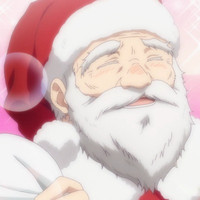 Christmas has returned, which means a no-holds-barred competition to prove our worthiness for presents! Only nice girls and boys get that coveted new gaming system! Kids of only mediocre niceness deserve the socks they receive from their aunt. It's survival of the fittest and naughtiest are doomed to receive coal... or worse...
The only way to prove your Niceness is by showing your Christmas Spirit and Santa IS Christmas. Take this quiz and identify each Santa. Every wrong answer means you're personally failing him!
Don't underestimate Christmas! Many have fallen where you stand today! Hurry, before he begins to doubt you!
---
Peter Fobian is an Associate Features Editor for Crunchyroll, author of Monthly Mangaka Spotlight, writer for Anime Academy, and contributor at Anime Feminist. You can follow him on Twitter @PeterFobian.