Take a look at some of our productions for this year and a sneak peek of our slate for 2018!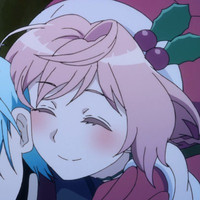 At Crunchyroll, we're dedicated to sharing anime with the world and are always looking for ways to further contribute to the industry at its home in Japan. While most series on Crunchyroll are licensed through a revenue-sharing model, for the second year in a row, a significant number of anime simulcast on Crunchyroll are the result of co-productions, where we invest in the project at its conception alongside our partners in Japan. These are exciting opportunities to help get series off the ground and represents how much creators in Japan value the participation of fans overseas in the creation of anime! With the year coming to a close, we want to highlight a few of the 2017 titles we've played a part of directly financing and co-producing!
Chain Chronicle - The Light of Haecceitas -
Based on the hit mobile game, Chain Chronicle brought some serious production to match the scope of their setting. The last stand by the forces of good against a darkness that can decay the land and corrupt allies. Along with some amazing visuals and combat, Chain Chronicle's tale isn't just about fighting evil, but defying hopelessness.
The goofiest anime about a supermax prison ever made. NANBAKA's irreverent comedy set in a strangely glamorous (and sparkly) penitentiary staffed by more guards in military dress made for maybe one of the most unique anime this year. Who would have thought escape attempts, death traps, and fighting tournament arcs could be so funny?
A romantic comedy built on bad intentions. Instead of getting the girl, Masamune-kun wants to earn Aki's love just to leave her in the dust as revenge for a childhood slight. This anime has all the hallmarks of a wacky high school romance balanced with some surprisingly sincere moments, as Masamune begins to overcome his childhood angst and cope with his destructive insecurities.
The charming anime about animal girls that became a cult sensation. Kemono Friends' endearing characters and goofy style hid a surprisingly sophisticated slowburn story surrounding its seemingly simple setting. Their exploration of Japari Park and conflict with the blue gel-like Ceruleans eventually reveal a hidden history at odds with the anime's sunny disposition.
Minami Kamakura High School Girls Cycling Club
A wonderful slice of life following the members of a high school cycling club set in the Kamakura city in the Kanagawa Prefecture. In addition to providing its own wonderful story, this anime highlights Kamakura's charm with gorgeous backgrounds of its cozy town and beautiful coastal roads. Each episode is followed up by an educational segment about bicycles to help you start on your own road.
The anime about Italian cooking you didn't know you needed. Piacevole follows Morina's first job as a waitress at a tiny Italian trattoria. We learn about Italian cuisine along with Morina as she waits tables while learning how to cook on her own. A cozy anime for foodies or anyone looking for a quick, 4-minute vacation in their rustic restaurant.
An unusual collision of idol anime with politics, Idol Incidents is half concerts and half candidacy, as Natsuki runs to represent her prefecture in a world where idols also act as politicians. Japan needs more than good fiscal policy to solve its issues -- it needs the inspiration only idols can provide. Natsuki's group is looking to join the Diet and save their country!
An irreverent comedy poking fun at storytelling tropes from its fellow romantic comedies and beyond. Seiji is visited by an unstable angel named Guri who has a magical notebook called the Kiss Note, which forces people who kiss to become a couple. What follows is an increasingly complex shipping war complete with all the expected archetypes from imoutos to yanderes.
Shonen Ashibe - GO! GO! Goma-chan 2
Everyone's favorite spotted baby seal is back in Shonen Ashibe! Goma-chan and his best friend Ashibe are inseparable, even going to school together! The two get into all kinds of hijinks with an expanding cast of wacky neighbors in this hilarious adaptation of the classic manga that made Goma-chan a cultural icon in Japan.
Stan Lee and Hiroshi Nagahama team up to create one of the most visually arresting and unique anime of the year. A story of Western-style masked heroes and villains in a battle to decide the fate of humanity. It's a mystery turned roadtrip with a ton of twists that leave just as many questions as it provides answers for.
This relaxed series has all the pros of a slice of life and cooking anime set against a world of fantastic environments and creatures. A strangely laid-back episodic story that takes you on small vignettes where the pressure never gets too high, since you can rest assured it will end in a warm meal.
Just another high school anime, except in an alternate world where evolution took a different course, leading to people with wings, tails, cat ears, and fins. Himeno is a centaur girl navigating the uncertainty of her high school years along with her friends Nozomi and Kyouko. Through their humorous misunderstandings the anime reveals a surprisingly deep setting that asks what the world would look like if humans had an extra set of limbs or a horse body for a behind.
The Tokyo Koudo Ikusei Senior High School has a reputation for instructing the next generation of Japanese leadership. It's students must survive a cutthroat system of accruing class points to reach the top of their school. Ayanokoji and Horikita are placed in the problem class 1-D and must scheme and politic against the other classes and their own classmates to the top of the school.
One of the most heartwarming romance anime in recent memory, MMO Junkie is equal parts funny and relatable. It explores the appeal of MMOs and how meaningful relationships can form and blossom into true love online. The lead Moriko has left her job and devoted herself to playing her hot guy character online, where she meets a colorful cast of new friends and a surprising romantic partner.
The owners of PARK, a clothing store in the fashion mecca of Harajuku, must defend their city against an alien invasion. Unable to create on their own, Scoopers arrive on Earth to siphon up its culture for their own. The PARK girls quest to stop the Scoopers explores the nature of creativity and friendship of its three leads with a visual style that's unforgettable.
Produced with the help of crowdfunding from fans, this famous visual novel turned anime follows an apocalyptic conflict taking place in the heart of Japan. Ren Fuji has to defend his city from a threat that has been gathering strength since WWII, a cult with mystical abilities sufficient to destroy the world. Dies irae is a grand conflict with an epic soundtrack.
Kino's Journey -the Beautiful World- the Animated Series
A reboot of the classic anime following the journeys of Kino, a mysterious traveler who never stays in one place for more than three days. Their journey leads them to a variety of countries with unusual laws and cultures often anachronistic or outright dangerous. Expanding on its predecessor, the Beautiful World explores additional stories penned by the acclaimed author Keiichi Sigsawa.
We're proud of the anime we've played a part in, and we hope that you've enjoyed watching them! Next year, our team in Tokyo will be even busier, so keep an eye out for more great series' in 2018! Speaking of which, here's a sneak peek at two co-productions we have slated for the January season!
Junji Ito Collection
From one of the biggest names in horror, now celebrating his 30th year in the manga business. Junji Ito Collection brings together the living legends most terrifying tales in a series of shorts that are sure to make you miss some sleep! We're excited to finally see some of Ito's most iconic characters finally make their way from manga page to animation!
citrus
The smash hit yuri manga citrus is also making its way to your monitors this winter! When the trendy Yuzu Aihara ends up in a conservative all girls school, she immediately starts making trouble for the student council president and her new step-sister Mei. This series follows the winding romance between two nearly opposite girls forced to live in the same room and come together through adversity.
Were any of these anime among your favorites for 2017? Do you want to see more? Let us know in the comments!
---
Peter Fobian is an Associate Features Editor for Crunchyroll, author of Monthly Mangaka Spotlight, writer for Anime Academy, and contributor at Anime Feminist. You can follow him on Twitter @PeterFobian.