A special New Year's look into why "A Place Further than the Universe" will hook you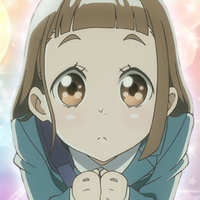 A new year means tons of new anime to get hooked on! And while diving into a show about the frigid South Pole may seem like the last thing to warm you up on a chilly January day, A Place Further Than the Universe is sweet and heartwarming enough to do just that! In fact, we're pretty sure you'll be grabbed within one episode. What's the hook? Well...
This series may have flown under your radar with all the news of remakes, adaptations, and the returns of classic series this winter. But with series composition from Jukki Hanada (Love Live!) and directed by Atsuko Ishizuka (No Game, No Life), it's got an impressive pedigree right off the bat.
At first the show seems to be about your typical awkward anime girl: Mari, who can never seem to talk herself into doing anything more adventurous than considering skipping school. She longs for a great adventure while she's still a teenager, but nothing seems to click. And then, one day, she finds one million yen in an envelope dropped by a fellow student.
The Hook
In the world of anime, pretty much nothing is surprising. High schoolers can start bands, robot leagues – heck, probably even space missions – for any number of reasons. But what really kicks this series home is that there's a very real, very emotional reason why some high school girls are just, you know, going to Antarctica.
Shirase is the unfortunate student who dropped the money (though more fortunate than she was at that time, as Mari returns it). She's also obsessed with a trip to Antarctica, for reasons that are probably more affecting to watch for oneself. Though, since this is high school we're talking about, she's going to get mocked for her obsession no matter how legitimate the reasons are.
What we find, even one episode in, is a very real and unexpected tie between Mari and Shirase: one with a goal and no friends, one who is friendly but can't fulfill her own goals. The moment we see Mari finally accomplish what she failed to do early in the episode is downright heartwarming, and seeing these two friends bring out the best in each other in a relatively short time puts a hopeful spin on what's to come.
As for the next two girls to join them... well, it'll be an interesting dynamic. But considering we already have character development in such a short span of time, it should be pretty fulfilling. And there's already investment in both characters... and hoping they both find what they're after.
Who Is It For?
The good and bad of A Place Further Than the Universe is that it's actually pretty hard to place genre-wise. It can't be plugged straight into slice-of-life or action or comedy.
It's more an attitude thing, maybe. If you love adventure, if you love to travel, if you enjoy seeing character development and happy friendships, then this should appeal to you.
Or, to put it another way... if you want to kick off 2018 with something happy and hopeful, A Place Further Than the Universe is a good place to start. Perhaps that means it is, at least a bit, for all of us.
A Place Further Than the Universe airs Tuesdays at 5:30 am PT.
-----
Kara Dennison is responsible for multiple webcomics, blogs and runs interviews for (Re)Generation Who and PotterVerse, and is half the creative team behind the OEL light novel series Owl's Flower. She blogs at karadennison.com and tweets @RubyCosmos. Her latest stories can be found in Whoblique Strategies.