Camping's so much more fun when you can watch anime girls do it for you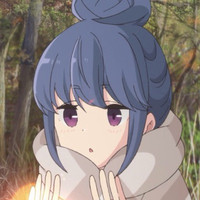 With all due respect to people who genuinely enjoy camping, I really am not a fan. I've done my fair share of camping in the past—from uneventful weekend tent trips to longer family outings in a pop-up camper to week-long backpacking treks in the mountains of Colorado to a horribly cold night where I slept in an igloo on top of a frozen lake in Minnesota—so you know I'm not just saying this because I don't really know what it's like. But, at the end of the day, I really just prefer to be wrapped up in my cozy bed instead of contending with hard ground when I go to sleep and cold dew everywhere when I wake up.
With all that said, you may have expected me to steer clear of Laid-Back Camp and its obvious love for the camping experience. Well, I thought about it, but in the end the cute character designs and promise of a super calming atmosphere got me to give it a try. So, let's run down a few good reasons to watch Laid-Back Camp instead of actually going camping. Here's the full version of the anime's lovely ending song as background for your reading!
4. Enjoy Wonderful Sights from the Comfort of Your Couch
One of the things I do like about camping is the chance to see the beautiful sights that nature offers. Being a city kid, I'm used to admiring urban beauty where it can be found around me, but to see what nature has to show, you have to go to it. Unless, of course, you're watching Laid-Back Camp, in which the wonders of the Japanese wilderness come right to your television screen. Admittedly, it's not quiiite the same as actually being there yourself, but for a show that relies on its atmosphere and ability to evoke the feeling of wonder of the outdoors, having strong background art is key—and Laid-Back Camp delivers. With Production AI's digitally painted images (you can see more of their work on the company's website) providing us with a very pretty rendition of the Japanese mountains in autumn, Laid-Back Camp is sure to continue to delight with beautiful natural scenery!
3. Watch Rin Look Cozy While Being Cozy Yourself
It's still early in the year, but I'm willing to be that Mutsumi Sasaki's character designs for Laid-Back Camp (based on original mangaka's Afro's work) will be some of the fluffiest, comfiest, coziest designs we'll see in 2018. As anyone who has been camping in the fall or winter (or even the spring) knows, having the right clothes for the occasion is critical for being able to stay warm and comfortable while outside. Of course, there are times when ever the best camping outfit can't do everything, as Rin discovers in the first episode, causing her to resort to a campfire. While Rin does end up pretty happy with that arrangement, you don't have to. Rather than gambling on your outdoor ensemble and smoky fires to keep you cozy, watching Laid-Back Camp gives you the chance to curl up under a blanket on your couch and enjoy Rin's makeshift outdoor coziness without any of that trouble.
2. Eat Good Food, Without the Smoke
There's nothing like watching someone else absolutely chow down on a bowl of instant curry noodles to make you hungry! The starving Nadeshiko gratefully accepts such a bowl from Rin during the first episode of Laid-Back Camp, but you don't have to go all the way out to the mountains, buy a tiny camping stove, or build a campfire to enjoy the classics of camping food. Many camping meals can just as easily be made at home (like s'mores in the microwave), and while they might not have quite the same taste, you can benefit by avoiding some of the minor annoyances of cooking outside. Like, for example, having to dealing with your skin drying out or ending up smelling like smoke – both drawbacks Rin notes in Laid-Back Camp's opening episode.
1. You Might Actually Catch the Camping Bug
One of the cool things about anime is the way it gives us an opportunity to take a new look at hobbies or activities we may have written off in the past or never considered before. For example, maybe you'd never really thought you'd enjoy playing volleyball before watching Haikyu!! Or maybe Gundam Build Fighters got you into Gunpla. Laid-Back Camp, through its casual fondness for the small details that go into camping and its ability to create a distinct, relaxing atmosphere, seems like it holds some of that same kind of power. Whether through watching Rin tap a piece of wood twice before chopping it in half or seeing her enjoying the peaceful solitude of reading her book out in the midst of nature, Laid-Back Camp makes camping seem like something anyone would want to do. Even if, like me, you're not actually that fond of camping, Laid-Back Camp might convince you to give it try. And that's pretty cool!
We started off looking for reasons to watch Laid-Back Camp instead of going camping, but it turns out that the anime makes a pretty good case for itself! What did you think about the first episode of Laid-Back Camp, and are you thinking about planning your own camping trip now? Chime in down below in the comments!
-----
Isaac eases his compulsive need to write about anime on his blog, Mage in a Barrel. He also sometimes hangs out on Tumblr, where he mainly posts his drawing practice as he seeks to become a renowned idol and robot fanartist. You can follow him on Twitter at @iblessall or on Facebook.